Press Trip Tips:
Resource Page for Travel Writers
and Travel Bloggers

Several Press Trip tips can be found on this page along with links to related articles.
Once you've established your reputation as a prolific writer in your region or around the world, and you have a good working relationship with several travel magazine editors, you'll find a whole new world opening up to you - Press Trips. 
The good news is that these trips might provide you with low cost travel, or even free travel, if you have assignments or can be trusted to get the assignment soon after the trip.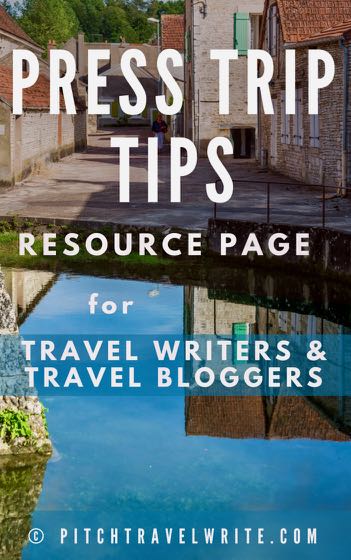 To get on the lists for press trips you first need to build up your travel writing portfolio.  This is very important because you need some bylines to your name before you will be taken seriously. 
DMOs who pay for these trips are skeptical of the freelance writer who contacts them out of the blue and can't show a foundation of work to back up their claim to being a professional freelance travel writer.
This doesn't have to be a daunting experience.  Getting started takes a little time and effort, but you can follow your interests and find gold mines in small, niche magazines.

Once your travel portfolio and website show that you have a solid track record, you'll find that tourist agency representatives may happily invite you to visit their area.  Of course, they are expecting that you'll write stories about their destinations. 
The best possible situation, if you want to visit a place, is to pitch and sell some stories in advance.  Having multiple writing assignments in hand, you're more likely to get the attention of tourist agencies and PR media.   Of course, there are no guarantees and every agency has a budget to live within - but there's no harm in making a request for assistance.
Once you establish credibility as a travel writer, you'll start to wonder how to find press trips.  There's a network of resources you can tap into so you know what press trips are on offer.  The articles below link to each of the topics in this section:

Here are the different types of Press Trips available to travel writers and several related articles:
FAM Tours

Many Convention and Visitor's Bureaus (known as CVBs) periodically organize Familiarization Tours (know as FAM tours).  With this type of trip a CVB hosts a small group of writers or tour operators for a few days to show them what their region has to offer to visitors.
There are usually four to seven writers on FAM tours, which last anywhere from two to ten days.

FAM tours are a great place for beginning travel writers to start.  Check with the tourist office to find out their requirements. 

However, you do need to be published to prove you're a bona fide travel writer.  CVB's typically only invite you on a FAM tour once you show your ability to get published.   It makes sense – you're potentially getting some free travel in exchange for your agreement to write a nice article or two about their destination.
Self-Guided FAM Tour

This type of FAM tour is like a group FAM tour except that you decide where you want to go, what you want to see, and when you will take the tour.  In other words, it's customized for your needs. 
Self-Guided FAM Tours are usually a few days long.  Some self-guided FAM tours last as long as a week or more, depending on the budget of the local CVB and the value of your assignments. 
I consider this a low cost travel kind of trip, rather than free travel, since you might not get all your costs covered.  Every trip is different.

Self-guided FAM tours are generally more difficult to organize for the writer, but they can be potentially more rewarding than a group FAM tour.  Since you are the one deciding upon your destination, and what you want to see and do, you have a lot more control over your itinerary than on a group FAM tour. 
You will need to get those all-important letters of assignment in order to get the most cooperation from the CVB's for these types of tours.

In addition to FAM tours discussed above, there are several other types of Press Trips.
PR Press Trips

Some Press Trips are organized by public relations firms instead of CVB's.  These firms represent tourism boards, hotels, and resorts, within a country as well as internationally. 

Invitations to these Press Trips are more difficult to obtain than regional FAM tours because there's more competition for them.  The tourist bureaus are more selective about who they choose.
This means seasoned travel writers with access to editors of bigger circulation magazines often get priority.
International Press Trips

You can also organize your own international press trip.  You would do it similarly to how you organize a regional self-guided FAM tour except, of course, you're traveling to another country.  Here are seven steps to help you organize an international press trip.

Self-excursions are a form of low cost travel.  Don't expect to have all your costs covered when you're organizing these on your own.  Most likely you'll manage to get some costs covered, but be prepared to pay for some of the trip. 

The real key to covering the costs of international trips, and even making some money is to sell as many articles as you can before you leave your own country. 
By having assignments before you leave home you'll be able to cut costs at your destination by arranging press passes, complimentary accommodations, and possibly free meals.
Low Cost Travel as a Digital Nomad

Finally, you might want to consider taking an extended writing holiday as a digital nomad – where you travel to a low-cost, warm, exotic location, perhaps to escape the cold, dreary, never-ending winter weather – and you set up your writing remotely at your destination.  This way you can continue some of your usual writing habits and add some new travel stories to the mix to help defray the costs of your travel. 

Not every destination will qualify as low-cost travel so you'll need to be savvy about where to go.  I took an extended writing holiday in Ecuador for five weeks a few years ago.  Ecuador has particularly inexpensive accommodations along with a lot to see and do, so it was possible to really enjoy myself while continuing to get work done.  Typically, I would work all morning and then go out in the afternoons and explore.

Some international destinations have very low cost accommodations available, but there are other possibilities you can explore. 
Maybe you know someone with a vacant vacation home that would be happy to have someone living in it for a while. 
You might also consider home exchange opportunities, house sitting, or consider renting out your house while you're gone to offset the cost of being on the road. 
Of course, you can also pre-sell stories about your destination and use some of the self-guided press trip advice to help pay for your trip and keep your costs low. Whatever you decide, the idea is to get away for a while to a new destination, write new travel stories and explore new places, without completely unplugging from your office.
This page describes the various kinds of press trips and low cost travel opportunities I've explored over the past few years.  All of these kinds of trips will save you money, and help you learn about a city, a region or a country, and should leave you full of travel story ideas to keep you busy selling and writing travel articles long after you get back home.
---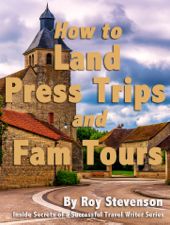 Special Report:
How to Land Press Trips and Fam Tours
I've written a guide about how to land press trips.  It will tell you everything you want to know about how to get into the inner circle and get invited on regional, national and international press trips. 
---
Other related articles that will interest you:

Here's the process I follow for selling my travel stories and getting travel perks.  I call it Roy's Rules for Selling Articles and Getting Travel Perks.  Of course, they're only guidelines but it doesn't hurt to use them as a rule until you can establish your own.
You will also want to make sure you have a solid presence on social media.  Facebook is a good place to build your travel writing image - here are 8 ways you can use it.
Being active on social media helps to publicize your travels while you're on the road, and it might even have other benefits.  Here's a post about how one travel writer uses Twitter and other social media.
---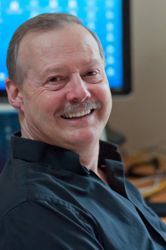 Roy Stevenson is a professional travel writer and the author of www.PitchTravelWrite.com.  Over the past ten years, he's had more than 1000 articles published in 200 magazines, trade and specialty journals, in-flights, on-boards, blogs and websites and has traveled on assignment around the U.S. and to dozens of international destinations.

---
IF YOU ENJOYED THIS POST, GET UPDATES.  IT'S FREE.