Travel Shows for Travel Writers
Compiled by Roy Stevenson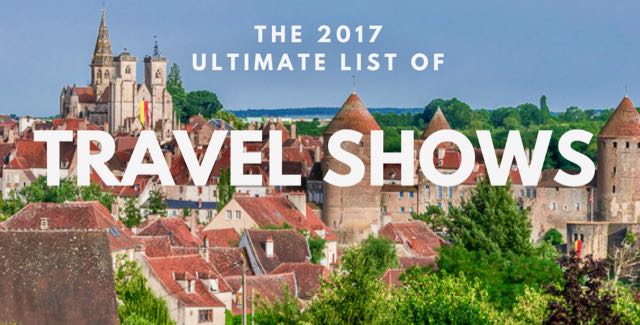 Travel Shows can be gold mines for resourceful travel writers, if you know how to approach the media PR's. 
We created this list of shows you can consider attending.   Just a side note:  There are occasionally some shows that are for trades people only.  Check with the organizers before attending to make sure the event is open to media.

Here's information about some of the big upcoming shows including links to their official websites.   Following this list, there's information on how to find travel shows in your neck of the woods.

---
New York Times Travel Show

New York, New York
January 27-29
The New York Times Travel Show is "the Largest Consumer Travel and Trade Show in North America for travel enthusiasts.  Register today to attend the 14th Annual New York Times Travel Show, January 27-29, where you'll be among 29,000+ like-minded travelers roaming the world, during this 3-day travel extravaganza. Plus, meet face to face with the 500+ destinations and suppliers on the exhibit floor."
---
Travel and Adventure Show

Los Angeles, California, USA
February 18-19
At the Travel and Adventure Show, "Get expert packing tips, technology trends and budget travel hacks on the Savvy Traveler Theater.  Talk to local destination experts who have the inside knowledge of where to go and what to do at the Destination Theater."

---
ITB Berlin

Berlin, Germany
March 8-12
At the ITB Berlin Convention, which takes place from 8 to 11 March 2017, one of the key up-to-the-minute topics will be 'Disruptive Travel: The End of the World as We Know It'. Leading international experts will show how tourism professionals are successfully taking on controversial issues and current challenges such as geopolitical crises, travel safety risks and the use of artificial intelligence.  The world's leading travel show. The foremost business platform for global touristic offers.

---
World Travel Market

Sao Paulo, Brazil
April 4-6
WTM Latin America is the three day must-attend business-to business
(B2B) event which brings the world to Latin America and promotes Latin America to the world. Through its industry networks, unrivaled global reach, WTM Latin America creates personal and business opportunities, providing customers with quality contacts, content and communities.

---
World Travel Market

London, England
November 6-8
World Travel Market is a 3 day event being held from 6th November to 8th November 2017 at the ExCeL London in London, United Kingdom. This event showcases product from Travel & Tourism industry. This business-to-business event presenting a diverse range of destinations and industry sectors to UK and International travel professionals etc. in the Travel & Tourism industry.

---
How to Find Travel Shows Where You Live

Do an Internet Search

Search for  "travel shows + your city", and you'll find them easily.  I've attended several travel events around Seattle that I found through an internet search. 
You can also find ads for these events in you local news media.

There are companies that arrange travel and adventure shows around the U.S. and encourage travel writers to attend.  You can learn more and register on their website:  www.travelshows.com.


Request a Press Pass. 

As a media journalist, you can request a Press Pass to attend these travel events.  Be sure and introduce yourself when requesting a press pass so they understand that you can help them by writing travel stories. 

Since exhibitors are the media reps for their countries, and are responsible for smoothing the way for travel writers to visit their countries, it's a benefit when you can meet them and write about their turf.

Be sure to read my advice in the article "Travel Shows - They're Not Just for Tourists", explaining how travel writers can benefit from attending these events.  Read the section "4 Things To Do to Get In the Game" so you're prepared for the show.  It tells you exactly what to do before, during and after the event.
  You can find it by selecting the graphic below:

---
---
---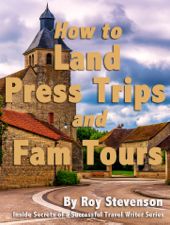 Special Report:
How to Land Press Trips and Fam Tours
I've written a guide about how to land press trips.  It will tell you everything you want to know about how to get into the inner circle and get invited on regional, national and international press trips. 
---
---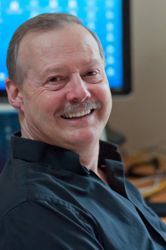 Roy Stevenson is a professional travel writer and the author of www.PitchTravelWrite.com.  Over the past ten years, he's had more than 1000 articles published in 200 magazines, trade and specialty journals, in-flights, on-boards, blogs and websites and has traveled on assignment around the U.S. and to dozens of international destinations.

---
IF YOU ENJOYED THIS POST, GET UPDATES.  IT'S FREE.

---
---
IF YOU ENJOYED THIS POST, GET UPDATES.  IT'S FREE.