Dreaming Up Story Ideas that Sell

Finding good story ideas is a challenge for all travel writers.  For novice freelance writers, it can be a daunting task.  Because of inexperience, you have no frame of reference.  Often, beginners lack confidence in their story ideas.

So where do you start?

It takes some groundwork to become savvy at recognizing and mining gold nugget ideas.  Here are six ways to enhance your potential for getting your stories published.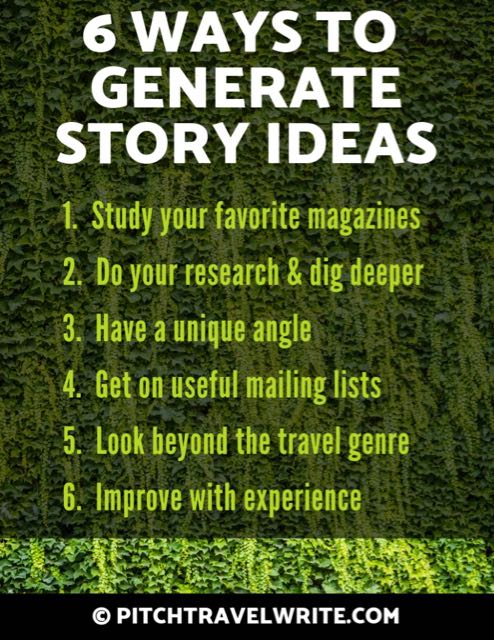 Find Story Ideas on Your Coffee Table

Flip though your favorite travel magazines and look at the stories that have been printed. Take note of the stories, places and themes. Every now and then you'll find a story that makes you think, "I could have written that", or "that's a topic I could have written about".

Have confidence that you do have publishable story ideas.  You have as much right to submit your story ideas to an editor as the next person.

If you think your supply of travel magazines is too limited, go to the library and look through their stash.  Most public libraries have a good selection of all types of magazines, and the back issues.  Pick up the ones that interest you and study the kinds of stories and themes in each of them.

Which ones captured your attention?  Which stories would you like to write?   What made them interesting to you?  Maybe you want to write about a festival or special event, or maybe you're more interested in writing about the culture of a place. 

Make a note of those stories. When you're at a new destination these could lead to some new story ideas.

And don't forget to visit your local bookstores and mine their racks for new travel magazines.  Notice if the magazine goes for theme-based topics (for example, the February issue is all about love and weddings), personal stories or some other angle.
You can also read another article I wrote about common themes for travel articles.

Do Research to Find an Outlet

I've been sidetracked many times on my travels when I find something interesting to see.  If I haven't pre-sold the story before my visit, I still collect as much information as I can while I'm there so I can pitch that idea later. 

I collect brochures, business cards, website URL's – and I take lots of photos.  In fact, I do everything I would do as if I am already on assignment so that I have everything I need when I sell the story later.

Here's an example of visit that turned into a story idea and a published story.  While I was on a self-guided tour of Arizona, I visited a Titan missile silo that had been converted into a museum.  We were amazed at the underground Launch Control Room and the enormous Titan missile in its silo (fortunately, disarmed).  We saw the crew's quarters, blast doors, missile transportation vehicles, and the heavy external concrete slabs that covered the silo when it wasn't in use.

After my tour, I was itching to write about this museum because it was so dramatic.  I racked my brains to find an outlet.

My first thought, when I get this feeling is, "Where can I place it?"  Do I have any outlets (magazines, newspapers, websites, etc.) that publish this sort of story?  

Then it came to me. There were several military vehicles on display above the silo that I'd photographed.  I contacted the editor of a U.K. military vehicle magazine with a story idea focused on the museum's vehicles.

The next morning there was an acceptance email waiting in my inbox.  So, by selling a story idea about the vehicles I saw, I got to write about the entire tour.
Have a Unique Angle

To improve your chances of selling your stories, it's best to focus your story on a single, unique aspect of a place.  General round-up stories that try to encompass everything you've seen are harder to sell. 

Every writer who visits Paris wants to write an article about Paris.  But, Paris has been flogged to death.  So you have to find a unique angle.

Instead of pitching a vague, general story about Paris, pitch a story about your visit to the eerie catacombs beneath Paris.  Or, the magnificent funerary sculptures at Paris's Pere Lachaise Cemetery.  Or, a new attraction on the outskirts of Paris that is attracting hordes of people. 

Look for original and exclusive ideas and focus on that as a potential story. Make sure your query is clear about your focus and make sure it spells out the uniqueness of the story.

Is your topic new and original but suitable for only a narrow group of people?   Don't worry.   Look for specialty magazines that cater to that niche.  Like my Titan missile silo article – perhaps not suitable for the masses, but perfect for military vehicle enthusiasts.

It bears mentioning that most travel magazines re-visit popular places every three to five years.  So if your timing is right and you pitch a general story on a place that is due for an update, you may get lucky.
If you're having trouble coming up with a unique story angle, you might want to stretch your boundaries when you travel.  It's important to keep your story ideas fresh and exciting.  One way to make this happen is to move out of your comfort zone every time you travel.  By doing this you'll find new, exciting ideas that will interest editors and engage their readers.

Break into Travel Writing
with the Creative Pack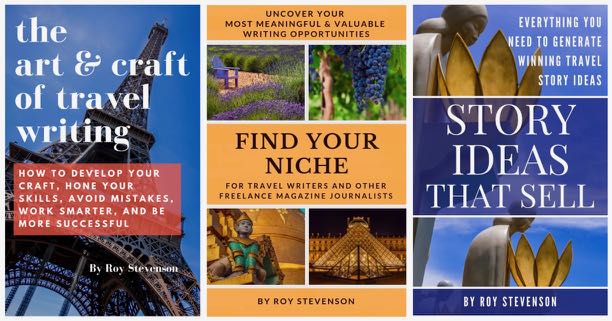 The Creative Pack includes 3 eBooks that are the starting point for every travel writer:  dreaming up unique story ideas that you can sell, finding the best writing niches for you based on your interests, passions and experience, and the art & craft of travel writing.  They're the pieces of the puzzle that come before you ever write a query letter to sell your articles to magazine editors. 
If you're just getting started in travel writing, this group of resources will help you improve your craft, generate story ideas that sell, and develop your own unique and meaningful niche. 
These eBooks can be purchased separately, but when you buy the bundle you'll save more than 10% off individual prices!  Learn more here ...

Get on Useful Mailing Lists for Story Ideas

Another way to generate travel story ideas is to get the monthly newsletters from Convention and Visitor's Bureaus around the U.S.  (and other countries if you're interested).  Scan through the newsletters each month and query any story ideas that catch your attention.

Even if you're not on a mailing list, go to the tourism website for the place you plan to visit and scour the site for story ideas. 

For example, I was planning a trip to Tucson, Arizona, and downloaded an excellent 22-page eBook from their tourist site called "100 Things To Do in Tucson".  I spent some time reading through the guidebook and found nine attractions that interested me.  I queried nine stories and ended up with five published print stories and three stories published online.
Look Beyond the Travel Genre

If you look at my Writer's Website (www.roy-stevenson.com) you'll see that I write in a wide variety of genres that loosely involve travel and culture.  Only half of my stories are published in travel magazines.  There's an art to knowing if your travel story is marketable.

Sure, there are mainstream topics like cruises, luxury villas, resorts and spas.  Or specialty topics like wine and beer cruises, microbreweries, vineyards and cheeses.  Many of these ended up in travel magazines, but a lot also ended up in specialty niche magazines.

I also love all things military.  So lots of my "travel" stories are about military places I've visited (museums, battlefields, fortresses, monuments, memorials and cemeteries).  The outlets for these are military oriented, not travel oriented.  They serve a special niche.

I also like to capitalize on where I live, so there are a variety of stories about the great things found not far from home:  communications museums, classic cars, marinas, rock climbing, and yachting meccas.  Once again, these are all special niches, not in the travel genre. 

And then there are less mainstream interests, some weird and wacky: UFOs and the paranormal, ghost towns, gold mining towns, medieval re-enactments.

There are outlets for all these topics and most of them are not travel magazines.

If you have a wide variety of interests, you will be able to expand the number of outlets that will be interested in your stories.  And they don't all need to be in the travel genre.  This is a real advantage.  (See my article about Multiple Stories - More Money.)

So think about all the things that interest you, or are new and different in your own neighborhood.  Think about the potential outlets for each of the attractions – beyond the travel genre.  Then send off queries to the special niche publications and get your letters of assignment.

Gain Some Experience
When you've been published a few dozen times, you'll just know when an idea is viable.  It'll hit you over the head like a sledgehammer!  I've done several hundred  travel writing assignments - you can get an idea of the many possibilities in this article.

Sometimes you'll learn from the story rejections you receive.  Sometimes you'll learn by the way an editor tweaks your story idea.  Most of all, it comes with some practice and experience, like everything else.  Here's a checklist with 9 tips for successful travel stories.

A couple years ago I walked into the Western Antique Automobile and Aeroplane Museum in Hood River, Oregon.  I came to a complete stop, did a slow look around at the dozens of beautifully restored antique cars and aeroplanes.  I told the museum director "I can sell a story about this museum to four or five different magazines".  And I did.

Recognizing and generating viable story ideas becomes much easier as you gain more experience, so give yourself a chance to learn this skill.  You'll soon find yourself walking around with your "story antenna" up.  Every now and then it will start buzzing.  Take note when this happens.  It's your subconscious mind telling you that you have a winner here.
Here's how to use executive summaries to generate a list of story ideas for a particular destination.  Executive summaries are an excellent tool to use for planning an extensive overseas trip.

Here are 6 tips for story ideas that sell ...

---
More Related Articles . . .

Travel Story Idea Troubleshooting Guide, or "Why Can't I Sell My Articles?"

Finding Multiple Story Angles About a Destination

Successful Travel Writing Tips for Beginners

---
---
Do you struggle to craft an engaging story,
and wonder how to get past this barrier?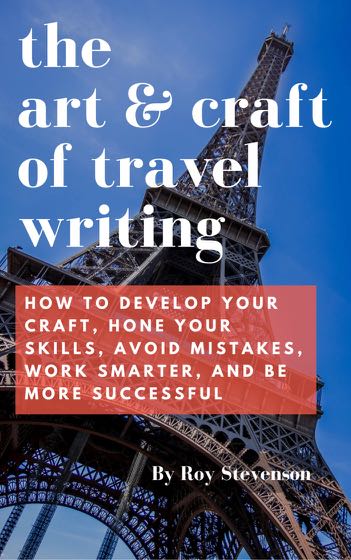 There are many tools and techniques you can learn.  And they're not difficult!
If you're prepared to work on your writing style and make improvements, you'll get your stories published in highly respected, paying publications.

The Art and Craft of Travel Writing is a handy reference with tips and techniques to help you.
---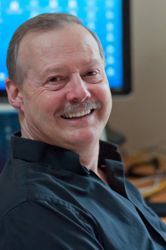 Roy Stevenson is a professional travel writer and the author of www.PitchTravelWrite.com.  Over the past ten years, he's had more than 1000 articles published in 200 magazines, trade and specialty journals, in-flights, on-boards, blogs and websites and has traveled on assignment around the U.S. and to dozens of international destinations.

---
IF YOU ENJOYED THIS POST, GET UPDATES.  IT'S FREE.