Travel Writing Courses:

How to Quickly Launch
Your Travel Writing Career
Travel writing courses will accelerate your travel writing career, especially if you don't have a writing background.  Many people become travel writers after spending years in a different profession. 

I started my freelance travel writing career in a profession so far removed from writing that you'd never guess it unless I told you.

What was my profession before I started travel writing?  I was an exercise physiologist. I have a Master's degree in Exercise Science.

I spent most of my career teaching exercise science at two universities, a community college, and a technical college.  Before that, I was a physical education teacher in New Zealand.  These professions aren't known for needing advanced writing skills.


Aspiring travel writers often assume you need a degree in journalism or fine arts.  Or, you might think you need coursework in creative writing or English literature. These assumptions are not necessarily correct. 

Although travel writers would certainly benefit from credentials in journalism or creative writing, they're not necessary.  I don't have any formal academic writing qualifications and yet I've sold more than 1,000 articles to 200+ magazines. 


I know other successful travel writers with previous careers in corporate marketing, the military, public relations, nursing, sales, accounting, and pretty near every other occupation.

Just because you have no formal education in journalism doesn't mean you can't be a successful travel writer. But, you do need to be a capable writer to sell your stories and get paid for your work.  Beyond writing skills, you also need go marketing skills to sell your story ideas to editors.
Too many beginners try to figure this out themselves. But I would have given up long ago if I had tried to figure it all out on my own.   

When you're starting out in the freelance writing game, you'll encounter many landmines, and it's so easy to screw things up.  Novices make countless mistakes, beginning with their story idea and query letter all the way through completing a publishable article.

If you're looking for good introductory travel writing courses, this post will show you where to find them.  With the right courses you can become a capable writer and get published.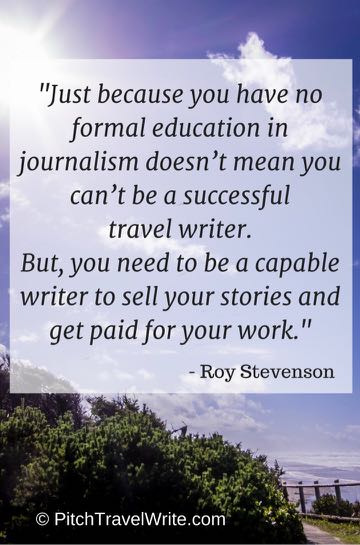 Local Courses

There are hundreds of travel writing courses available and you can probably find one locally.

The first place to check is your local community college.  And adult education courses and community education extension departments at your local university frequently offer travel writing courses.


What are the advantages of local programs? 
They're usually inexpensive and you don't have to travel far to attend the classes.
Another advantage is being able to participate in a live class.  It's a big plus to get personal interaction with the instructor, ask questions and get immediate answers. 
Local courses typically run for a few weeks, giving you time to absorb the material and practice writing.  This is a great way to decide if travel writing is for you.  It takes a certain kind of personality to be a freelance travel writer.

Attending a course can be overwhelming.  But since you're surrounded by other travel writer wannabees, you won't feel alone.  When the course is over you'll have some friends you can call upon for support.

You can also look for courses offered independently by local travel writers.  A quick internet search for courses in your location should tell you what's available. 

I know of reputable courses taught by personable and knowledgeable instructors in Seattle, New York, London, Spain, and Australia.  Do a quick search for "travel writing course (your city)" and see what results you get.


Online workshops and courses

If you can't find a course locally, you can also look online for travel writing courses.  Just search for freelance writing courses, creative non-fiction writing or similar topics to see what else is out there. 

When you're looking for travel writing courses, the most important components should be:
learning how to write good travel stories and
how to sell them
These are both important! 
You want to have your stories published and get paid for them. Look critically at the course agenda before you sign up.  


My friend, Nick O'Connell offers high-quality writing courses through his website.  He offers live workshops in Seattle, or you can opt for one of his online courses.
If selling your stories is a mystery to you and holding you back, you can learn about how to market and sell your stories in my Online Travel Writing and Marketing Master Class.

Travel Writing Courses Can Launch Your Career
 - it Launched Mine!

People always want to know how I learned about writing travel articles.  As with anything, it evolved.

But it started by attending a course.  Since I was a complete rookie I didn't know anything at all about travel writing and what it entailed.  The easiest way to learn about it was to take a class.  The introductory course I attended gave me the basics about the craft and the process of travel writing. It helped me understand the industry.

Looking back, I figure that travel writing course shaved a couple years off my learning curve.  When the course was over, I knew what I had to do to get started.  


But, I soon discovered there was more to it that that. I needed more than basic information - I needed actionable tools. To ramp up my learning, I also attended local, regional and national travel writers conferences.  I built up my knowledge about the industry, learned more about writing technique, and built my network of industry contacts and writers.

I also supplemented these live events by reading books and articles about travel writing.  I read anything about freelance writing that I could get my hands on.  These books and articles helped me multiply my income as I learned about new techniques and marketing strategies.

But most of all, I got out there every day and pitched stories to every kind of magazine imaginable.  I learned by doing the work.

I applied everything I learned from workshops and conferences, and  books and magazines. I've been continuously evolving since that initial travel writing course.  You will evolve, too, by attending courses and using the tips and techniques you learn along the way.

So that's how I learned about travel writing.


Now, after more than ten years as a travel writer, with more than 1,000 articles published in 200+ different magazines, newspapers, and websites, I can tell you I'm participating in a deeply fulfilling profession.

Yes, I've worked hard to write and market my articles.  But without taking a course to get me on the right path at the beginning, and continuing to learn and network through conferences and other events, I would not be where I am today.

Try it!  Take an introductory travel writing course to speed up your progress and start moving in the direction of your dreams.

Live workshops that will improve your craft and teach you step-by-step how to sell your stories:

2021 Travel Writing & Photography Retreat, June 3-6, New Orleans

2021 Travel Writing and Marketing Master Class, June 8-10, New Orleans
2021 Travel Writing & Photography Retreat, December, Hoi An, Vietnam

Get on the interest list for the above 2020 workshops here ...

---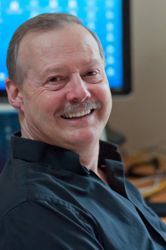 Roy Stevenson is a professional travel writer and the author of www.PitchTravelWrite.com.  Over the past ten years, he's had more than 1000 articles published in 200 magazines, trade and specialty journals, in-flights, on-boards, blogs and websites and has traveled on assignment around the U.S. and to dozens of international destinations.

---
IF YOU ENJOYED THIS POST, GET UPDATES.  IT'S FREE.