Find Your Niche
Uncover Your Most Meaningful Genres & Most Valuable Writing Opportunities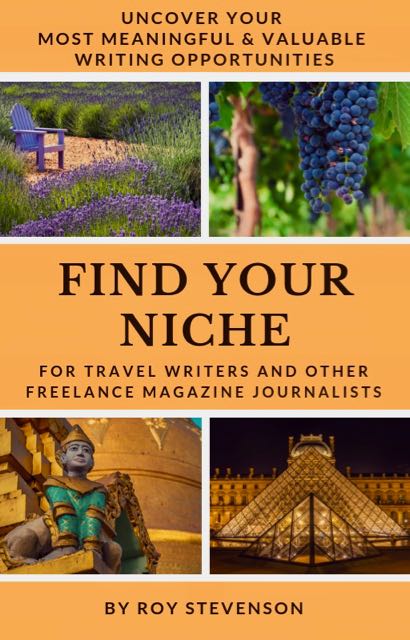 There's so much more to being a successful freelance journalist than good writing skills. 
If you want to earn enough money in this field, one important aspect is diversifying your writing focus into more than one niche.  

But how do you go about doing that?  

Figuring out where your interests and skills fit into the myriad themes of freelance writing can be confusing.  As a beginner, you don't a foundation to make an educated guess.  

Find Your Niche explores the different kinds of stories and writing genres to help you identify the niches that are interesting to you.  

Will you focus exclusively on travel writing?  Which aspect?  Food?  Adventure?  Luxury?  

Or will you expand into other areas of freelance writing such as classic cars, sailing, or fitness?

That's where this book will help you.   

You'll find a multitude of opportunities available to travel writers and other freelance writers.  And you learn to hone in on what your specialty (or specialties) might be.

You can do almost anything that strikes your fancy as long as there's a readership for it – and there usually is.

Find Your Niche has 85 pages of my most popular articles about how to create your own writing niche.  You'll find tips, techniques and actionable information including:

7 reasons to pursue a specialty niche and how to get started
Why tapping into your interests, passions and experience will lead to greater success
How you'll earn more by writing in multiple genres
5 ways to write with authority on a topic when you're not an expert
Eight specialty niches with details about how to break into these niches and where to pitch your story ideas
You can successfully combine travel writing with other freelance writing genres.  What if you pair it with your education or experience and write about dogs or sports cars, business or golf, art or architecture, fitness or health?

The important thing is to enjoy what you're writing about. 

I've used the travel niche as the focus in many of these articles, but the same advice applies to practically any niche on the planet.  Keep this in mind as you read these pages and use your imagination to apply it to any niche you choose.

So let's get on with the tips, advice and inspiration and find your niches!

FIND YOUR NICHE

Price:  $12.95

Available at checkout in PDF format:
If you have a discount code remember to enter it in the "Add Promo Code" box on the next screen.

I wish you well on your freelance writing journey!

Roy Stevenson
---