Ask Roy:


Email Contact Form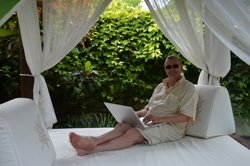 Do you have a burning question about travel writing or launching your travel writing career?  Ask it here.  Answers will be posted on my "Travel Writing Tips" Questions & Answers page. 
If you have a question, chances are that other people have the same question so I like to share my answers with all of my readers. (Note:  I will not publish your name with your question - all questions will be posted anonymously.)
I look forward to hearing from you!  - Roy

---
IF YOU ENJOYED THIS POST, GET UPDATES.  IT'S FREE.