How to Break Into the
Luxury Travel Writing Market
Would you like to stay at luxury resorts, villas, and lodges—for free?

How about being treated like royalty in high-end resorts?

Would you enjoy personalized tours with your own guide and driver?

Does being pampered with lavish treatments in some of the world's most beautiful spas sound good to you?

Would you enjoy eating at some of the finest restaurants in the world—for free?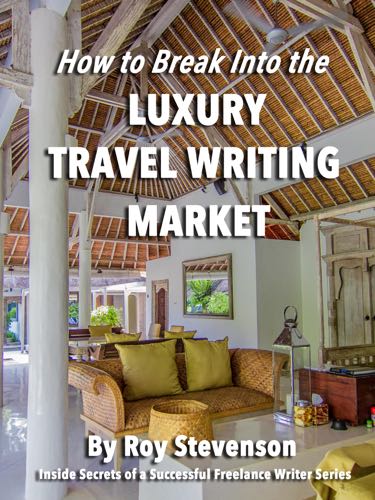 If you answered, "Yes" to any of these questions, and you enjoy writing about your experiences, then you have the right stuff to be a luxury travel writer.  Because that's what you'll be doing all day if you write for the luxury travel market!

How To Break Into The Luxury Travel Writing Market will put you on the inside track for success in luxury travel writing.

This 130-page eBook has 12 information-packed chapters.  This book breaks down into bite size pieces the skills and knowledge required to be a successful luxury travel writer.  It walks you through the luxury travel writing process step-by-step so you know exactly what to do to succeed.

Being a luxury travel writer means experiencing these kinds of assignments, and then writing about your experiences:
A 12-day tour of five of Arizona's finest high-end resorts. Located in truly gorgeous spots, these lavish resorts are tucked away in spiritual red rock canyons or sprawling on mountaintops in quiet lodge pole pine and juniper forests.  Enjoy hiking, biking, yoga and complimentary spa treatments as part of the assignment.


A 4-day luxury wine cruise through Washington State's Puget Sound aboard a beautiful, historic, 126-foot Schooner, visiting wineries each day, and eating fresh, gourmet seafood meals on deck each evening watching the sun set over the Salish Sea. 
---
Ready to take a huge leap and start writing for the luxury travel market?
BUY NOW!  Downloadable PDF:  $39   

---
A System that Works

This eBook will put you on the fast track to luxury travel writing and will save you two or three years of learning by trial and error.  You'll break into the market faster because you will know how to do it right.

You'll learn how to dream up enticing luxury travel story ideas that will sell to magazines.  And you will learn where to look to find outlets to sell your stories.

In this eBook you'll receive up-to-date lists of 21 travel websites and 55 print magazines that publish luxury travel articles.  Immediate access to these lists is worth the price of the eBook, saving you dozens of hours of research.

Most travel writers struggle and stumble with marketing their luxury travel stories.  Several chapters of this eBook are dedicated to strengthening your marketing and selling skills.

You will learn how to get assignments and use them as your currency for landing luxury travel trips.

The chapters, "Finding Outlets for Your Luxury Travel Stories" and "Using Query Letters to Sell Your Articles", point you in the right direction for maximum sales. 

Using query letters to sell your luxury travel articles shows how to make your queries enticing to magazine editors.  And, you'll get some sample query letters to use as templates for your own query letters - saving you time and the struggle of coming up with the words on your own.
These sales techniques have been used to get assignments like these...

A week-long cruise along France's Burgundy Canal in a luxury hotel barge. The days blur blissfully past as you cruise sedately along the beautiful canal, stopping every mile or two at locks, and stopping off to visit castles or to wander through medieval stone villages.

A trip to Queenstown, New Zealand's premier resort town, parlaying assignments for luxury accommodations and tours.  Staying at the finest resort villas in Queenstown - costing far beyond a travel writer's budget.  
Touring a high country sheep station; taking a boat tour of the gorgeous Milford Sound; a trip on the Skyline Gondola overlooking Queenstown; a memorable dinner cruise on the steam ship TSS Earnslaw across Lake Wakatipu; a tour of Arrowtown; fine dining at Queenstown's gourmet restaurants, and more.

The chapter about "Selling Your Luxury Travel Stories" covers effective sales techniques.  It takes you beyond the query letter into more sophisticated sales techniques such as simultaneous submissions and multiple queries—techniques that can gain you phenomenal results in freelance writing.

This chapter also delves into the mysteries of getting repeat business with the same editors—a technique you can use to sell multiple articles to the same magazines.

You will also find a chapter on "Finding Luxury Press Trips" with ten valuable resources where you can find out about upcoming press trips and Fam Tours. If you can't score some freebie press trips from this lot, you're not trying hard enough.

The "Self-Guided Luxury Tours" chapter shows how you can save thousands of dollars when you're planning luxury assignments, just by sending out a few email requests in advance of your trip.

This chapter is also filled with sample letters that have actually used to request complimentary accommodation, meals, tours, entry to tourist attractions, and other assistance from...
•    International tourism agencies
•    Regional Convention & Visitor's Bureaus
•    PR agencies

Other sample request letters cover ...
•    How to request complimentary accommodations from luxury resorts
•    How to request complimentary cruises and day tours directly from the vendors themselves
•    How to request complimentary restaurant meals
•    And more…

You can use these sample letters as templates, and save yourself countless hours of work.  There's no need to re-invent the wheel.  And, sending out these letters in advance of your trip can save you a small fortune in travel costs when you have an assignment.

When you're invited on press trips, you don't want to inadvertently offend your hosts, the luxury property managers, or fellow writers.  The chapter, "Travel Etiquette on Luxury Tours", tells about the behaviors expected of the press, so that you'll be invited back to your luxury destination, and on other press trips with the same PR agency.

The Brains Behind the Book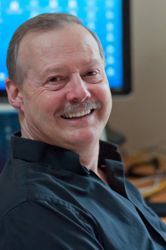 Roy Stevenson has been writing for eight years, and in that time he's managed to shoehorn 900 articles into 190 different magazines, trade journals, specialty magazines, in-flights, on-boards, and e-zines.  Many of these assignments led to luxury travel experiences that are almost beyond belief. 
Like one of his all-time favorite gigs...
… staying at twelve of the finest luxury resorts and spas on the magical Indonesian island of Bali.  Over 28 days, he stayed at and enjoyed everything each one had to offer.  Each well-appointed, private villa included authentic native decor, plush furnishings, and several rooms - indoors and out.  Dinners were served by a small horde of waiters in his private outdoor dining room, and sometimes, when he requested it, under the stars.

On the days he was willing to leave this life of luxury (not often!), he was escorted on customized tours around Bali's main tourist attractions.  Most days he was pampered to the point of insensibility with countless massages and healing sessions.

---
Roy has been living the dream for the past six years.  He's been on more than 80 press trips since he started his travel writing career.  Many of these trips have been to luxury destinations like . . .

Six of the Pacific Northwest's finest lodges, in British Columbia, Washington, Oregon, and Idaho. These Northwest lodges were discretely tucked away amidst verdant native forests or perched high atop lofty mountains like eagle's aeries, and included fine dining, spa treatments, and many soft adventures like white water rafting, horseback riding, golf and some shopping.


Rotorua's historic Princes Gate Hotel, the highest rated and most exclusive hotel (5 star Guest) in Rotorua, New Zealand.  And being treated to some stimulating cultural tours and gourmet meals in Rotorua.


A three-day walk along New Zealand's Queen Charlotte Track, staying in luxury accommodations along the trail.  At the end of each day trek was a boutique hotel or resort where he was pampered with cold beer, warm showers, soft beds, and gourmet food.


Some of Europe's finest resorts and hotels including Germany's magnificent La Belle Epoque in Baden-Baden, the famous Hotel Nassauer Hof in Wiesbaden, and the exclusive Hotel Bareiss resort in the Black Forest.

Roy has packed everything you need to know about writing for the luxury travel market into this 130-page eBook.  It's a resource that is designed to bring you luxurious travel benefits with information that you can use again and again in your freelance travel writing career.

View the Table of Contents

---
BUY How to Break Into the Luxury Travel Writing Market and give your freelance travel writing career the luxurious kick start that it deserves!
Buy now!  Downloadable PDF:  $39 

---