Pitch Travel Write e-zine Sign-up

By Roy Stevenson
Once a week on Monday morning you will receive a new issue of my PitchTravelWrite e-zine.
This e-zine is written with travel writers in mind.  Every issue includes tips about what you need as a freelance travel writer:  marketing tips to help you sell more articles, how-to write better stories, information to help you make the most of your travels,  and much, much more.  Sign up here: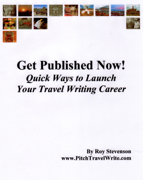 When you sign up for the PitchTravelWrite e-zine you will also receive a FREE copy of
Get Published Now!

This free guide tells you some of the fastest ways to get your travel stories published in print media and online. 
Sign up now and receive your free eBook today!

---
Read a few recent backissues of "Marketing Tips for Travel Writers"

---
IF YOU ENJOYED THIS POST, GET UPDATES.  IT'S FREE.