Travel Accessories
for Travel Writers
Here's a list of travel accessories that I carry with me when I'm away on travel writing assignments.  I try to find the smallest, lightest things available, especially for air travel. 
I only travel with the things I will use and recommend you do this, too.  Travel is fun but carrying too much stuff isn't much fun at all.  Use this as a packing list if you like.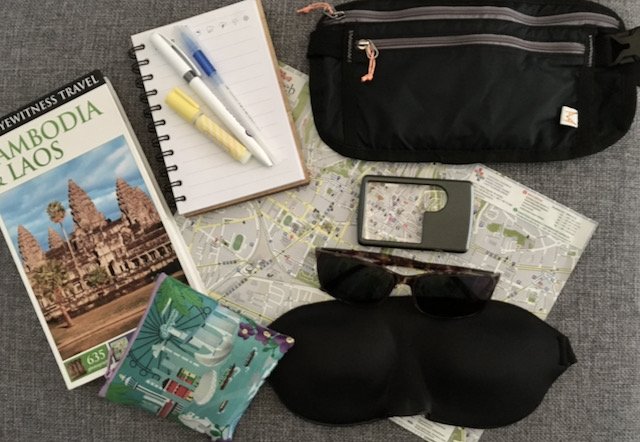 These are a few of the travel accessories you'll need if you're on a trip on assignment.
Travel Accessories: Writing Necessities

Photocopies of Guidebook Pages
Guidebooks are heavy.  I make photocopies of pages that I need and then discard them when I don't need them anymore.  If you're traveling with an iPad or other tablet, you can save them electronically and save the paper and the extra weight.
Notepad and Several Pens 
Keep the notepad as small as possible, but big enough to be useful for note taking while you are out and around.  As an alternative, use a recorder on your phone.

Maps
Have a map of every city you are visiting. Often you can pick these up at tourist offices when you arrive.

A Highlighter
These are handy for marking guide book pages and maps.

Magnifying Glass with Light 
My wife has a credit card sized light with magnifying glass. I borrow it all the time for reading maps.  It works well for reading menus in dark restaurants, too, when I inevitably forget to bring my reading glasses.

Travel Neck Pouch or Money Belt
In my experience you can encounter pickpockets just about anywhere.  Losing your wallet will ruin your trip.  Always wear a neck pouch or other pickpocket-proof accessory.  
In addition to this, I usually keep most of my valuables (cash, credit cards, passport, travel documents) locked in a safe back at the hotel.  I only carry one credit card and enough cash for the day on me, so that if these things are lost, I haven't lost it all.
Linda prefers wearing a money belt. She considers it less conspicuous and easy to wear. She actually wears one all the time, even when we're not traveling, because she has a bad habit of losing track of her purse -- so she doesn't carry one. Her money belt works for her 365 days a year.
List of credit card numbers and contact phone numbers
Keep this emergency list handy and safe so you can place calls in case your cards get lost or stolen, or you encounter some other crises.

Sunblock and Sunglasses

Earplugs – for noisy hotel rooms.

Eyeshade – for air travel and hotel rooms that aren't dark enough.
Sample Size Toiletries 
Bring only the bare minimum.  Some of these things will be provided in your hotel.  And you can do a little shopping once you arrive at your destination, if needed.

Prescription medications in their original containers 
I also carry a small container of aspirin or Tylenol with me for general pain relief.
Travel Accessories: Technology
Camera, batteries, memory cards. 
Download a copy of the camera manual to your computer or iPad so you don't need to carry it with you.

Voice Recording App on Your Phone
Sometimes it's difficult to write while you're touring.  Download an app that can do voice recording and learn to use it in advance so you're comfortable with it.  

Mobile Phone

Your phone has everything you need - messaging capability, maps, calculator, alarm clock and navigation features, to name a few features. It's one of your most useful travel accessories.

Laptop  
Bring it only if you intend to get some work done on the road.  An iPad or tablet is enough if you're just checking emails, or if you don't need to download photos to a hard drive.

Small Flashlight 
Great for exploring caves and tunnels, on dark streets, and for navigating your hotel room in the middle of the night when you can't remember where the light switch is located.  There's a smart phone flashlight app you can also use, although I don't find this as easy to use. Make sure your phone is always charged if you use this feature. Otherwise, carry a small  flashlight.
Noise Reduction Headset for Air Travel

You'll arrive more refreshed after a long flight if you are able to shut out the aircraft ambient noise. This is one travel accessory I can't live without.  For a long time I simply wore earplugs, and then one day my wife loaned me her Bose headset and I became a believer.
Now we both happily travel with our Bose headsets. They're a little pricey, but well worth the cost. And they last for several years so you'll get your money's worth. Linda also uses hers at home, when she wants to block out noise, listen to music or audiobooks and to watch movies on her iPad.
Travel Accessories for International Assignments
For international assignments, you'll need some additional accessories when you travel.
Passports and Visas
For all international travel you'll need a passport, and for many countries you'll also need a visa.  Sometimes you can get a visa upon arrival in a country.  Other times you need to apply for a visa in advance.  Make sure you know what you need a few months before your trip so that you allow enough time to acquire the visas needed in advance of your trip. And make sure your passport is current.

Immunizations 
Always check whether you need immunizations for your destination. Get your shots well before you depart.  

Electrical adapters
Different countries have different electrical plugs so have one or two of the right ones before you leave home. Sometimes the hotel can provide this for you, but don't depend on it. It's one of the travel accessories that is critical to charge your phone and camera batteries.

Voltage converter
You'll need a converter if you have electrical devices with a different voltage than the country you are visiting. My recommendation here is to leave all devices at home that aren't dual voltage. Voltage converters are heavy, and not always reliable. Travel with dual voltage devices instead.

Translation App or Phrasebook
If you're visiting a country where they speak a different language, use a translation app or a small phrase book for simple things like learning to say please and thank you. Your guidebook (the one you photocopied before you left) probably has a good list of important phrases.  Copy those pages, too.
Travel Insurance
For international trips it's a relatively inexpensive way to achieve piece of mind in case things go horribly wrong.
First Aid Kit
Pack a small first aid kit. It's not always easy to find a pharmacy or chemist shop when you're travelling.

"Nice to Have" Travel Accessories
Sewing Kit
These days not all hotels offer sewing kits.  It's nice to have a small one tucked away for that button that pops off at an inopportune time.


Small Pair of Scissors

Only pack in checked baggage.  You're likely to lose these if you try to carry them on the aircraft.  The front desk at your hotel may be able to loan you a pair of scissors.

Binoculars
For bird watching, events, far away sights, depending upon what you're planning to do while you travel.

Returning Home
Space in Your Suitcase

Finally, make sure you leave enough space in your suitcase to pack the plethora of travel brochures, books, and other reference materials that you will inevitably accumulate on your trip.  If you're being hosted by the local tourist office, they might give you small gifts, adding to the space problem.

Leave room in your main suitcase for these items, or one of the travel accessories you can pack is a collapsible bag to carry it all home. 
An alternative is to mail these items back home.  If you're traveling in the U.S., using UPS or FedEx to ship bulky and heavy papers works very well.  Your hotel concierge usually can help you with this.  

Internationally, shipping something home can be expensive and can take months -- I know because I've done it! This holds up your writing schedule, so you're better off carrying your research items in your luggage.
Please note: if you click on the amazon links and make a purchase, we'll receive a small amount of affiliate income. This will not affect the price you pay.
---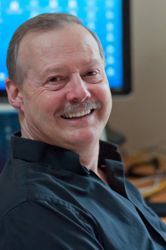 Roy Stevenson is a professional travel writer and the author of www.PitchTravelWrite.com.  Over the past ten years, he's had more than 1000 articles published in 200 magazines, trade and specialty journals, in-flights, on-boards, blogs and websites and has traveled on assignment around the U.S. and to dozens of international destinations.

---
IF YOU ENJOYED THIS POST, GET UPDATES.  IT'S FREE.