The Complete Guide to

Marketing and Selling
Your Travel Articles:
Inside Secrets of a Successful Freelance Writer
Everyone wants to be a travel writer.  But to be successful, you need to know how to sell your articles.

Even if you are the best travel writer in the world, if you can't sell your articles they'll never be published.

Your success as a freelance travel writer all comes down to marketing.

You need to know how to get published so you get invited on those cool press trips and Fam tours to exotic destinations . . . places like Bali, where we stayed in high-end luxury resorts and were treated like VIPs for a month, with our own personal guide and drivers, spa treatments, amazing villas …

… or like our trip to Europe when we cruised blissfully down France's Burgundy Canal for a week in a 146-foot-long luxury boutique hotel barge, eating gourmet regional food and sampling local wines and cheeses . . . all for free.

I go on press trips like this all the time, almost at whim.

You see, in the travel writing business, your assignments are your collateral for landing press trips and complimentary travel. And the icing on the cake is that you get paid to write about these trips!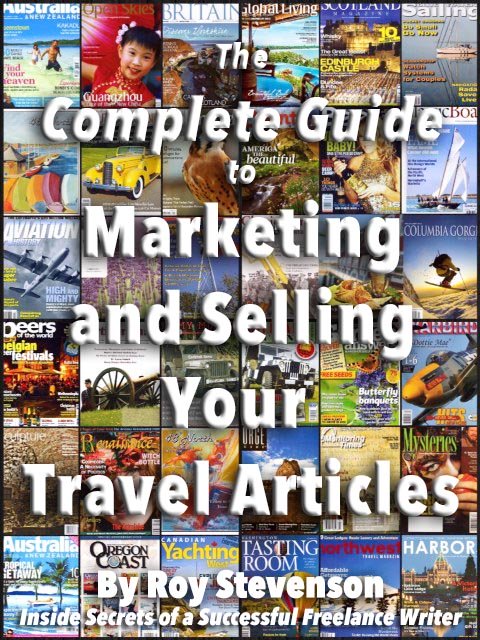 My new book, The Complete Guide to Marketing and Selling Your Travel Articles:  Inside Secrets of a Successful Freelance Writer, shows how you can start selling your travel articles to magazines immediately and reap fantastic travel benefits.

I've visited dozens of countries and stayed at hundreds of resorts, villas, spas, lodges, mansions, castles, and other luxury properties—even a perfectly recreated 1860s Wild West town in Arizona—all because I know how to sell my travel articles to magazines.

You can travel like this too. It's definitely not rocket science. I'll show you how in my latest book, The Complete Guide to Marketing and Selling Your Travel Articles.

I spend up to 5 months each year traveling around the U.S., Europe, Southeast Asia, Australia and New Zealand, and other enjoyable destinations, and it's all because I know how to market and sell my travel stories.

I consistently sell 90% of my travel stories—while most travel writers consider themselves lucky if they sell 25% of their stories.

My travel stories have been published in 190 different regional, national, and international magazines, Journals, airline in-flights, cruise line on-boards, newspapers, and specialty magazines and travel websites.

In fact, I've had nearly one thousand articles published in 9 years! 
My book tells you everything I know about selling travel stories so you will know how to do it, too.

It will show you how to select travel topics that magazine editors will want to buy  . . . and how to pitch your travel stories to magazine editors the right way to convince them to buy your stories.  It will tell you how to find the right magazines that will be interested in your story angle.

Are spas and fine dining your thing?  I've had countless spa treatments; massages and facials, and manicures and pedicures in exotic places like Bali.

I've soaked in hot, relaxing mineral pools in Baden-Baden and Wiesbaden, Germany, and in Rotorua, New Zealand.

I've had private yoga and meditation lessons, water therapy sessions, mud baths, hot stone treatments, and even a fabulous Balinese spiritual healing treatment. .

… all because I know where and how to find magazines that will buy travel stories like these.  I'll teach you where to find them, too.

My luxury travel assignments have landed me 4-day wine and beer cruises through Washington State's Salish Sea aboard a beautiful, historic, 126-foot-long schooner.

Another assignment we savored was staying at seven of the Pacific Northwest's finest luxury lodges, with meals and accommodation—and spa treatments—all courtesy of the properties.

But, you need travel assignments to be pampered at luxury resorts and spas and to eat complimentary gourmet meals at fine restaurants.

My book, The Complete Guide to Marketing and Selling Your Travel Articles ...

•    Will show you how to sell your stories overseas and how to resell your magazine articles
•    Outlines the 17 essential parts of the successful query letter, for you to use as a checklist
•    Shows you the five best ways to create magazine distribution lists to pitch your story ideas

My travel stories have been published in magazines and newspapers around the world. I've had articles on the magazine racks at Barnes & Noble bookstores continuously since my third month of writing, eight years ago. And I have a stack of magazines 7 feet high to prove it!

I will teach you how to approach this kind of productivity and get published as often as you want to get published.

The Complete Guide to Marketing and Selling Your Travel Articles, tells you how to get started and more importantly, how to pick up steam quickly and move forward into better paying magazines.

In this book I share the dozens of special sales and marketing techniques, and tips and tricks that I've picked up over nine years of professional travel writing.

My book shares my hard-earned and seldom-revealed insider's secrets on how I have established strong relationships with magazine editors to get repeat business. And I do get plenty of repeat business!  I've been writing for some magazines since 2008!

This book is all about maximizing sales, building your writer's platform, and establishing your travel writing brand.   It's about selling your articles and marketing your personal brand.

The popular "how to" books about freelance writing that you find in the bookstores serve up a scant chapter or two on marketing freelance articles and are so poorly detailed that they leave you with more questions than answers.

I've found these books remarkably lacking in practical marketing advice, and next to useless.  It's almost as if the writers are keeping their marketing secrets to themselves . . . and my book addresses these shortcomings in great detail.  That's why I call it "inside secrets of a successful freelance writer".

My marketing guide differs from most travel writing "how to" books because it's packed full of practical advice on how to market your magazine articles.  You'll be able to implement my advice immediately.

If you follow my advice and use the techniques and tips I describe in this manual, you will get your travel stories published.

You'll still need to do the work, but you'll be on the right track from the start. 

Your learning curve will be so much faster than other novice travel writers who have absolutely no idea about what to do to break into travel writing.

Beginners in the travel writing game usually blunder along. They make a multitude of mistakes that cost them assignments until they finally stumble across something that works . . . and this usually takes them years of trial and error.

My book will guide you with solid, practical, and ethical advice on selling and marketing your travel stories.  You will learn the marketing secrets used by professionals, including many techniques that I've developed along the way to make your journey less stressful and more productive.

If you have even average writing ability, there is absolutely no reason why you cannot sell your travel articles to dozens of magazines as I have done. 

My marketing system is a blend of many well-tested marketing methods that consistently work well, plus some maverick techniques that can yield surprisingly good results.

I've discarded some of the traditional techniques that fail miserably in our fast-paced, digital world, and added my own methods to create a marketing system that works like a charm.

Why did I write this book?

Because the travel writing market is super-competitive and there isn't another book out there that addresses these topics in this detail.

You need a selling system because there are thousands of other freelance travel writers out there.  They have equally good story ideas and they might be finer writers than you.

The most exotic adventures and desirable destinations are very competitive. Who doesn't want to do the cool things that the top travel writers do?

So it comes down to who is best at selling their stories.  And that's what this book will help you to do.  You will learn the ropes faster and be able to compete with this crowd.  In short, you'll learn quickly how to become the best.

This book will put you in the freelance travel writing game at the advanced level and will save you years of experimentation and disappointment.

You'll learn ...

     •    How to start selling magazine articles immediately
     •    How to dream up enticing story ideas that editors will buy
     •    How to select topics that will sell across different genres
     •    How to sell 90% of your articles
     •    How to sell your stories overseas
     •    How to resell your magazine articles
     •    How to write spin-off articles for different magazines
     •    How and why you should start with your local magazine market
     •    Two special techniques for reselling your inventory of articles
     •    How to introduce yourself to editors of new publications
     •    How frequently to pitch story ideas without annoying the editor
     •    Why and when you should write an article for free
     •    The best online magazine databases to subscribe to
     •    What to look for in the writer's guidelines to boost your bylines
     •    Five hot tips on getting repeat business with editors
     •    Five essential elements for your website to establish credibility …  and what to leave off 
     •    What networking methods work best and what does not (you'll be surprised!)

Here's what well-published UK travel writer, Mike Gerrard, says about The Complete Guide to Selling and Marketing Your Travel Articles:

"Sometimes you just need a kick up the butt. Roy's book will do just that, in motivating you towards sending in your travel pieces and - hopefully - getting them published. I'm a well-published travel writer myself so I know the real thing when I see it. This isn't one of those 'write a best-selling novel' books, written by someone who hasn't written a best-selling novel. Roy walks the walk as well as talking the talk. With several hundred published pieces to his name, in more magazines than I even knew existed, Roy knows his business.

"Not everyone is prepared to share their secrets in the generous way that Roy does. I for one am grateful that he does, as even though this is a book largely aimed at beginners, I picked up a few tips from it, and possible leads. It triggered off several ideas for pieces of my own, and where to send them.

"There are sensible suggestions like 'start local', and maybe even write a few pieces for free, not only to get yourself some bylines but also to get you used to meeting a brief, and a deadline, and making yourself a better writer.

"I used to teach travel writing courses myself, and would often begin by saying that I bet every student in the room could write well enough to get a travel article published. You don't have to be a brilliant writer. You have to be competent, and most people are. But you do need to apply yourself, to come up with original ideas, and especially study the markets for your work. Roy repeats some advice I used to give - don't just write a piece and then try to think of somewhere to send it. Find your target market first, and tailor a piece - or a pitch - specifically for that market.

"I recommend this book to anyone interested in the topic of travel writing. It will repay the purchase price many times over, if you follow the advice in it. It'll be the best kick up the butt you ever had."
- Mike Gerrard, Travel Writer
And freelance travel writer,  Martha Veon,  says this about my ebooks:

"If you are serious about breaking into freelance writing, check out all of Roy's how-to books. He has produced a resource library that every new freelance writer, regardless of niche, would be wise to own. Roy's how to books will put you on the fast track to success. These are the same techniques he used to skyrocket his own career. I own all of them and they have proven to be a wise investment."
- Martha Veon, Freelance Travel Writer
Buy the Book
The Complete Guide to Marketing and Selling Your Travel Storie

s: Inside Secrets of a Successful Freelance Writer



Regular Price:  $ 99
(Note:  If you have a discount code, you can add it on the next screen.)

---