Using Executive Summaries for Dreaming Up Story Ideas
Using Executive Summaries for Travel Writing Success

Executive Summaries are lists of tourist attractions that travel writers create for an upcoming trip.  It's one of the techniques I use with writers I coach.  

The writers create these summaries for their planned destinations and then send them to me to review.  We use these executive summaries to plan potential story ideas and to help us target magazines to query.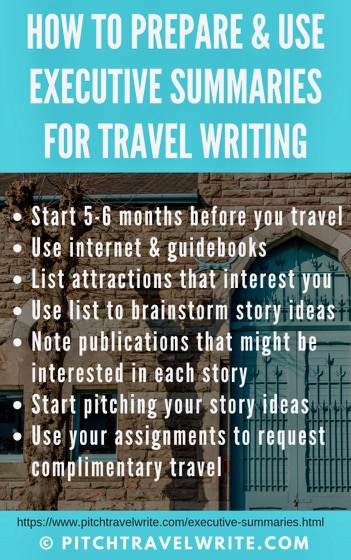 Preparing Executive Summaries

Here's how I create and use executive summaries before I take a trip:

About 5-6 months before I travel to my destination I create my executive summaries while I'm researching each destination.


Using the Internet and guidebooks, I research the countries and cities I plan on visiting. I write down copious lists of potential story ideas and potential target magazines for these stories. 

First, I scour the Internet, copying details of the most interesting tourist attractions onto a master list.  This is list is what I call "Executive Summaries".

Once I'm satisfied that I've created a complete and comprehensive list of the main tourist attractions from the Internet, I read through guidebooks, looking for additional attractions.

I'm always surprised how many additional attractions I find using guidebooks. The Internet is not the all-seeing oracle that many believe it to be!  There are always some important attractions missing.

Once my executive summaries are complete, I create query letters for the places and attractions that look the most promising.  Then I fire out my queries en masse. I'll blitz out these query letters to hundreds of magazines over 3 to 4 weeks.

This is a sophisticated system, and I'm really experienced at using it. However, for beginners, it can be an intimidating project. The idea of pitching and selling stories before you travel is a difficult concept to grasp, even for veteran travel writers.

Although this is a sophisticated system, it's also simple to implement as you'll see below.

How I Used Executive Summaries
to Plan a Trip to Europe

My most successful executive summaries were for a 6 week trip to Europe in 2013. I visited several countries and attractions within each country.

I prepared an executive summary for each country I visited.  I listed all the places I planned to see, the things I wanted to do in each place and attractions that interested me.  Then I used the list to dream up story ideas and potential magazines to pitch.

Using the completed list, I started sending out queries.  After a month or two, and before I left home, I had secured 36 assignments for 10 different paying magazines and paying websites.

I returned from this trip with a profit of $4,131. I also saved thousands of dollars by parlaying my assignments into complimentary accommodations, meals, personal guided tours, entry to tourist attractions and museums, car rentals, and other perks.

Sample Executive Summaries
for a European River Cruise

Below you'll find executive summaries one of my writers used to plan a European river cruise.  She wrote a summary for each place the cruise line stopped.  In yellow highlights you'll see my notes and comments, including potential magazines to place on the distribution list and pitch.

Executive Summaries for European River Cruise:

Rudesheim

Winemaking town in the Rhine Gorge and part of the Upper Middle Rhine Valley Unesco World Heritage site
Rheingau Winemaking Museum Broemserburg Castle – museum of winemaking (1000 years) and local history – oldest castle in the UWHS
Drosselgasse arguably Rudesheim's most famous attraction – an historic alley full of tourist attractions and wine taverns
Rudesheim Wine Festival and the Rudesheim Wine Majesties
Hotel Lindenwirt's unique Wine-Barrel Rooms and Weinerlebnis wine experience
Winetasting on the water – a relaxing winetasting trip on a riverboat on the Rhine
Comments:  Wine tour pitch
Wurzburg 

Comments:  Roundup and Wine tour pitch
Bamberg

Seven hills of Bamberg each topped with a church aka "Franconian Rome"
Old town of Bamberg is a Unesco World Heritage Site
Bamberg underground tunnels – tours available
Klein-Venedig – collection of fishermen's houses from the 19th century along the river
Frankisches Brauereimuseum – Instead of wine – its beer.

Pitch beer story

Festivals in Bamberg
Nuremberg

Regensburg

Passau

RomerMuseum Kastell Boiotro – this museum explains why the "City on three rivers" was an important political, trading, transportation and tax center in Roman times – archeology and history
Glasmuseum – Glass from Bavaria, Bohemia, Austria and Silesia from 1650-1950. 

Pitch to glass blowing magazines/Ren mag

St. Stephen's Cathedral – Largest cathedral pipe organ in the world with 17,774 pipes and 233 registers.  Cathedral has 8 large bells in the bellrooms. 

Pitch to music magazines?/Ren mag

Pilgrimage Church and Pauline Fathers' Monastery – 360 stairs to reach Mariahilf Kloster with beautiful views of the city and rivers as well as a small beautiful church at the top.
Melk - Durnstein

Schloss Schallaburg – Renaissance Architecture – Hundefraulein – statue of a woman with the head of a dog
Schloss Schonbuhel – castle overlooking the Danube – 12th century but built on the site of an former Roman fort – relief of The Last Supper on an exterior wall.
Old Town Melk – situated below the Abbey, a walk through the old town is like a walk through history.

Pitch to Rennaissance mag.

Vinothek Domaene Wachau – top wine producer in the Wachau region – have a tasting and a wine cellar tour (Durnstein).

Pitch to wine mags.

Burgruine Duernstein (Castle Kuernriger)  – ruins of the castle where Richard the Lionhearted was held prisoner during the crusades before being ransomed.

Pitch to Rennaissance mag.
Vienna 

Stephansdom Crypt – crypt that holds royal intestine and thousands of skeletons. 

Pitch to Rennaissance mag.

Habsburg Imperial Crypt – resting place for the remains of 143 Habsburg royalty.

Pitch to Rennaissance mag.

Kriminalmuseum – museum devoted to the history of Viennese murders.
Cemetary of the Nameless – resting place for anonymous victims of the river Danube
Comments:  Pitch Roundup to Ren & History mags.
Bratislava

Hotel Galeria Spirit – unique hotel for the artsy – unusual exterior for a hotel
Blue Church – looks like a wedding cake – known as the Church of St. Elizabeth
Sculpture Park – located behind the Grassakovich Presidencial Palace this is a park that holds both contemporary and traditional statues.

Pitch to sculpture mags

Danubiana Meulensteen Art Museum – contemporary art museum located on the edge of a peninsula on the Danube
Budapest

Budapest Cave Church – now a small church – it used to be the home of a hermetic monk
For Sale Pub – allows its patrons to write on the walls, floors and ceiling
Labyrinth of Buda Castle – series of caves under Castle hill that once held Count Dracula – Vlad Tepes prisoner.

Good story!!

Shoes on the Danube Promenade – trail of iron footwear that represents the thousands of people who were executed  along the riverbank during WWII
Szabo Ervin Library – 19th century aristocrats mansion which was turned into a library but it is actually hidden in a modern library.

Antique & book mags?
Prague

Terezin Concentration Camp Tour & Memorial. 

World War II Magazine, other world war II/military history magazines.

Old Jewish Cemetery – 15th century Jewish Cemetery
Jewish magazines.

Pitch to Jewish mags. Also general travel magazines.

Prague Astrological Clock –automaton clock that dates back to the 1400's. 

Pitch this story to watch magazines.

Strahov Monastery – 17th century libraries and cabinets of curiosities. 

Pitch to Christian magazines. I don't have a list of these, so you'll need to do a search for them.

Magical Cavern – old mill converted to a cavern like fantasy by an obviously eccentric artist. 

Pitch to General travel magazines.

The Museum of Alchemists and Old Magicians of Old Prague Speculum Alchemaie – an Alchemist's lair discovered after a 2002 flood.

Pitch these two stories to general travel magazines.

Olsany Cemetery – Prague's oldest cemetery.

Pitch as part of a Prague roundup story.



Municipal House – turn of the century (19th) with beautiful Art Nouveau architecture. 

Pitch all of the above as part of a general Prague roundup story

Idiom Installation – jenga-style tower of books
Dripstone wall – faces staring out from art wall
Vojan Gardens – oldest gardens in Prague
Grotta – artificial cave that looks like a fairytale
The above executive summaries are among the best I've seen in all my years as a freelance writer for three simple reasons:

No-nonsense bullet point lists of tourist attractions
Thorough with a separate summary for each place
All are places and attractions that interested the writer
By glancing through these sample executive summaries, you can see how straightforward it is to plan your assignments and target magazines from this list.

Before you go on your next trip, put together an executive summary as you're planning your trip.  Use it to dream up story ideas and potential publications.  Then get busy pitching – before you leave home!

Related articles that will interest you:

My Winning System for Travel Story Ideas
Travel Story Idea Troubleshooting Guide
Generating Story Ideas that Sell

---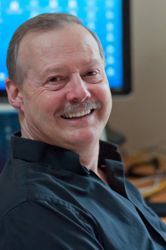 Roy Stevenson is a professional travel writer and the author of www.PitchTravelWrite.com.  Over the past ten years, he's had more than 1000 articles published in 200 magazines, trade and specialty journals, in-flights, on-boards, blogs and websites and has traveled on assignment around the U.S. and to dozens of international destinations.

---
IF YOU ENJOYED THIS POST, GET UPDATES.  IT'S FREE.