The 2017 Ultimate List of
Travel Writing and
Travel Blogging Workshops
Compiled by Roy Stevenson

Here's our list of travel writing workshops you should check out for 2017, including a couple of our own.  It includes live workshops and writing retreats, online courses and destination workshops.

At the time of publication some workshop dates and details had not been announced.  Please check back via the link to the organization's website periodically to get updates.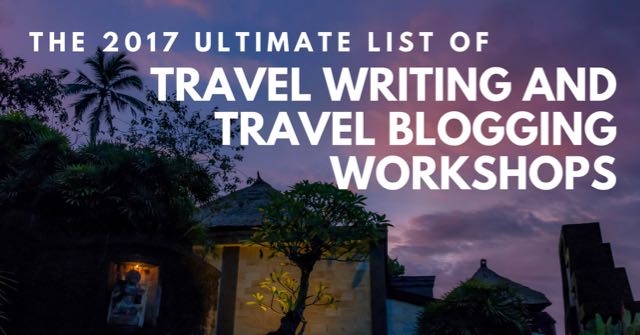 ---
Travel Writing & Marketing Master Class

Seattle, WA
April 27-29, 2018
The Complete Travel Writing & Marketing Master Class is an exclusive program where we'll explore, in detail, every single step of my travel writing, pitching and selling strategy. Other workshops gloss over the details, but that's not how we do things around here. You will walk away from this program knowing exactly how to get sensational paid trips around the world and sky-rocket your travel writing success – even if you're starting at $0.
Workshop is limited to twenty-five participants to
guarantee a high quality experience and allow plenty of time for
interaction between your instructors and fellow writers.
The 2017 workshops are over, but you can sign up for our interest list for 2018.  Learn more here . . .

---
Travel Writing Class with Nick O'Connell
Rioja, Spain
May 21-27

Travel writing, Food writing and Wine writing are some of the most appealing genres of nonfiction, calling on all of an author's skills—dramatic scenes, character sketches, concrete detail, point of view, scene by scene construction—to compose compelling, engaging travel narratives.  This six-day intensive class in Spain will introduce you to essential techniques of travel, food and wine writing and give you expert, insider advice about how to submit and publish finished travel stories.
[Note:  We highly recommend Nick O'Connell's travel writing classes. He presents at our Travel Writing and Marketing Master Class in Seattle, and he'll also be presenting on creative travel writing at our pre-workshop on April 6, in Seattle, Washington.]

---
The Complete Travel Writing, Marketing,
and Photography Destination Master Class
Hoi An, Vietnam
October, 2018

Our Travel Writing, Marketing and Photography Master Class is a 6-day destination workshop that includes training, photography, cultural excursions, culinary experiences and more.

The Master Class morning workshop sessions include:

In-depth instruction about how I sell my travel stories 90% of the time – so you can sell more stories, too.
In-depth training about how to use your assignments to land press trips and free tours.
Detailed guidance on how to write enticing query letters and captivating travel stories that editors will love.
Printed and digital resources valued at more than $200, including The Complete Guide to Marketing and Selling Your Travel Articles and How to Land Press Trips and Fam Tours.
Free post-workshop one-on-one coaching with Roy worth more than $750.
Three complimentary eBooks: The Complete Guide to Query Letters, Fifty Websites that Want to Publish Your Travel Stories, and 100 Print Magazines That Want to Publish Your Travel Articles.
Details will be available soon.  In the meantime, you can learn more and get your name on our interest list at this link.

---
Gotham Writers Workshops
Travel Writing Classes
New York City
Detailed information can be found on the Gotham Writers Workshop website.

---
---
[Note:  this is a different site than the listing above.  It's not a typo.]

---
Australian Rob McFarland offers workshops in Sydney, Melbourne, & Brisbane.

---
Travel Writing Course

Media Bistro
More information can be found on the Media Bistro website.

---
Free Online Introductory Travel Writing Course

Women on the Road
Leyla Alyanak tells how she has used writing to support herself while traveling solo around the world, and gives you the basics in this free online course so you can get started.

---
How to Become a Travel Writer

Writers Online Workshops
"Traveling the world and writing about it at the same time sounds like a dream career. With the right set of skills, you can turn an article into a reader's escape—no travel required.  When you take this six-week workshop, you'll discover how to become a travel writer by exploring the different types of articles you can write and developing your writing style. You'll learn tips such as how to take your own photographs. Use this workshop to draft an article that keeps readers captivated and garners interest from travel editors."

---
Travel Writing Course for Bloggers
Travel Blog Success

"As travel bloggers, we have the honor of sharing those experiences with our readers. But writing about travel in a way that transports, inspires, entertains, and teaches is easier said than done. That's why we've created a Travel Writing course for Bloggers — a comprehensive course that explores the history, the industry, and the skills that will help you discover and develop your style of storytelling."

---
Related articles and for lists of writing conferences and special writing events ...

---
---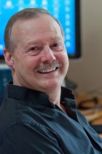 Roy Stevenson is a professional travel writer and the author of www.PitchTravelWrite.com.  Over the past nine years, he's had more than 1000 articles published in 200 magazines, trade and specialty journals, in-flights, on-boards, blogs and websites and has traveled on assignment around the U.S. and to dozens of international destinations.

---
IF YOU ENJOYED THIS POST, GET UPDATES.  IT'S FREE.

---