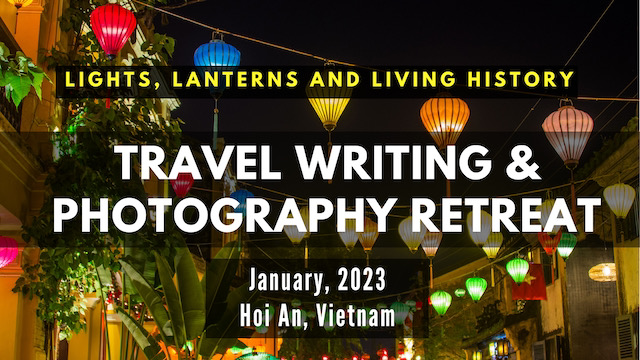 Hoi An Travel Writing 
and Photography Retreat
January, 2024
Hoi An, Vietnam

Are you a writer looking for hands-on experience to improve your travel writing skills? 
Do you want practice using your camera to help tell your story?
Are you interested in having some fun discussions & soft travel adventures with a small, like-minded group of travel writers?
Would you love to visit the "2019 Best City in the World"?

Join us in Hoi An, Vietnam for our
Travel Writing & Photography Retreat. 
We'll spend time together inside the classroom learning about travel writing and photography and getting some hands-on experience improving your writing.  Then we'll explore the ancient city dreaming up story ideas, doing some writing and making photographs to help you tell your story. 
Hoi An, Vietnam has been named as the "2019 Best City in the World" by Travel & Leisure Magazine. This is your chance to visit the World's Best City and brush up on your travel writing and photography skills.

REGISTRATION IS CLOSED
Sorry, registration is closed for the Travel Writing & Photography Retreat.  You can get on the interest list for upcoming workshops and be among the first to hear details when we announce them.  Get on the interest list here: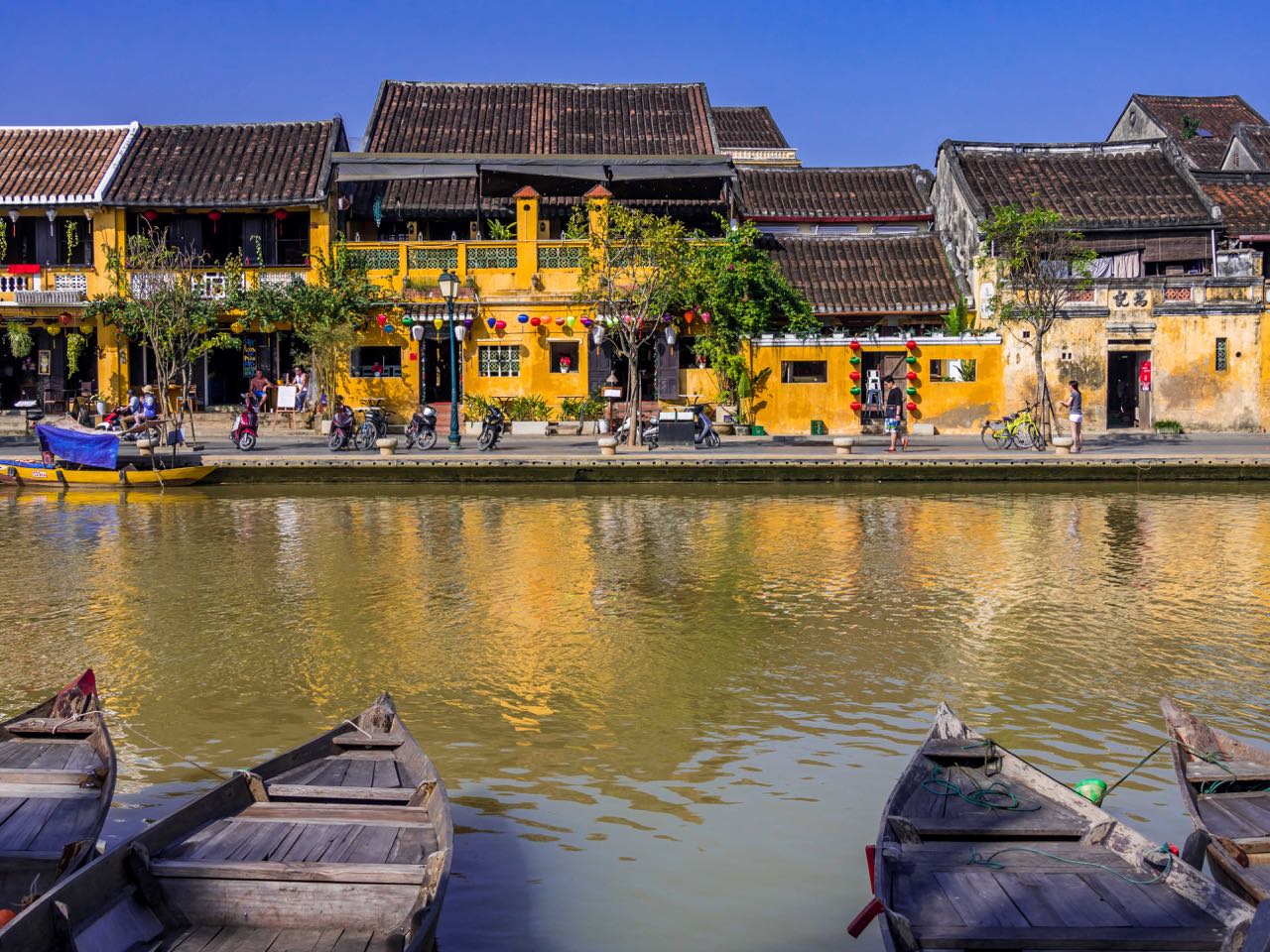 The Ancient City of Hoi An
The ancient town of Hoi An, Vietnam was a SE Asian trading port in the 15th through 19th centuries and is a UNESCO World Heritage site.
This vibrant town is a well-preserved complex of more than 1000 timber framed buildings.  There are pagodas and architectural monuments alongside tourist shops and restaurants, there's an open market full of fresh fruits and vegetables, a ferry quay with small boats for hire, and family cult houses to explore. 
Hoi An continues to thrive as a trading port and center of commerce today.  It's well-known to tourists for its beautiful lanterns that decorate the streets by day and magically transform the town into a colorful wonderland every night.  Visiting Hoi An is an unforgettable experience because of its ambiance and also its delicious food.

About the Retreat
This unique destination writer's retreat includes creative travel writing and photography workshops.  You'll learn the skills you need to be a successful travel writer including tips to make quick improvements to your writing. And you'll learn how to produce quality photographs that editors will love and that will help you tell your story.  By the end of the week you'll have a completed story and photos - ready to pitch to an editor!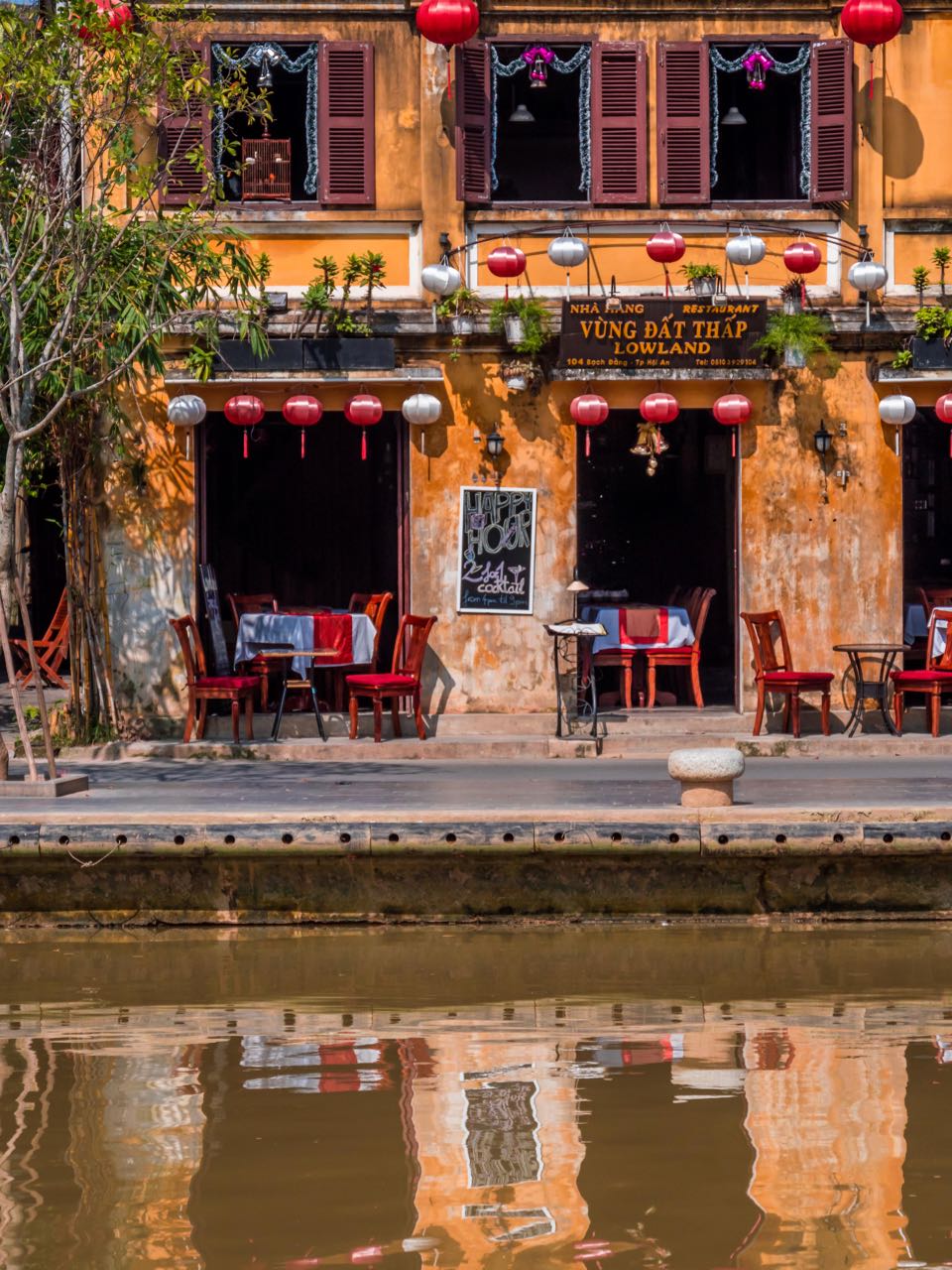 Vietnam's atmospheric and beguiling UNESCO World Heritage City of Hoi An offers a memorable experience.  It will inspire your writing, spark your imagination and please your palate.  Hidden inside the ancient buildings are some of the best culinary delights known to mankind.  You'll have to try Banh Bao Vac (White Rose Dumplings) and Cao Lau (noodles, barbecued pork and local vegetables) while you're here. And that's just the beginning.

You'll learn the craft of travel writing while touring this extraordinary destination.  No experience is necessary; just bring an open mind, a laptop, or simply pen and paper.  Your sense of curiosity and creative juices will flow no matter which tools you use.

We'll explore the fascinating local attractions and experience true Vietnamese culture — all while learning the craft of travel writing and photography from a seasoned travel journalist and photographer.
Most days we'll spend three hours in classroom instruction and writing activities.  The rest of the time you're free to explore Hoi An with the group or on your own. 
Our host hotel is the Hotel Royal Hoi An, a beautiful art nouveau inspired design on the banks of the Thu Bon River.  We'll have a comfortable, private meeting room for our morning sessions and we'll hold a few random meetings around other parts of the hotel.  You're only a five minute walk from the ancient city so it's a very convenient location for exploring during your free time.

You'll have plenty of free time to get out and discover your own stories, and to relax.  The classroom exercises will help you write personal travel memoirs and stories you can keep for yourself, publish professionally or share with friends and family online.   
The techniques you'll learn won't just help you write better - they'll help you travel better, too.  You'll gain richer awareness and deeper insights into the places you visit.  Because you'll be writing about Hoi An and taking photos each day, you'll delve more deeply and look more closely at everything around you. 

Class sessions are meant help you write more clearly about your trip while you're in Hoi An.  And they'll help you pen your stories about past experiences and future destinations, too.

This retreat is open to writers of all skill levels.  It's crafted to allow plenty of flexibility to concentrate on the things that interest you most, whether it's writing, photography, or exploring the ancient town with your fellow participants.

Skills You'll Develop and Things You'll Learn
How to develop your personal travel writing voice and style
Crafting a compelling beginning or lede
Developing your story ideas and story angles to make them marketable
Using photographs to create a sense of place

Tips and advice to craft active, compelling stories
How to improve your story structure and writing technique
Secrets to turn your creative sparks into exciting stories
Expert tips on how to make your travel writing more descriptive
How to avoid the worst travel writing mistakes
Making your writing stand out to a magazine editor
How to provide photo galleries editors will love

Important travel writing rules you must know to be successful
Photography field trips at dawn and dusk to create magical photos

Photography tips and techniques that will help sell your travel stories
Developing Story Ideas and Angles

All travel writing is grounded in a story topic and story angle. This class explores where to look for story ideas and how to develop a strong story angle. 

You'll start work on a writing assignment by developing a story topic and angle.  Then you'll spend time in discussions with your small writing group in the breakout sessions.  And you'll get some input from the instructor about how to tweak your ideas and make them shine.

---
"The one-on-one time with Roy to get feedback on my ideas and writing were invaluable."
- Jill Friedman

---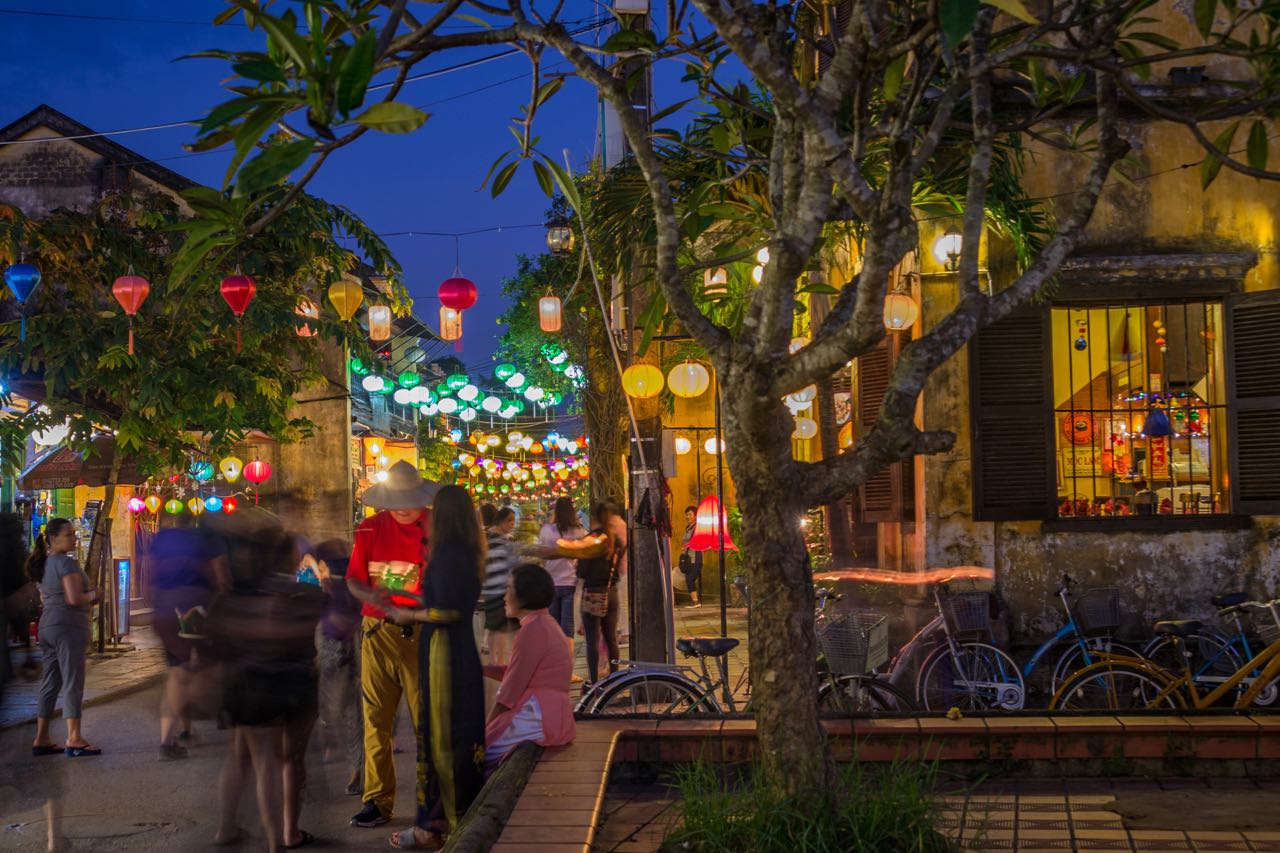 Story Structure and Writing Technique

From developing your introduction to outlining your article and wrapping it all up, this session will provide a step-by-step outline for crafting a winning travel piece. 

---
"Just wanted to share something with the group - I've sold a story with photos, about Hoi An since coming home from the workshop. I wasn't going to tell anyone until it came out in print but was feeling like the cat with the canary however, I am choking on the feathers so just had to spit it out."
- Linda Blair

---
Photography to Tell Your Story and Sell It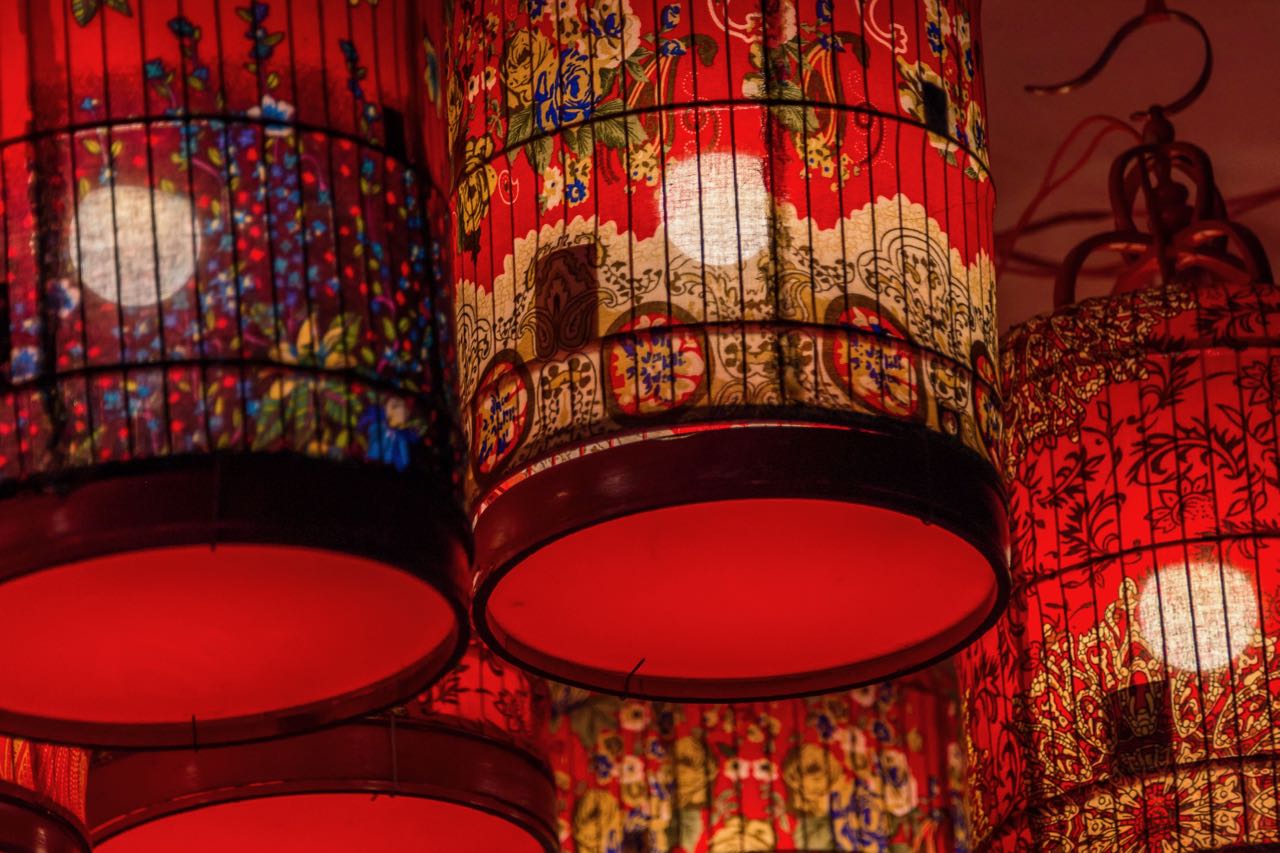 Photography is an important part of travel journalism, but you don't have to be a professional photographer to create professional-looking photos that will help sell your travel stories.

This workshop cover bringing your stories to life with images.  We'll cover the basics: subject selection, framing, composition, lighting.  And we'll show you how to take photographs that convey a sense of place, deliver a gallery editors love, and talk about processing tips to make your photos shine.  You'll also learn the top ten tips for crafting an engaging photo that editors will love.

We'll go on two photo shoots:  one at dusk to capture the lights, lanterns and street activity, and one at dawn to capture the peacefulness of the ancient city as local shopkeepers prepare for the day ahead.  You'll learn about what times are best for creating beautiful photos, and then you'll get to make some of your own!

At the end of the week we'll spend time reviewing your photos, sharing with the group and getting feedback.

---
"Thank you for an amazing week! We learned so many useful tips to improve our writing and photography. We thoroughly enjoyed the dinners, drinks and cooking class. You are so gracious and generous. Your workshop was everything we hoped for and more!"  
- Pam and Gary Baker

---
"The balanced curriculum between writing and photography were outstanding."
- Deb Sittko


---
"Enjoyed the dawn and sunset photo shoots. The photography tips were great."
- Pam Baker

---
Additional Benefits

A private Facebook group will be available soon after we open registration.  You can share your work, get advice, and solicit feedback from us before and after the retreat!  You can also ask questions about things to do in and around Hoi An so you can plan your itinerary.

You'll receive a complimentary copy of The Art & Craft of Travel Writing, a popular resource to have at your fingertips.
You'll also receive a complimentary copy of our latest book, Find Your Niche:  Uncover Your Most Meaningful and Valuable Writing Opportunities.

While you're in Hoi An, you'll receive writing tasks to submit for honest and constructive feedback to help you grow as a writer.  You'll spend the week writing a story and taking photos to accompany the story.  You'll leave with at least one completed draft story and even more story ideas.
We'll facilitate small group breakouts to share ideas, offer feedback and motivate each other.
There will be an early morning and an early evening photography shoot.  Learn about light and how to get the most dramatic shots of this ancient city.
Roy will be available outside classroom hours to meet with you on whatever questions you have about travel writing, how to sell your stories, how to write your query letter, or how to land a press trip.
Post workshop consultation with Roy on one story idea.  He'll walk you through the process of how to get your story published.
Class size is limited to 10 participants allowing you to get all your questions answered, get lots of personal feedback and an opportunity to make new friends in an relaxed environment.

---
"I loved the small size of the group and the relaxed and friendly atmosphere"
- Jill Friedman

---
"Such wonderful memories! The classes in the mornings were informative and provided the detailed info we were looking for. 
Afternoons and evenings exploring with Roy and Linda were fun and delicious! We toured the marketplace, took a Vietnamese cooking class, learned about local dishes and dined at the best restaurants. And the friendships you form will stay with you!"
- Pam Baker

---
About Your Instructors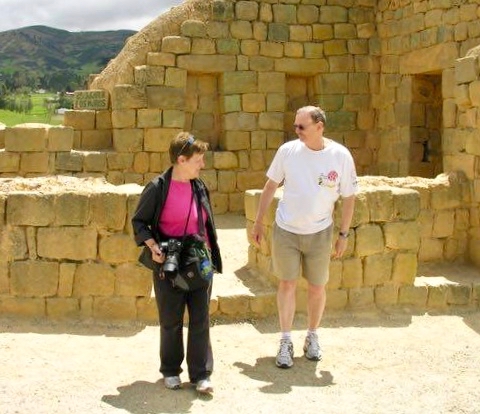 Roy Stevenson and Linda Popovich have been working and traveling together for more than ten years as travel writer & photographer. 
Roy is a professional travel writer and the author of PitchTravelWrite.  Over the past ten years, he's had more than 1000 articles published in 200 magazines, trade and specialty journals, in-flights, on-boards, blogs and websites and has traveled on assignment around the U.S. and to dozens of international destinations.
Linda is a professional travel photographer and editor/publisher of PitchTravelWrite.  Her photographs have been published in a variety of regional, national and international magazines and online.  After 25 years in a corporate office, she enjoys photographing anything that keeps her outdoors, takes her to new places and introduces her to new friends.
You can learn more about them at www.roy-stevenson.com and www.lindapopovichphotography.com.
---
"We had so much fun, but more importantly, we learned a lot! If you're ready to up your game on writing and photography, Roy Stevenson and Linda Popovich are the dynamic duo!"
- Pam and Gary Baker

---
Course Agenda

You'll fly into the Danang (DAD) Vietnam airport and take a taxi to Hoi An (30 minute drive).  If you arrive early, you can explore the ancient city of Hoi An on your own. You'll find plenty to do.

SUNDAY, 5 PM – The week begins with a welcoming Meet and Greet at the Hotel Royal Hoi An, in a cozy bar along the Thu Bon river where we'll drink some wine (or beer), sample some Vietnamese and French inspired tapas and spend some time getting to know each other.
MONDAY, 9 AM - Noon
- Introduction to travel writing - learn the seven trade secrets for writing a good travel story.
- Developing your story ideas & story angles – learn how to make them marketable so that editors will buy them.
- Using photography to create a sense of place – most editors expect you to provide high quality photos with your stories.  Learn techniques for creating a sense of place with your photographs so editors will love your photos (and you will, too!)
Afternoon – Time to explore Hoi An.  Meet at 1:30 pm - Roy will get you oriented and spend about an hour exploring the town with you.  You're free to continue exploring on your own, take a break at one of many coffee shops, or to relax at the pool and do some writing.

6 PM – Group Dinner
TUESDAY, 9AM – Noon
- Crafting a compelling beginning or lede
- Individual Creative Writing Time
- Tips & advice to craft active, compelling stories
Afternoon – Free time to explore Hoi An, relax with a spa treatment, do some writing, or go farther afield to some of the local sites.
5-7 PM - Evening Photography Shoot
WEDNESDAY, 8 AM – 1PM
Cooking School – We'll start by taking a small boat along the river to Hoi An's colorful and bustling central market.  You'll learn about the different types of rice noodles, exotic fruits, how to buy fresh fish, spices, and fresh herbs and how they're used for food & medicine.  We'll return by boat where you'll be guided along several stalls where you will experience many different food-making processes.  You'll see rice paper being made, noodles rolled out by hand and you'll get to try your hand at making the noodles. You'll get to sample many foods and sweet treats.  The cooking class lasts 2.5 hours where you'll see a demonstration of each dish and then you'll prepare the food yourself.  We'll prepare 4 Hoi An specialty recipes.  And we'll sit down and enjoy what we've prepared.
Afternoon –Free time to explore Hoi An, relax with a spa treatment, do some writing, or go farther afield to some of the local sites.
THURSDAY,  5-7 AM - Dawn Photo Shoot
9AM – Noon
You'll learn about the worst (and most common) travel writing mistakes and how to avoid them
Learn the secrets to turn your creative sparks into exciting stories
Why editing matters – see examples of stories before & after editing and the important differences
There will be some Creative Writing Time
Afternoon – Free time to explore Hoi An, relax with a spa treatment, do some writing, or go farther afield to some of the local sites.
FRIDAY, 9 AM-Noon
Discuss how to write a query letter and how to successfully pitch editors your travel stories
Learn how to make your writing stand out to a magazine editor
Lesson on What Editors Want in Photography – Top 10 Tips for Better Photos
Afternoon – Free time to explore Hoi An, relax with a spa treatment, do some writing, or go farther afield to some of the local sites.
6 PM – Group Dinner and Celebration
SATURDAY, 9 AM-Noon
You'll share the story you wrote during the week with the class and show the photos you made to accompany your story.  Includes a Q&A session plus private feedback and comments from other participants.

Wrap-up and next steps in the process.
Check out of hotel --- or continue exploring!

---
"The tour of the market and the cooking class were wonderful – never thought they would be so great! Loved the day!"
- Pam Baker

---
"I liked the pace of the sessions and blocks of free time – spot on. And I loved the group dinners!"
- Janet MacDonald

---
"The balance between the workshop, free time, and group events, and the practical, usable advice were great!"
- Annette DeSmedt

---
"Good scheduling, excellent instruction, good exercises, and great discussions."
"I would like to thank you for all you did for me in Hoi An. I thought you made the classes very relaxed and understandable and passed on a wealth of information. This was the biggest bang for my buck of all the travel writing workshops I've attended. I learned more from you in those 5 days than I did in two previous workshops with a competitor. I will definitely recommend your classes."
- Linda Blair

---
Registration Details
REGISTRATION IS CLOSED
Sorry, registration is closed for the Travel Writing & Photography Retreat.  You can get on the interest list for upcoming workshops and be among the first to hear details when we announce them.  Get on the interest list here:

If you still have questions about this retreat, use the form below.  We'll respond as quickly as we can...