Why Attend Travel Writing Conferences & Workshops
Why Attend Travel Writing Conferences and Workshops?

Travel journalists have a lot to gain by attending travel writing conferences and workshops.  You can learn more about your craft and what's happening in the industry and meet other writers – like you! 
And if you network with the right people at these events, you can easily make back your conference expenses and score some writing assignments and exciting press trips.

Where Do You Find Travel Writing Conferences and Workshops?

Most professional travel writer's organizations offer annual conferences. These range from regional and national to international events and cater to writers at all levels and of all stripes—from the novice to the well-published veteran.

Travel writing workshops are offered online and all around the world, sometimes in exotic places. They're focused on the craft of travel writing and on marketing your work.  They're for writers wanting to up their writing game, break into print magazines, and pitch the big league $1/word travel magazines.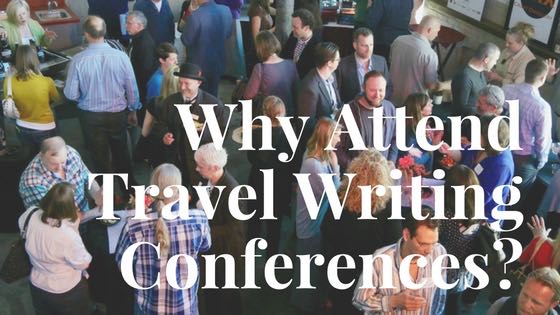 These conferences keep you updated on . . .

New concepts and developments in travel journalism

New opportunities in the industry
New approaches and developing your writer's brand

Which city, regional, state, and country Destination Marketing Organizations (DMOs) are courting writers

These conferences also . . .

Provide you with valuable writing tips and advice
Match up writers with print magazine and online editors
Enable you to mingle with other writers
Motivate flagging or discouraged writers

Examples of Conferences and How They Can Help You

There's nothing like a face-to-face meeting with DMO media reps or magazine editors to clinch a deal. I've met many  Convention & Visitor's Bureau media representatives who've invited me on press trips to their cities.

The advantage of meeting these DMO media reps face-to-face is that you can learn about their best tourist attractions and quickly match them up with your outlets, on the spot.  Travel Media Showcase is one conference designed specifically for this purpose.


Some writer's conferences match writers up with magazine editors. Aside from hobnobbing socially with the editors, you get to introduce yourself and your outlets to them in 10-minute story pitch across the table, speed-dating style. 

These conferences help you score lucrative assignments, boost your magazine bylines, and help establish long-term relationships with editors.  Travel Classics is one conference designed specifically for this purpose.

How Many Conferences & Workshops Should You Attend Each Year?

I'd suggest you attend at least one regional conference each year, plus a national or international one.  Same goes for the workshops.  If you can afford the time and money, investing in your craft by participating in a workshop or two each year will help you develop and benefit you in the long run.

Beware: Not All Conferences, Workshops & Events Are Created Equal

Workshop and conference quality can vary from year to year, depending upon a multitude of variables. With that in mind, here are some tips to make sure you're investing your conference time and money wisely ...
1. Study the program in close detail before signing up. 

If there's no agenda, request one.  Don't sign up until you see one.  Some writing conferences are so general that they are of no practical use to freelance travel writers.  Make sure the agenda lists topics that will be beneficial for your needs.


2. Talk with fellow writers about worthwhile travel journalist's conferences they've attended.

I made the mistake, once, of not listening to advice from another writer, and ended up wasting a lot of money on a writing conference full of fluff.  Don't make my mistake.  Do your research and make sure the agenda looks exciting and instructive to you.


3. Read the fine print before signing up.

Conferences, workshops and events can be expensive.  Read the fine print before you sign up for any conference.  There are some unscrupulous organizations out there. Be sure you understand registration and hotel cancellation policies.  Life happens.  Can you get some, or all, of your money back if you need to cancel due to an unexpected emergency at home? 

This is some basic advice to help you choose reputable travel writing conferences and workshops. Always use common sense before signing up for an event. And when you decide to attend a conference or workshop, be prepared for an exciting affair and lots of new friendships!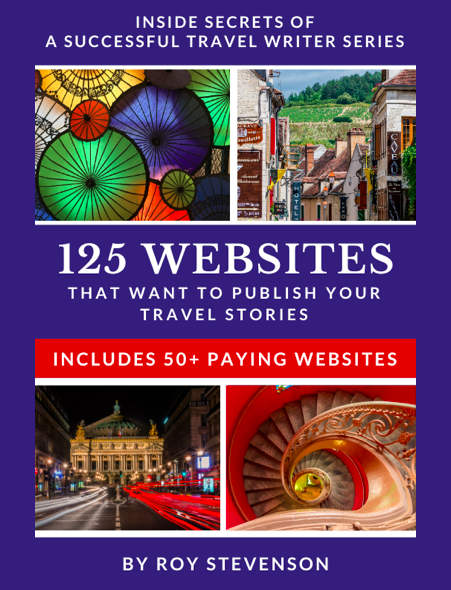 If you don't know where to find quality websites to help build your online portfolio, or you're looking for a fast list of websites to pitch your stories, I wrote an eBook, 125 Websites That Want to Publish Your Travel Stories. 
The 125 websites listed in this eBook are all sites where I would be proud to see my articles published (and many where my articles are published!). More than 50 of these websites pay their writers! 
---
---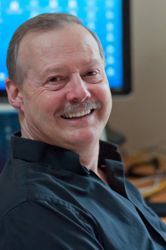 Roy Stevenson is a professional travel writer and the author of www.PitchTravelWrite.com.  Over the past ten years, he's had more than 1000 articles published in 200 magazines, trade and specialty journals, in-flights, on-boards, blogs and websites and has traveled on assignment around the U.S. and to dozens of international destinations.

---
IF YOU ENJOYED THIS POST, GET UPDATES.  IT'S FREE.