Earn More With Multiple Writing Assignments
Multiple Writing Assignments: 
How to Earn More
While You Travel

Many travel writers are content to have one assignment lined up before they leave for their destination. But, this "one-and-done" approach is hardly the way to make money travel writing when you consider the widely varying pay scales of magazines these days.

With good advance planning and plenty of querying, it's possible to stack up multiple writing assignments before you leave home.  Especially for an international trip, it's good to know you're earning a reasonable income while you travel. And if you're organized, you can arrange to have most of your travel expenses covered using your assignments as collateral.

Before we moved to Asia I traveled to Europe annually.  To make my trips worthwhile, I would drum up as many freelance writing assignments as I could muster before I left home. 
For example, on my 2013 trip I spent 42 days touring England, Wales, Germany, Switzerland, and France.  I left home with multiple writing assignments - 36 of them.  And I was hosted for the majority of the trip.

How did I do it? 
Here's a step-by-step description on how I lined up multiple writing assignments.  I'll also explain how I parlayed these assignments into complimentary accommodations, free entry to tourist attractions, free tours and personal tour guides, and complimentary meals. 
As you'll see, most of the work happens before the trip, making the tour more enjoyable and the writing a breeze after the trip.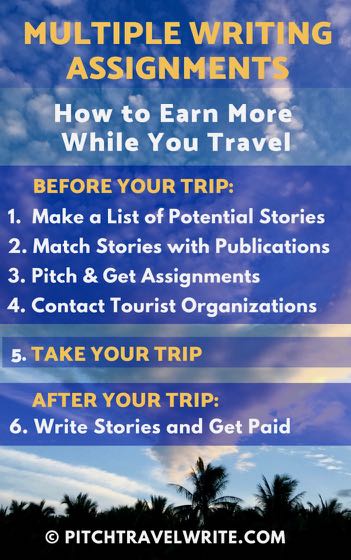 PRE-TRIP PLANNING FOR MULTIPLE WRITING ASSIGNMENTS
Step #1:  Make a List of Potential Stories

Six months before I'm scheduled to leave for Europe I start planning and pitching.  First, I research the countries and cities I plan on visiting.  I make copious lists of potential story ideas and potential target magazines for these stories.

I use the Internet and guidebooks for my research.  I scour the Internet, copying and pasting details of the tourist attractions onto a master list.  This list is full of potential story ideas and I paste this information into what I call Executive Summaries.

Once I've got a comprehensive list of the main tourist attractions from the Internet, I read through guidebooks looking for additional attractions. I'm always surprised how many additional attractions I find using guidebooks.
The Internet is not the all-seeing oracle that many believe it to be!  It's just one source for digging out story ideas for your list of potential multiple writing assignments.

Step #2:  Match Your Stories with Magazines and Online Publications

Now that I have an extensive list of attractions and potential stories, my next step is matching up the travel topics with magazines and websites that are good targets for my pitches.

I create lengthy magazine distribution lists for each travel topic that I want to write about.

Step #3:  Pitch and Secure Multiple Writing Assignments

After my magazine and website distribution lists are complete, I fire out dozens of queries. The queries are sent to every magazine I think would be a suitable fit for each article.  You won't get multiple writing assignments if you don't pitch your ideas – so get to work pitching all your travel story ideas. 

Then, as the accepted assignments land in my inbox, I plan my itinerary to include enough time in each place and at each attraction. 
Here are the multiple writing assignments I had before I left on my 2013 European trip:

A car magazine assigned me to cover the Mercedes-Benz Museum in Stuttgart, Germany ($1200).

A running blog hired me to cover four big European track & field meets for $150/article (Total = $600).

Renaissance Magazine commissioned 3 travel articles at $100/article
(Total = $300).

World War II Quarterly Magazine commissioned a U.K. war museum story ($300)

Lost Treasure Magazine commissioned 2 articles at $103/article (Total = $206).

National Communications Magazine commissioned 1 article ($175).

Artilleryman magazine commissioned 2 articles at $75/article (Total = $150).

A travel website commissioned 20 articles at $45/article (Total = $900).

Classic Arms & Militaria magazine commissioned 2 articles at $150/article (Total = $300).

Total Earned for Multiple Writing Assignments = $4131

In addition, we were hosted on a one-week cruise down France's Burgundy Canal in a luxury boutique hotel barge in exchange for an article in Global Living expat magazine.  I wasn't paid for the article but the comped value of the cruise made it truly worthwhile!

As you can see from the article list, my writing assignments ranged from $45 apiece to $1200.  Twenty-four were online assignments and the remaining 12 were for paying print publications.

The bulk of the online articles were simple roundup stories for a European travel website, paying $45 each, and four were running blogs that covered European track & field meets, paying $150 apiece. 

Writing in a variety of genres, as I do, opens up many opportunities for multiple writing assignments at practically any destination.  You'll make more money by writing in a variety of different genres. 

Step #4:  Contact Tourist Organizations

Once my multiple writing assignments were confirmed, I sent out a blitz of polite email requests to the various tourist attractions, national tourist organizations, regional tourist organizations, hotels and spas.  Samples of these request letters can be found in my book, How To Break Onto The Luxury Travel Market.

My final itinerary took me to the following places:

England: Birmingham, York, and London.
France: Paris, Burgundy region.
Switzerland: Lausanne
Germany: Stuttgart, Baden Baden, Wiesbaden, Heidelberg, Koblenz, Baiersbronn, Black Forest, Seligenstadt, Erfurt, and Berlin.
Wales: Conwy, Ruthin Castle, Dolaucothi, Wales Coast Path, and other tiny Welsh towns!
Travel writers aren't paid a lot of money, so you have to work with tourist organizations to help with travel costs.

On this tour I landed 35 nights of free accommodations, using my assignments as collateral.  Complimentary entry to museums, tourist attractions, car rental fees and track & field meets was also part of the package.  This was a huge savings!

My 12-day tour of SW Germany included all travel costs plus personal tour guides in each city.  These guides wined and dined me while touring me around their cities.  Did you know that if you want a personal tour guide for any German city or town, they have local professional tour guides they can assign to you upon request?

TAKE THE TRIP
Step #5: Time to Tour Europe!

It's time to take the trip.  Go on tours, take zillions of photos, do interviews, collect brochures, and write articles as needed to meet deadlines.

For example, my track & field articles were due the day following the meet, so I worked while I was on the road.  I wrote the other articles when I returned home.

POST-TRIP ACTIVITIES

Step #6:   Write the Articles & Get Paid

Back home, it was time to write the articles and fire them off to the various editors.  I try and do this immediately while the destination and attractions are fresh in my mind. When you have multiple writing assignments you have to be organized and find an approach for getting the articles written in time for editorial deadlines.

Summary
That's my step-by-step approach to organize multiple writing assignments for international tours and how to make money doing it.  This process takes several months and involves hundreds of emails—all in advance of the trip, but you'll find it's well worth it.

For such a lengthy trip there are usually some costs that I cover myself since I'm not on assignment every day.  I use air miles to pay for airfare that isn't covered. On the nights that my accommodations are not covered by tourist agencies I stay in less-expensive hotels and eat at local restaurants, away from the tourist crowd and prices. This keeps out-of-pocket costs as low as possible.

To recap, before departing on this European trip I secured 36 assignments for ten different publications. After parlaying these assignments into complimentary accommodations, I had 35 of my 42 nights in Europe comped by the various tourist agencies in these countries.  I walked away with a $4,131 after my stories had been published and enjoyed a complimentary luxury hotel barge cruise down France's gorgeous Burgundy Canal, during our final week in Europe. The luxury cruise was a marvelous way to unwind after 42 days of hectic travel and to end the trip.

For long, international trips you'll need to stack up more writing assignments than for a shorter domestic trip.  But the idea is the same - as long as you're taking a trip, why not make more money with multiple writing assignments?  With some good pre-trip planning as outlined in this article, you'll find your trip will be more enjoyable and profitable!

---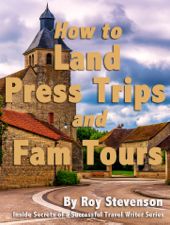 Special Report:
How to Land Press Trips and Fam Tours
I've written a guide about how to land press trips.  It will tell you everything you want to know about how to get into the inner circle and get invited on regional, national and international press trips. 
---
More articles that will interest you:

Getting Published – Tips & Resources
Press Trip Tips:  Resources for Travel Writers
How to Cover Travel Costs When Magazines Pay So Little

---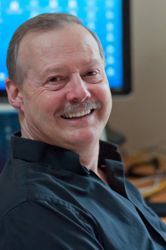 Roy Stevenson is a professional travel writer and the author of www.PitchTravelWrite.com.  Over the past ten years, he's had more than 1000 articles published in 200 magazines, trade and specialty journals, in-flights, on-boards, blogs and websites and has traveled on assignment around the U.S. and to dozens of international destinations.

---
IF YOU ENJOYED THIS POST, GET UPDATES.  IT'S FREE.