Targeting Specialty Magazines
How to Target Specialty Magazines:

Seven Strategies to Sell More Stories
Targeting specialty magazines is one of my most successful marketing strategies.  It has led to more sales and more income.

When I pitch a story there's a 90% chance that an editor somewhere will pick it up.  I've used these strategies as a key element to achieving this success rate.  In freelance writing, these are pretty good odds.

As a freelance travel writer you have to develop a "knack" for dreaming up plenty of story ideas. It helps to have a process for doing this. 

Here are seven techniques to help you generate story ideas so that you can sell your travel stories to specialty magazines: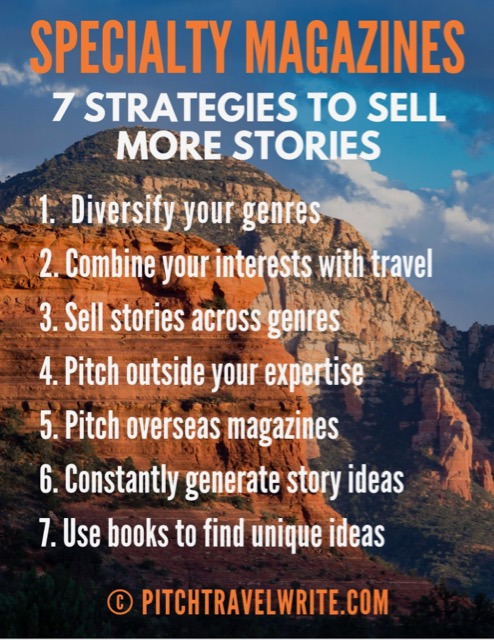 Diversify Your Genres

To make a living as a freelance writer, and get published more frequently, you'll need to write in several different fields.  Get out of your comfort zone! Stop writing the same old articles for the same old magazines.
By diversifying your genres, you exponentially increase your pool of ideas and your potential for getting published.
My articles have been published in specialty magazines on travel, military vehicles and aircraft, military history, history, art, communications, health, fitness, running, triathlons, writing, and film festivals.

Writing in a variety of genres has the added benefit of keeping you from getting bored.  Admit it - writing solely about one subject is boring!
Aim to establish yourself as a writer in at least five areas that fascinate you. Then double that number as your writing improves. After you've been published a few times you'll gain confidence and start branching out into other genres.

What are your hobbies, interests, and passions?  Write down at least five.  Do it now - before continuing to read this article. Be sure to select topics that excite you.  Otherwise,  your lack of enthusiasm will show as flat and lifeless writing.

Combine Your Interests with Travel

Writing about your interests is what keeps you motivated and in the game. It's fun sharing your knowledge and experiences with other people. Knowing that thousands of people read my travel stories, and some of those people become inspired to travel to those places, is one of the most rewarding things about travel writing.
Here's an example:
I often combine my interest in all things military with travel. While living in Belgium I visited the Luxembourg National Military Museum. I took some notes, shot photos, and interviewed the curator.
Then I sold a story about the military vehicles in this museum to two U.K. military vehicle magazines and another in the U.S. The total earned from this single museum trip was $525. And I've done this time after time.

From your list, name some places you can go to follow your interests. Is it a vintage car show in Phoenix, an air show in Seattle, a living history reenactment in England, or a dog show in Kansas? Be specific.

Now look for specialty magazines in that genre.  Most likely you've already read some of these magazines.  Add as many specialty magazines to the list that you can find. Then fire off a well-written query letter about your story idea.  If your story idea is compelling, you'll hear back from an editor soon.

Sell Articles Across Genres
Use your special knowledge and education to help you dream up stories to pitch to magazines in your specialty area. I'm an exercise physiologist by trade and spent many years teaching in universities around Seattle. I constantly use this knowledge to come up with dozens of fitness and exercise-related ideas that I've sold to specialty magazines.

For example, I know that over-training is a big problem with athletes in all endurance sports, and at all levels from beginner to elite. I wrote a solid article about over-training and how to prevent it.  Then I sold it to 8 different running, triathlon, and fitness magazines in the U.S., Scotland, and Australia.  This single article earned me a total of $1680.  That's a pretty good payout!  And I do this all the time.

Can you think of any story ideas that are marketable across genres?
You'll be surprised at how many story ideas can be sold in this manner with a little tweaking here and there.

Pitch Outside Your Field of Expertise

With small changes to your story and some creative marketing it's possible to resell the same article to specialty magazines in other fields.
Here's one of my best examples. A few years ago I wrote an article about how to protect your skin from sun damage. Can you imagine the potential for selling this story across specialist genres?
I thought about athletes who might suffer from skin damage: runners, triathletes, golfers, kiteboarders, sailors, and tennis players, to name a few.  Then I thought about non-athletes, like gardeners.

The skin damage article showed me the power of selecting topics that can be sold across genres. I sold this particular piece to 10 different specialty magazines, earning me a total of $1530 from this article.

A year ago, the editor of a regional magazine contracted me to write an article about a resort on San Juan Island.  This resort hosts 85 weddings each year.  It's a Pacific Northwest wedding Mecca.
After the article was published I wondered who else might be interested in an article about this island resort. I pitched it to boating magazines. Two of them purchased the story.
Then I pitched it to a different regional travel magazine and they bought the piece, too.  I've earned more than $1,000 from this one article, and I'm still thinking of who I can sell it to overseas.

Pitch Specialty Magazines Around the Globe

You can sell your stories to other English-speaking countries. It's easy to do, and a great way to multiply your income from one story.

My work has appeared in sixteen specialty magazines in the United Kingdom, although I live in the U.S. There's absolutely no reason why you can't pitch to magazines anywhere in the English-speaking world.
I've had articles published in Canada, England, Scotland, Ireland, Australia and New Zealand. What surprises me is that more freelance writers don't do this. It's any easy way to multiply your sales with a single article.

Constantly Look for Story Ideas

As your awareness of new writing genres expands, more story ideas will pop into your head. Learn how to develop this sixth sense. Start looking at everything around you as a potential story idea. It's one of the most valuable skills freelancers can develop.
I promise you'll never look at the world in the same way again.  Potential article ideas will flash through your mind at the speed of light. Write them down so you don't forget them.

And don't let other people tell you that your story ideas will never sell. There are 17,000 magazines and newspapers out there in the English-speaking world. Specialist magazine editors are screaming out for good, original ideas. Keep pitching.

Use Books to Help You Find Ideas

I spend an inordinate amount of time browsing in my local bookstores. If I'm looking for regional story ideas, I'll look in the Pacific Northwest section. I'll thumb through the books looking for ideas editors of Northwest travel and lifestyle magazines might go for. This technique has paid off richly for me.
Here's an example:
I purchased a book called "Ghost Towns of the Pacific Northwest" a few years ago.  From this book I found story ideas about several intriguing ghost towns in Washington and Oregon. After visiting the towns, taking lots of photographs, and sending out some pitches, I've sold three ghost town stories to regional travel/lifestyle magazines.

The return so far of $1,000 from those 3 sales made my $19.95 book investment well worth while, to say the least.

I research new stories wherever I travel. In the UK I've avidly browsed Foyles, Blackwells, Waterstone's, and other bookstores. All have extensive regional book sections that I use for ideas to pitch to specialty magazines.

Regional magazines can be rewarding magazines to pitch. Editors of regional magazines often prefer people in their region to write their articles. Local people often have local insight and insider knowledge.

Final Tips about Specialty Magazines

Knowing what not to pitch will also save you time. Look through a few recent copies of a specialty magazine before you pitch it. If it has run a few stories about a particular topic, it will be flooded with pitches for similar ideas.  If you're a savvy writer, you'll move on and find something new to catch the editor's attention.

In addition to using bookstores and libraries, the Internet is also a valuable tool for getting story ideas. Many times I've bookmarked websites for possible future article ideas while I've  been researching another story. When I go back to look at the information I'll try to look at it in a different or unique way to make it enticing to the editors.

If you try some of these ideas, you'll soon find that your potential market will increase dramatically.  You will reap the rewards that come with writing for many different specialty genre magazines.

---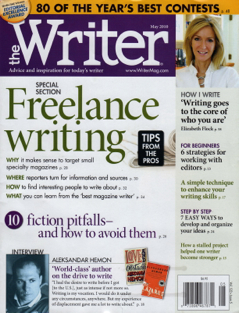 This article was originally published in The Writer Magazine, in May, 2010.  It was updated in 2022 by Roy Stevenson for www.PitchTravelWrite.com.
Break into Travel Writing
with the Creative Pack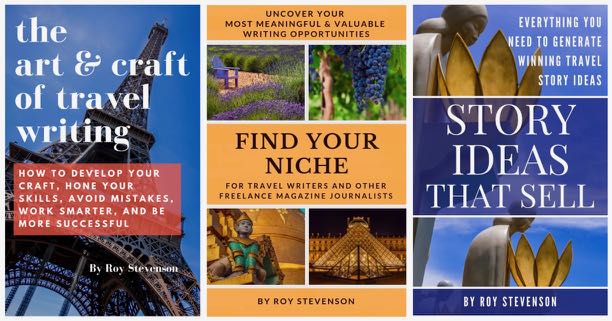 The Creative Pack includes 3 eBooks that are the starting point for every travel writer:  dreaming up unique story ideas that you can sell, finding the best writing niches for you based on your interests, passions and experience, and the art & craft of travel writing.  They're the pieces of the puzzle that come before you ever write a query letter to sell your articles to magazine editors. 
If you're just getting started in travel writing, this group of resources will help you improve your craft, generate story ideas that sell, and develop your own unique and meaningful niche. 
These eBooks can be purchased separately, but when you buy the bundle you'll save more than 10% off individual prices!  Learn more here ...

---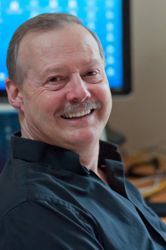 Roy Stevenson is a professional travel writer and the author of www.PitchTravelWrite.com.  Over the past ten years, he's had more than 1000 articles published in 200 magazines, trade and specialty journals, in-flights, on-boards, blogs and websites and has traveled on assignment around the U.S. and to dozens of international destinations.

---
IF YOU ENJOYED THIS POST, GET UPDATES.  IT'S FREE.