Writing for Boating Magazines
Writing for Boating Magazines & Other Nautical Publications

Writing for boating magazines is a genre where you can find great success.  This market includes all things nautical:  boating, yachting, sailing and related maritime topics.

I've met with great success pitching sailing and boating magazines - and I'm not a sailor.  With 25 travel stories published in six different nautical magazines, plus three on-board magazines, I've made good money. 
Even better, I've visited exciting maritime destinations and I've had some spectacular excursions and cruise assignments.  As you'll see in this article, other travel writers I've coached have met with similar success.

Here are the kinds of stories to pitch and where to send your queries: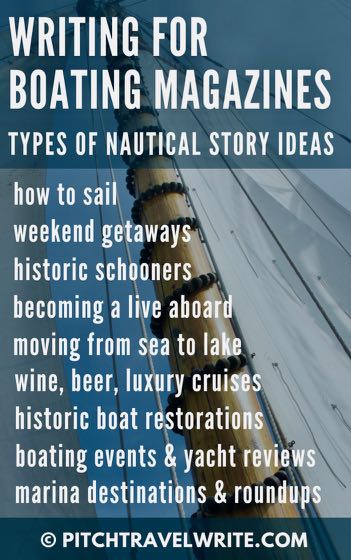 Writing for Boating Magazines: 
Types of Nautical Travel Stories

You might think you have to be a sailor to find yourself writing for boating magazines.  This is not necessarily so.  Expertise will help with the depth and breadth of your story ideas, but even non-sailors like me can write and sell a travel stories in this genre.

Marina Destinations and Weekend Getaways

I started writing for boating magazines by pitching a marina destination story to a popular Northwest regional sailing magazine called 48 Degrees North. The editor commissioned the article. 

After I submitted the piece he said, "This is pretty good. Would you like to write some more marina destination pieces for us?"  These words warm the heart of every freelancer, and I said "Yes!"

Every month Linda and I visited small, picturesque marina towns sprinkled around the Pacific Northwest.  Towns like Eagle Harbor, Oak Harbor, Friday Harbor, Port Gamble, Port Ludlow, and Gig Harbor.

These marina destination assignments were lovely weekend getaways. We checked out the restaurants, bakeries, museums, art galleries, B&Bs, and other attractions.  The comps were marvelous; free meals, entry to tourist attractions, and often accommodations at lovely B&Bs.

We often had guided tours of these little coastal towns with media reps from the Convention and Visitors Bureau's (CVBs). I wrote the articles and Linda provided the photographs.

For three years I wrote these monthly, 1000-word marina destination columns for 48 Degrees North until I had covered every marina in the Puget Sound.  Doing this, I discovered that writing for regional magazines was a great way to build up some hefty bylines and hone my travel writing skills.

Writing for boating magazines like 48 Degrees North provided me with enough credibility and confidence to pitch larger circulation national and international sailing magazines.  Before long I was writing for boating magazines like Blue Water Sailing and Classic Boat.

Writing About Boating Events

Here's how I quickly moved up into better paying assignments by writing for boating magazines.  In the midst of all these marina destination assignments, I was asked to cover a schooner rendezvous in Tacoma, Washington. 

Enthused, I rounded up three assignments:  one for 48 Degrees North, plus an assignment with renowned UK publication Classic Boat, plus an assignment with a top shelf US national sailing magazine called Blue Water Sailing. Wow!

By spending a morning touring through a couple dozen gorgeous historic tall ships and interviewing their captains and crew, I made some good money!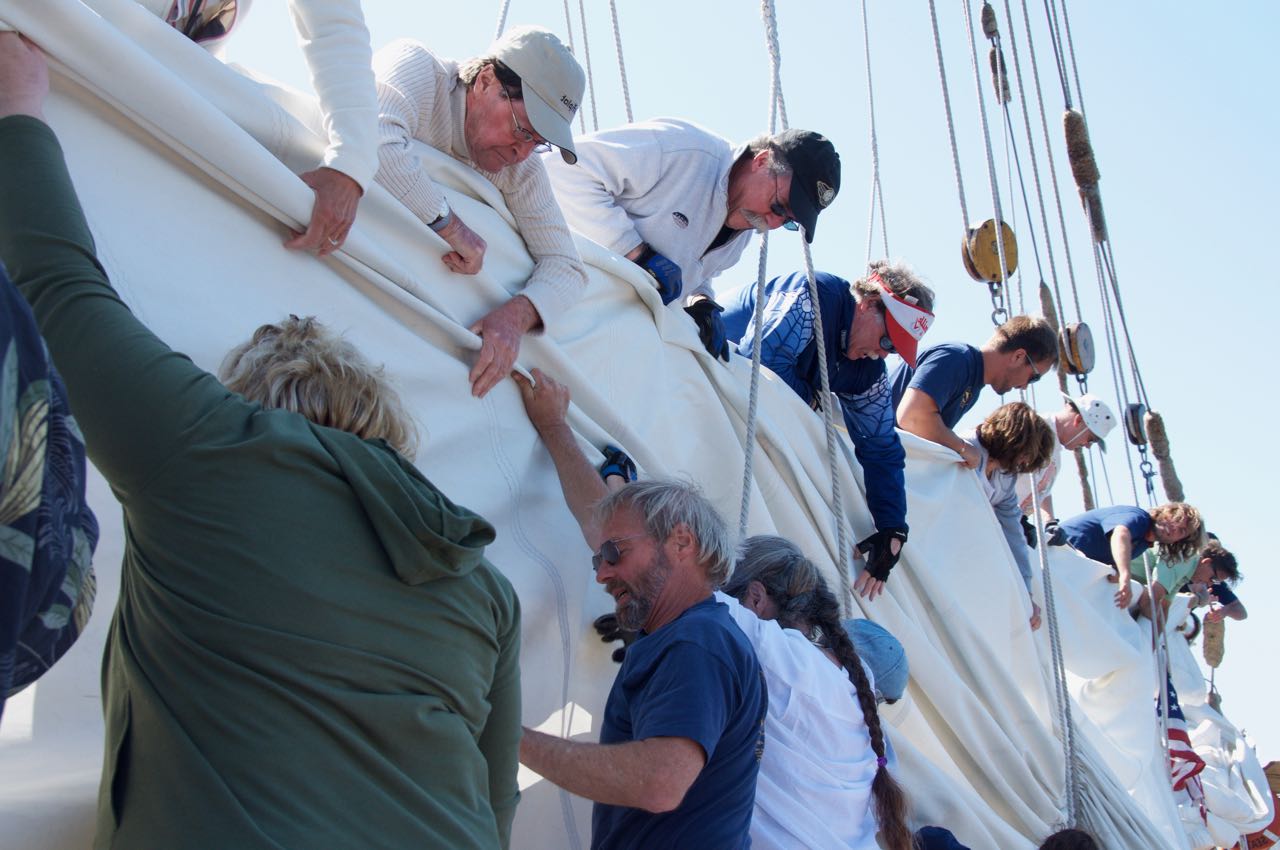 One of the things we learned quickly on the Schooner Zodiac was that we were the volunteer crew - and sometimes it was hard work! But we soon relaxed and drank some wine together.
Specialty Cruises on Historic Boats

One of the media reps I interviewed at the Schooner Rendezvous obviously liked the cut of my jib (sailing pun intended!)  She invited us on a four-day luxury wine cruise around the Puget Sound. All I needed was a print assignment, and Linda and I would get a complimentary 4-day wine cruise.

I went home and pitched the wine cruise story to several regional magazines.  The assignment I landed was for Washington Tasting Room, a state-wide wine magazine.

Here's an excerpt from my wine cruise story on the historic Schooner Zodiac:
"With enormous, 7,000-square-foot canvas sails billowing overhead from a magnificent twelve story high topmast, we glided smoothly over the deep blue waters of the Salish Sea from island to tree clad island.

By day, we strolled through tiny harbor towns and visited picture-perfect wineries, tasting crisp, fruity whites and distinctive reds. Each evening we anchored in peaceful, secluded island coves, sharing wine and stories with the other passengers before dinner.

Our gourmet chef prepared lush platters of fresh seafood dishes while our on-board vintner and sommelier paired wines with our food and taught us something about each one.

In the mornings we woke up to eagles soaring overhead, otters frolicking in the water and a new day of sailing, wine tasting and fun companionship with new friends."

The editor jumped on my exclusive wine cruise story because the story's maritime angle was unique. His magazine primarily covered wineries sprinkled throughout Eastern Washington's arid desert.   
This assignment led to a long-term relationship with this editor. I became a regular wine destination writer for the magazine — but that's a story for another day, another genre.
A year later, I took a four-day beer cruise on the same schooner with a friend, but that too, is another story, another genre.  The reason I mention it is that one assignments can often lead to other assignments after you deliver your article.

Roundup Stories

By this time I had accumulated a huge archive of marina destination stories.  They were just yearning to be re-published. I discovered a publication called Canadian Yachting West on the magazine racks at my local Barnes & Noble.

I thought, "I bet this magazine would be interested in a roundup story about my favorite San Juan marinas."  It was a good guess.
I pitched the roundup story and sold it to the Canadian yachting publication.  It was a quick and easy $450 for combining the marina stories from my previous articles.  Even better, it was the cover feature!

Luxury Barge Cruise

You don't have to limit your maritime stories to writing for boating magazines. Other types of magazines publish boating stories, too.

I desperately wanted to take a 7-day luxury cruise down France's Burgundy Canal with Linda.  This expensive cruise was on a 146-foot boutique hotel barge. 
I pitched the story about this luxury cruise to every magazine I thought appropriate.  An expat magazine that I'd been writing for came through with this assignment.

Our luxury barge cruise was a memorable experience. Here's an excerpt from that article:
"I'm surprised at what's packed into the luxury barge: six exquisite ensuite cabins, a galley, a small library, and a tastefully decorated bar and dining room.  On the sun deck we lounged with a spa pool and touring bikes included. Two vans miraculously appeared alongside the barge every day for side excursions.

The following days blur past in bucolic bliss as we cruise sedately along the canal, stopping every mile or two at a lock, past medieval villages, waving at the passersby. The countryside between these rural towns is an endless panorama of stubble fields, askew haystacks, bushy hedgerows, rolling tree-clad hills, and farmhouses enclosed by thick groves of trees.

Each evening we moor in little French towns with names like Tanlay, Lezinne, Ancy-le-Franc, Ravieres, Montbard, and Venarey-les-Laumes, each with their own distinctive character."

Historic Schooner Restorations

Apart from travel and destination pieces, sailing and yachting magazines publish many other types of stories. One article I wrote for 48 Degrees North was about the restoration of the schooner Merrie Ellen.

Another piece, also for 48 Degrees North, was about the replacement of the massive main mast on the Schooner Zodiac.

Yacht Reviews
My friend Chuck Warren is busy carving out a formidable reputation as a journalist writing for boating magazines. His trajectory is somewhat different from mine, and he's piling up boating bylines faster than you can say "Hoist the mainsail!".

Chuck started by reaching out to Lakeland Boating, a high-circulation, regional Midwestern magazine, and asked for their guidelines.  He was interested in writing about boating and watersports because of his background in the marine trades. 
"The editor asked me for a writing sample," says Chuck.  "I had nothing to send her, so I sat in a coffee shop, threw something together, and sent it the following day."

Chuck continues,"The editor replied with an invitation to be the magazine's representative at a press event that was close to my home, to review a brand new $2.2 million-dollar yacht for an upcoming issue.  I was shocked, and terrified, but of course I couldn't say "no"."

"I accepted the assignment and spent the day with the yacht manufacturer, then wrote and submitted the article.  I sent the first draft and asked for any required changes. I was blown away by the reply!  She published the article as it was – they didn't change a word. And my article was the cover feature of that issue!"

"I had no experience writing for boating magazines. My first attempt at being published landed the cover story of a magazine I regularly read.  It was a surreal experience. Even more amazing, the magazine editor gave me another assignment three weeks later."
Transplanting a Boat from Ocean to Lake

Chuck Warren is experienced in the marine trades so he's got a plethora of interesting story angles for boating magazines.  After writing a couple articles he pitched again. 
"I got really nervy," he says.  "I wrote an article about transplanting my boat from the Atlantic Ocean to the Great Lakes.  I blindly sent it in to Michigan Blue magazine. It was accepted and published."

"Michigan Blue then followed up with another assignment. Both Lakeland Boating and Michigan Blue magazines continue to give me assignments.  Since then I've had some stories accepted in other publications and online." 
Writing for boating magazines has become Chuck's specialty genre.

Educational:  "How to Sail"

Jill Friedman, an attendee at our 2018 Travel Writing & Marketing Master Class, recently had a cover feature article published in Brazos Monthly, a regional magazine. 
Jill is a ship captain and sails the world.  Her story was a "how to" piece entitled "Set Sail".  In the article she describes how people of all ages can take up sailing.

The Live Aboard Life

Betsi Hill is an ardent sailor whom I coached a couple of years ago.  She's been published in several print magazines. 
She wrote a lengthy, 7-page cover story for Sailing Life magazine entitled, "Buying A Boat, Selling Our House, and Becoming Liveaboards".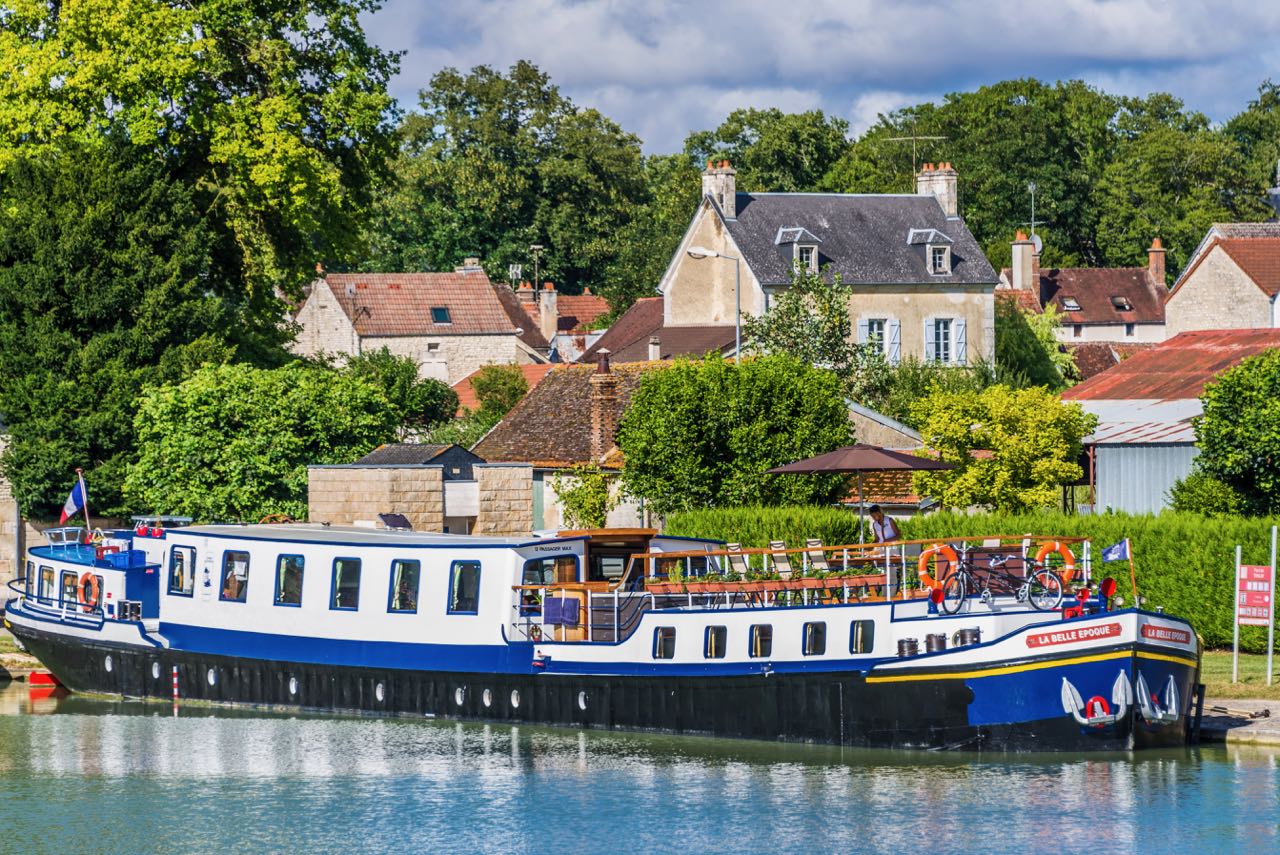 On our luxury barge cruise down the Burgundy Canal every place we stopped was nestled within a lovely French village. We never tired of it!
Writing for Boating Magazines: 
Finding Magazines to Pitch

There are dozens of boating magazines published in the English speaking world. My distribution list alone contains 30 boating and sailing magazines published in Australia, USA, Canada, and the UK—and this list is far from complete. I'm sure there are dozens more.

Where can you find maritime magazines to pitch?

Next time you're in your local bookstore or newstand (Barnes & Noble, Books-A-Million, Hudson News, Powell's Books, etc.) thumb through the sailing, yachting, boating section.  You'll see dozens of magazines in these writing genres. Many of these magazines have regional focus, so only pitch them with destination stories appropriate for their region.

Many different trajectories can lead to writing for boating magazines and maritime topics.  If you're interested in breaking into this arena, spend a couple of hours at your local bookstore.  Pore through specialty boating magazines and note different types of stories.

Pay special attention to any boating and yachting magazines that publish destination stories. They're the ones you should focus your queries on if you want to write travel stories.

Once you've found the magazines that publish destination pieces, write down the name of the magazine, editor's name and contact details, links to the magazine's website, and links to the magazine's writer's guidelines (if any).

Writing for boating magazines is one of the easiest for freelancers to break into. There are dozens of publications in this genre and the magazine editors are screaming out for good copy.

Start pitching stories to these publications. You'll never know if you can break in unless you try.  And if you do try, before long you'll find yourself writing for boating magazines and telling people your nautical stories.

More Related Articles:

Writing for Inflights
Writing Museum Stories
Travel Writing:  Festivals and Special Events
Writing Historical Travel Articles
Types of Travel Stories to Help You Find Your Niche

---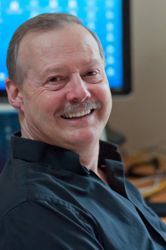 Roy Stevenson is a professional travel writer and the author of www.PitchTravelWrite.com.  Over the past ten years, he's had more than 1000 articles published in 200 magazines, trade and specialty journals, in-flights, on-boards, blogs and websites and has traveled on assignment around the U.S. and to dozens of international destinations.

---
IF YOU ENJOYED THIS POST, GET UPDATES.  IT'S FREE.