Writing historical travel articles
Writing Historical Travel Articles
 & Getting Paid For Them

Do you love historical travel? Do you stand in historic places and find yourself in awe of what happened there? If this describes you, then writing historical travel articles is an excellent genre to pursue. 

If you want to break into travel writing and enjoy visiting historic places, you can combine your interests and sell travel articles about historic places and events.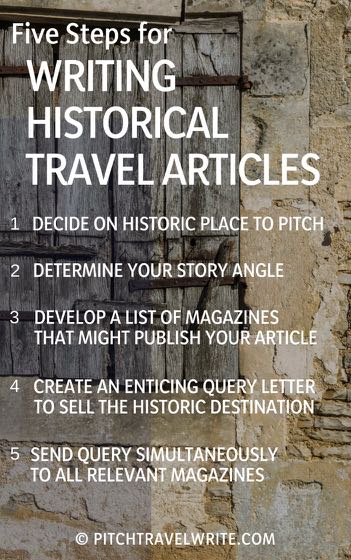 Right from the dawn of my travel writing career I've been writing history articles based on my travels around the world.  My high school history teachers would be proud!
 
From classroom studies to watching the history channel and reading history books, I've inherited a love of historic places and events.  As a result I've accumulated a reasonable working knowledge of this fascinating field.

A huge percentage of my travel articles have been about historic places.  Of the 1,000 articles I've had published, 225 have involved historic places or events. That's a whopping 23% of my bylines!

What Types of Historical Travel Can You Write Articles about - and Sell?

You'll be surprised at how many different types of historical travel stories you can write! 
To show you the wide variety of stories you can write, here are some examples of articles I've had published about historic places and events:

Historic events

Living history re-enactments
Renaissance faires
Military vehicle shows
Battlefields

An historic schooner rendezvous in Washington State

Historic Places

Historic places are staple fodder on the tourist trail. Everyone wants to visit destinations where significant events took place.  Here are some that I've written about:


I've clambered through crumbling ancient ruins, drafty majestic castles, atmospheric abbeys and monasteries and chapels, and formidable forts and fortresses. I've toured beautifully preserved medieval cities like Prague and Bruges and Edinburgh. I've even visited a restored Viking village in York, England, and merchant's guild houses in Belgium and England.
I've explored haunting ghost towns, boisterous gold mining towns, shoot 'em up Wild West towns, and watched one of America's oldest rodeos. I've written about old hotels and pubs, and breweries where hangmen and highwaymen and kings would drink, often side by side.
In the subterranean world, I've crept through underground labyrinths in Welsh mountainsides, catacombs beneath Paris, smuggler's caves in the cliffs of Hastings, England, and gold mines in Wales, New Zealand, Alaska, and Arizona. I've even pushed the button to release Titan missiles to start World War III, from an underground missile centers near Tucson, Arizona. Fortunately, the enormous missile in question had long since been disarmed!
The Tower of London where a queen and two princes were beheaded and the Nuremberg stadium where Adolf Hitler held his massive Nazi Party rallies.
The Normandy beaches in France where the allies stormed ashore on D-Day, 6 June 1944, to liberate Europe.
The re-enactment of the famous gunfight at Tombstone's OK Corral
Visiting the famous dead in London's atmospheric Victorian Highgate Cemetery where you can pay your respects to Karl Marx, makes an interesting day out. Or how about seeing Oscar Wilde's art deco tomb and the final resting places of Frederic Chopin, Honore de Balzac, Jim Morrison, and Marcel Proust, in Paris's Pere LaChaise Cemetery?
The site of the Battle of Hastings leaves a lasting impression. Here, Normans from France invaded Saxon England, and the country was never the same again.

Weird Historic Places and Events

A Victorian operating theatre in London where Florence Nightingale tended to the sick and wounded; a famous aircraft storage "boneyard" in Arizona; and plenty of famous and not-so-famous cemeteries.

Who Will Buy Your Historical Travel Articles?

Writing historical travel articles are an easy sell.  There's an abundance of history and travel periodicals on the magazine racks.  There are hundreds of magazines looking for historic destination pieces.

This is not an exaggeration!

On a trip to a Seattle Barnes & Noble bookstore, we pulled 53 history magazines off the magazine rack and photographed their covers.  And if I look beyond this single bookstore, I could easily track down another 50 history magazines from Writer's Market, the Internet, and at our local library.

But, don't limit your market to only history magazines!  Standard travel magazines often buy historic travel pieces if your story angle is targeted towards their readers.

Here are a few regional and national travel publications that have purchased and published my historic travel yarns . . .

Mid-Columbian
South Sound
Northwest Travel & Life
This England
Scotland
The Spirit of Ireland
Specialty magazines have also purchased many of my historic travel pieces.

Smithsonian Air & Space
Aviation History
Spaceflight
Jeep Action
Four Wheel Drive
Lost Treasure
Renaissance
Popular Communications
Collectible Automobile
Sculpture
Military magazines have also provided fertile ground for publishing my historical travel stories. These include . . .

Artilleryman
Classic Arms & Militaria
Army Motors
Classic Military Vehicle
Military Machines International
World War II Quarterly
World War II
Military History
Warbird Digest

As you can see, there's no shortage of publication possibilities, if you're creative. You should meet with success if you pitch history magazines, regional and national travel publications, specialty periodicals, and even military magazines, where appropriate.
 
It seems that few other writers have figured out that writing historical travel articles are easy sales.  Instead of writing your next story about your Weekend In the Bahamas or your Top Ten Lists of Things to Do in Iceland, try your hand at writing a historical travel article.

Historical travel articles are excellent opportunities for aspiring travel writers!

Writing Historical Travel Articles:
Pitching Advice

Like any freelance story, historic destination stories will not sell themselves. You still need to concoct a powerful query letter that sells your story angle about the historic places.


Don't bore the editor with facts and dates about a historic place; tell them about what's there today that reflects its history.  Editors are not looking for chronological lists of historic events, although you will need to creatively include such data in your narrative.
Bring your historic destination to life to make it interesting to your readers. You'll need to relate back-stories about these places.  Who shaped the place's history and destiny?  It shouldn't read like a dry college history textbook.
Describe the historic place clearly, using your travel writing skills.
Most editors also prefer that you provide high-resolution images to accompany the piece.

Writing historic travel articles has been one of the cornerstones of my freelance career.  It remains one of the easiest travel writing fields to break into.

If you have interest in writing history travel articles, follow these steps:

Decide what historic place you're going to pitch.
Decide on your

story angle

.

Create a

distribution list of potential magazines

that you think might publish your historic travel articles.

Create an enticing

query letter

that sells the historic destination.

How Much Can You Earn for Your
Historical Travel Articles?

Pay scales vary tremendously in the freelance writing world.  Writing historical travel articles is no different.  You can earn as little as $75/article in smaller magazines and as much as four-figure payouts in the larger national publications.

If you're enterprising, you can resell your historic travel pieces repeatedly to other print and online publications.  Reselling your articles is one of the best ways to increase your income with very little work.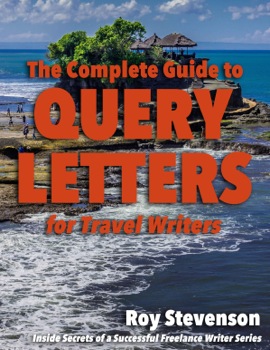 Do you need help writing query letters that catch the attention of editors?
If you're looking for a guide to help you write query letters to editors, I've written The Complete Guide to Query Letters for Travel Writers to help you.  It includes everything you need to know about query letters, along with 20 sample query letters that you can use as templates for your own queries.
Getting Paid for Your Articles
Travel Stories to Help You Find Your Niche
Travel Writing Craft: 10 Ways to Write Like a Seasoned Pro

---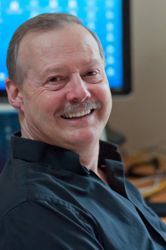 Roy Stevenson is a professional travel writer and the author of www.PitchTravelWrite.com.  Over the past ten years, he's had more than 1000 articles published in 200 magazines, trade and specialty journals, in-flights, on-boards, blogs and websites and has traveled on assignment around the U.S. and to dozens of international destinations.

---
IF YOU ENJOYED THIS POST, GET UPDATES.  IT'S FREE.