Writing Museum Stories

Writing museum stories is a fantastic way to break into travel writing.  My sixteen-year binge writing museum stories started early in my freelance career.

I love visiting military museums of all kinds.  I'd visit these museums even if I wasn't writing a story.  And, when I'm on assignment, I get free entry into the museums and private, guided tours!

Writing museum stories was one of the essential keys to my rapid ascent in freelance travel writing.  I've sold a lot of museum travel articles. And, I mean A LOT! 
Since I entered the freelance travel writing arena, I've had more than 200 museum stories published in 32 paying print magazines. That's a whopping 20% of my total number of published articles! If you search for "Roy Stevenson + museums," you'll see a few of them online.

If you want to break into travel writing and enjoy visiting museums, there's no reason why you can't succeed by writing museum stories.  And you can make some good coin, too.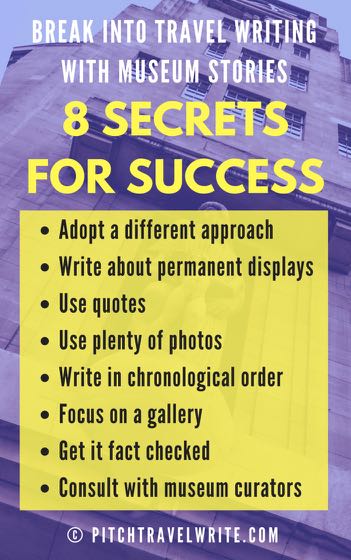 Museum stories are easy to sell.  One of my specialty areas is military museums.  To date, I have 150 published military museum stories.  If you enjoy military topics, there's a market for your stories. 

Here are the kinds of stories I wrote so you can get an idea of what topics you can focus on:
General military museums
Military vehicle museums
Fortresses
Armories
Antique firearms




Veterans museums
Memorial museums
Concentration camps
Missile museums
Army intelligence museums
Air defense radar museums

Military museums aren't the only kinds of museums you can write about.  When I realized my military museum stories were selling like hot cakes, I expanded my museum topics into other areas. Writing museum stories got me published more prolificly.

Here's a sample of non-military museums I've written about:
Classic cars
Aviation
Erotic art
Wine
National galleries
Culture
Cowboys
Gold mining
Code breaking
Mysteries
Radio & electricity

Signals & communications
Spies
Medieval Torture Devices
Guild halls
Middle age and medieval architecture
Castles
Paris' famous catacombs
Air & space vehicles
A Victorian operating theater
Ham radios

These are just a few interesting highlights. To date, I have more than 60 published museum stories on non-military topics.  Obviously, there's a travel writing market for these kinds of stories.
Why Writing Museum Stories is an Easy Sell

The first reason writing museum stories sell so well:  museums are staple tourist attractions around the world.  No matter where you go, there's a museum.  And, there are museums in the city where you live – so you don't have to travel far.

Secondly, specialty publications love museum stories.  They can't get enough of them!  You can be a "museum writer" for any area of interest.

Finally, it seems that few other travel writers have figured out there are stories to be sold and money to be made by writing  museum stories from places all around the world. You can capitalize on this vacuum!

Many publications now consider me their go-to "museum writer" guy. They universally accept my museum article pitches.  And writing museum stories has been among the easiest to sell.  They sell with practically no effort.

Who Buys Museum Stories?

Many specialty and regional magazines and newspapers have snapped up my museum pieces.  Some have museum columns.  Here are a few publications that have picked up my museum stories:

Mid-Columbian
South Sound
This England
Artilleryman
Classic Arms & Militaria
Airborne Quarterly
Army Motors
Classic Military Vehicle

Jeep Action
Lost Treasure
Renaissance
Popular Communications
Phenomena
Spaceflight
Military Machines International
I've also had no difficulty writing museum stories and selling them to top shelf heavy hitters like:
Smithsonian Air & Space
Collectible Automobile
Scotland Magazine
World War II Quarterly
World War II
Military History
Aviation History
Warbird Digest
Sculpture Magazine, and others. 
Some pay as much as $1/word!

Perks of Writing Museum Stories

The most obvious perk of writing museum stories is using them to qualify for press trips.  I've used museum assignments to qualify for dozens of press trips around the U.S., and globally.

Museum articles have taken me to 12 different states in the U.S.  They've also landed me in: 
Normandy and Paris (France)
Numerous cities in England
Edinburgh (Scotland)
Berlin, Gatow, Karlshorst, Koblenz, Erfurt (Germany)
Bastogne, the Ardennes and Brussels (Belgium)
The Netherlands

Barcelona (Spain)

Helsinki (Finland)

Budapest (Hungary)

Shanghai (China),

Prague (Czech Republic)

Diekirch (Luxembourg)
Here's an example of a memorable museum press trip:
The Belgium National Tourism Board flew me to Brussels and for a week we cruised around Bastogne and the Ardennes Mountains in a private van.  We received VIP treatment with a driver, guide, meals, and accomodations.  In addition, my assignment was for a U.S. military history magazine and paid top dollar – overall a lucrative trip!

Another perk of museum writing is that you get free entry to museums with your assignments.  I've saved thousands of Euros and dollars on entrance fees by writing museum stories.

Often, you'll also receive personal guided tours with the museum curators or directors.  This gives you access to specialized knowledge, and frequently you'll get access to things behind the scenes.

How Much Can You Earn?

How much you can make from selling museum pieces?  There isn't a single answer to that question.

My payouts have ranged from $75 to $1200 per article.  That's not bad for wandering around a museum for a couple of hours with a camera and notebook!

Even better, I'll often resell the same museum article to two or more magazines.  If those magazines are in different countries, I rarely need to change a word!  This increases my bottom line with little effort.

Eight Secrets for Successful Museum Stories

Secret #1.  Museum stories are not "destination" pieces in the traditional travel writing sense.  You must adopt a whole new approach when you're writing them to jazz them up.

Museums are static displays.  Select only the most interesting artifacts to describe.  Focus your articles on these artifacts and not on the entire museum.

Secret #2.  Make sure the artifacts you write about will be on permanent display. 

If they rotate out to the storage room, don't make them a focus of your piece.  A car buff wants to see the classic car you're writing about.  He'll be disappointed if it's not on the gallery floor when he visits the museum.

Secret #3.  Museum stories won't be very interesting if you only write about the static displays.  Use quotes from museum directors to spice your story up, and to impart some of the museum's history.

Quotes from the curator can help with historical context, amusing incidents, and even trivia about the displays.

Secret #4.  Use plenty of photographs to illustrate your story.  Be sure to photograph the reader boards, too, so you have handy reference material for the exhibits. Also, photography the outside of the museum. Editors often use these shots to give readers an idea of what to expect.

To add visual context and interest, use lots of photos.  Take some close-ups of important details, show artifacts displayed creatively, and capture people interacting or engaging with displays. 

Secret #5.  When writing about museums, write about each gallery in chronological order. 
Museums spend a lot of time planning the layout for their museum.  Do not jump around randomly.

Secret #6.  If your museum has a permanent display that applies to a specialty topic, remember you can sell "partial" museum stories to specialty magazines.

For example, the Tennessee State Museum in Nashville has several military galleries. I've sold separate articles about these galleries to specialty military magazines.

Secret #7.  Be sure to send the draft of your museum story to the museum curator or PR director for fact checking.  Then submit the final draft to your magazine editor.

When you submit your finished article to the editor make sure you mention that it has been fact checked by the museum staff.  The editor will appreciate knowing this!

Secret #8.  If you encounter an interesting museum artifact you want to write about, but which you know very little, consult the museum curator for further information.  Ask him or her for facts and quotes.  This can even be done via email!

If you've had difficulty breaking into travel writing, I heartily recommend you pitch some museum stories.  Pitch them to specialty magazines for the best sales results.  You just might find it easy – and have better luck selling museum stories when you're just starting out.

---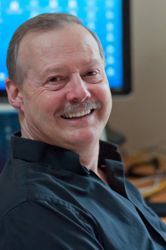 Roy Stevenson is a professional travel writer and the author of www.PitchTravelWrite.com.  Over the past ten years, he's had more than 1000 articles published in 200 magazines, trade and specialty journals, in-flights, on-boards, blogs and websites and has traveled on assignment around the U.S. and to dozens of international destinations.

---
IF YOU ENJOYED THIS POST, GET UPDATES.  IT'S FREE.