Earn More - Pitch Your Stories Globally
Earn More:  Sell Your Articles
Around the World

What's one of the best ways to earn more from the articles you write? 

Experienced writers write for the high-paying publications, those paying at least $1/word.  Making more money for every word is a great strategy for them, but beginners often have to settle for less.

The majority of magazines don't pay much, often paying only $0.10 to $0.25 per word. So instead of getting paid more per word, I like to get paid more per article.  

How do I do this?  I get paid several times for many articles I write.  One way to do this is to sell my articles around the world.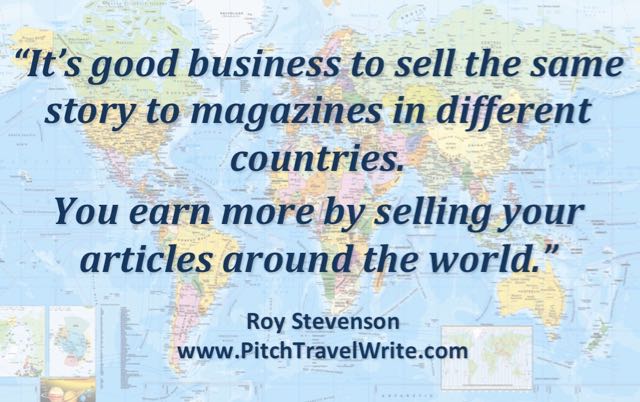 Freelance writing is a business, so it makes sense to get as much money out of every article as you can. Money is money.  And, if overseas editors are interested in my story idea, that's fine with me.  And I earn more as a result. 

If you want to earn more with each article you write, you need to stop feeling confined to your home market.  Do you really care if you're paid in British pounds, or Australian or Canadian dollars?


Overseas publications look really impressive on your list of bylines. It's a nice side benefit!
How can you sell your articles overseas?

Where do you find overseas publications?

How do you get paid?

This post addresses those major questions so that you can get started selling your articles around the world:

How do I sell my stories overseas?

Selling your articles overseas isn't any different from selling your articles in your own country.
Prepare your query letter.  Then send simultaneous queries out to editors of magazines in other English speaking countries. 
English is spoken in many countries and there are publications for English-speaking audiences in many countries.  Think about which country or countries have an audience interested in your story.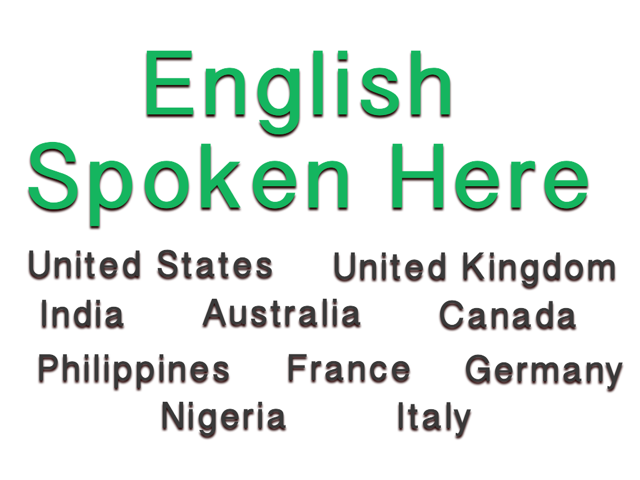 Top 10 English-speaking countries.
For example, one of my coaching clients is writing a story about her destination wedding in Scotland.  She's pitching it to U.S. magazines and to Scottish magazines.
You can find some examples of how I've pitched overseas publications in my query letters eBook, "The Complete Guide to Query Letters for Travel Writers".

The beauty of selling to overseas markets is this:  if editors in two different countries want your article you can sell it to them both at the same time. 
You don't have to wait 6 months after it's been published in one country before it can be published in the other country, as long as the magazine circulations don't overlap.  This allows you to earn more, faster.

Should I tell my editor in the U.K. that the same article will be published in the U.S.?

I don't usually bother.  If the magazine circulations don't overlap, the editors don't care.  And if the magazines are in different genres, they care even less.

Here's an example:
I once wrote an article about preventing skin damage from outdoor sports.  It was published in a golfing magazine and a tennis magazine in the same month.  No one minded.  Totally different readership.

Are there any exceptions, or times when you can't sell your story to more than one magazine?

You can't sell your article simultaneously in different countries if you sign over "All Rights" to a magazine.  Signing over "All Rights" means that you are not permitted to sell the story to anyone else, ever again.

This is unusual in my experience.  Very few editors that I've worked with have requested "All Rights".  And when I do run into this situation, I make sure I'm well-compensated because selling "all rights" ends the income stream for the article.

Bottom line:  read your contracts carefully.  Don't sign away your rights unless they're paying you top dollar.  Keep the door open to earn more from your articles.

As long as you haven't signed away your rights, go ahead and query your stories to magazine editors in as many English speaking countries as you can find. 
It's simply good business to sell the same story to magazines in different countries.  You earn more by selling your articles around the world.  And it makes up for the low paying publications out there.

Where can I find overseas publications so I can earn more by pitching them?

There are lots of places to find international publications - here are five choices:
Local bookstores and newsstands.  Purchase a copy of each one that looks like a good candidate for your writing interests.
Public library.  I can only speak for our library in the Seattle area, but I'm always amazed at the vast array of magazines they carry.  I can sit and peruse them in the library, or check out previous issues and take them home for a week.
When you travel overseas, visit bookstores and newsstands.  Purchase a copy of any magazines that look like a good fit for your interests. Magazines are bulky to carry in your luggage - so plan for this by leaving room in your bag.
The Internet.  Some magazines can be found by doing a specific search. Just about every magazine has a website these days.

You can also find overseas publications listed in writer's guidelines books so you don't necessarily need to travel to find magazines. 

Do I need to do anything differently when pitching to an overseas editor?

Not really.  There are only a couple things that are important: 
First, make sure you include your country in your return address.  For example:  Seattle, WA  98000 U.S.A.
Next, when I pitch to Commonwealth countries I usually Anglicize the spelling of certain words.  Since I was born and educated in New Zealand, it's easy for me to do this.  You can check a dictionary for words you might suspect are different spellings.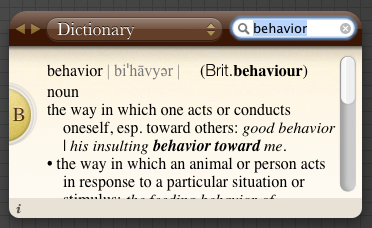 A quick check in a dictionary shows the American and British versions of the same word.
How do I get paid when I sell articles around the world?

People always wonder how they'll get paid in different currencies.  Since you want to earn more by selling overseas, this is the most important topic.
Here are a few possibilities based on my experiences:

Overseas editors can send you a check in their currency and you can ask your bank to process it.  This takes a long time and usually comes with a hefty bank fee, so I don't recommend it as a regular way of doing business. Use this as a last resort.

You can use Paypal (or similar services) to send invoices and receive payment.  I've found Paypal to be incredibly easy.  Check with your overseas editor and find out if they are willing to make payment via Paypal.

If you regularly visit the same countries, such as Canada or England, you can set up a bank account in that country.  To get paid for an article, simply give your bank details to the editor and payments are made electronically, directly into your account. 
The electronic method is very convenient for you and for the editor.  Later you can transfer funds from your foreign account to your domestic account.  Or you can just spend the money the next time you visit that country.

There are also international bank accounts that make it easy to collect revenue in different currencies.  You can go online and read about what's available.  Be sure to check the requirements and the monthly fees to decide if it's worth it to open this kind of account.

Finally, talk with your banker and your tax accountant to get their recommendations.  They might have ideas that I haven't pursued so always ask an expert.
Good luck selling your articles overseas.  If you follow my advice you should find you'll earn more with every article you write.

Break into Travel Writing
with the Creative Pack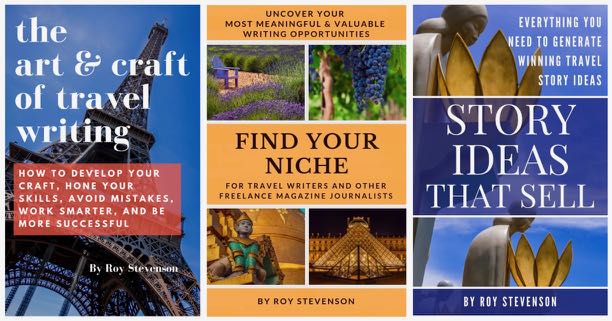 The Creative Pack includes 3 eBooks that are the starting point for every travel writer:  dreaming up unique story ideas that you can sell, finding the best writing niches for you based on your interests, passions and experience, and the art & craft of travel writing.  They're the pieces of the puzzle that come before you ever write a query letter to sell your articles to magazine editors. 
If you're just getting started in travel writing, this group of resources will help you improve your craft, generate story ideas that sell, and develop your own unique and meaningful niche. 
These eBooks can be purchased separately, but when you buy the bundle you'll save more than 10% off individual prices!  Learn more here ...

---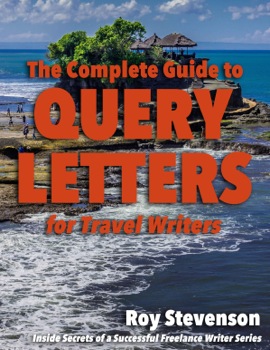 There's no need to struggle with writing a query letter. 
Here's a guide that tells you everything you need to know, along with 20 sample query letters that you can use as templates to help you write your own queries. 
It's a steal at less than $20. 
---
---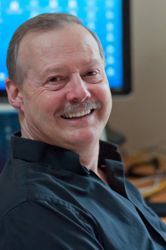 Roy Stevenson is a professional travel writer and the author of www.PitchTravelWrite.com.  Over the past ten years, he's had more than 1000 articles published in 200 magazines, trade and specialty journals, in-flights, on-boards, blogs and websites and has traveled on assignment around the U.S. and to dozens of international destinations.

---
IF YOU ENJOYED THIS POST, GET UPDATES.  IT'S FREE.