Finding Gold Mines
in Low Paying Magazines
Writing about gold mines around the world is one of my special niches.  I love the history, the legends, and doing a little bit of recreational gold panning when I visit these places.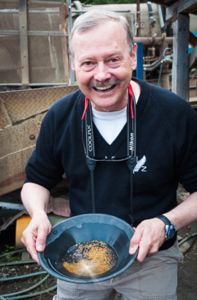 In a similar way, I like to look for gold in any writing assignment.  If I'm going to put the time and effort into writing an article, how can it provide a tangible benefit to me?

The most common way to benefit is getting paid a fair sum of money ($1/word or more) for writing the article.  And, as a travel writer, the ideal assignment also includes a press trip to an interesting or exotic place.  Nirvana!

Unfortunately, getting high-paying assignments are highly competitive.  They are the exception, not the rule.

Many magazines are hanging on by their fingertips for survival and can only afford to pay writers a modest fee.  Some magazines don't pay writers anything at all.

So, why would we write for magazines that don't pay well? 

There are lots of reasons to write articles, and many people write for reasons other than money.  I've often seen articles by well-known travel writers published in 'small time' magazines that pay little for an article. 

If you're just getting started, maybe you want to write an article to get a byline.  Or maybe you want to communicate a message, educate readers, or talk about something important to you.

Maybe you have something to sell and want to lead them to your website for more information.

As a travel writer, I sometimes write for a low paying magazine for a different purpose than all of these.  I write to travel!

When a magazine gives you a legitimate assignment to write an article, you can use this assignment as collateral to request assistance in planning your press trip or Fam tour.

It doesn't matter to the tourist agency whether you're being paid a handsome sum of money for the article, or nothing at all. 

Having an assignment can help to get you free entry into attractions, and it's possible it might help you get free lodging or meals while you're there, too.

Panning for Press Trips

Let's look at this from the perspective of the editor of a low-paying magazine.  These magazines have a problem finding and keeping good writers because they can't afford to pay much, if at all.

As good travel writers move up the food chain in this competitive business, they tend to cast the low paying magazines aside as they get their stories into higher paying magazines.

Editors of low paying magazines know they're onto a good thing with established, professional writers who deliver well-written articles before the deadline. 

And for the writer, magazine assignments are your 'currency' for being eligible for press trips and Fam Tours.

If the readership of the magazine or website satisfies the tourist agency criteria, they might agree to send you on a nice, all expenses paid trip where you're treated like a VIP.

After the trip, you write a nice story about their destination.  They get the exposure in the media.  You get the press trip.  Quid pro quo.

The Gold Mines In Small, Niche Magazines

I've used several low paying, and non-paying magazines and travel websites in order to get press trips.  The editors of these magazines and websites are happy to supply me with letters of assignment for tourism and PR agencies organizing press trips.

Sure, the editors get my articles for bargain prices.  But if it's a place I'm interested in visiting, the arrangement works for both of us. 

Take my productive relationship with Lost Treasure magazine, for example.  This modest, but popular magazine shows treasure hunters how and where to find gold, metals, coins, and lost artifacts with gold panning and metal detectors. 

I've written several articles for Lost Treasure magazine since January 2011.  Because of the low pay, she's probably wondering why I still write for her magazine after all this time!  But I've managed to parlay my assignments with it into some world-class press trips and Fam tours, so the assignments are gold mines for me.

Early on, my assignments with Lost Treasure took me to ghost towns around Washington and Oregon, and several places in Arizona.  These early gigs helped me build my bylines and gain confidence.  They also helped me hone my writing skills.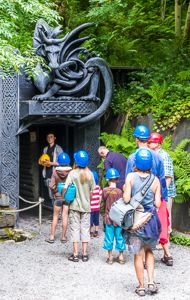 More recently, Lost Treasure assignments have landed me some great self-guided Fam tours in Juneau, Haines, Skagway, Ketchikan, and Fairbanks, Alaska.  They've taken me to Sacramento, California, to Arrowtown, New Zealand, and to some ancient Roman gold mines in Wales.

In short, this modest, niche magazine has been a gold mine! 

Here are a few more gold mines I've found in low paying magazines to visit exciting places around the U.S. and overseas.

Renaissance magazine has published a couple dozen of my articles since 2008.  This magazine is for lovers of all things medieval, and others who enjoy getting dressed up in period costumes and attending medieval faires.  (You'd be surprised at how many people like to do this!) 

My assignments with Ren magazine have taken me to some amazing events around England, Scotland, Wales, Belgium, Paris and Prague.

Writing for military magazines in the U.S. and UK has led to museum tours in England, France, Luxembourg, Belgium, the Netherlands, Germany, Finland, Scotland, Spain, Budapest and several destinations in the U.S.

Writing for a regional sailing magazine in the Pacific Northwest has led to tours of small towns and marinas all around the Puget Sound.

Writing for a website about European travel has led to numerous tours of destinations in England, Scotland, Belgium, Switzerland, Wales, Germany, and Budapest and Prague

Writing for a regional wine magazine has led to dozens of wine-tasting adventures to boutique wineries all around Washington State wine country.

Everyone Gets Some Gold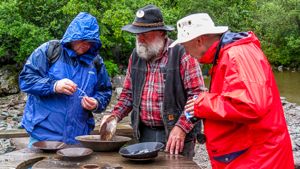 Writing for low paying magazines can be gold mines for you, too.  Think about all of your interests and get familiar with the magazines and websites that focus on those niches.  Pitch a few story ideas about places you've been and build up a relationship with the editors.

When you are hosted on a press trip, remember that everyone benefits.  The editor gets your well-written article to publish in their magazine for their readers.  The tourist agency gets exposure in the media for their destination.  And you get to visit a place that interests you, with some side benefits, plus another byline for your portfolio.

When everyone wins, your writing turns to gold, no matter what your topic.  So before you walk away from low-paying magazines, consider the gold mines that might be hidden there for you.

Related articles that will interest you:
An Introduction to Press Trips and Fam Tours

Quid Pro Quo:  Travel Writers and Press Trips

---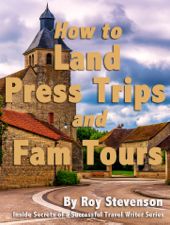 Special Report:
How to Land Press Trips and Fam Tours
I've written a guide about how to land press trips and fam tours.  It will tell you everything you want to know about how to get into the inner circle and get invited on regional, national and international press trips. 
---