Travel Magazine Lists:


14 Great Sources of
Magazine Leads


Having magazine lists at your fingertips is one of the major keys to freelance writing success. Without magazines to query, you won't get assignments—and if you can't get assignments you don't get to write your stories or get paid.

Most beginning (and, I suspect, veteran) freelance writers find assembling magazine lists the most onerous part of the trade.  I get it. Spending hours surfing the Internet for viable magazine leads and copying down editor's names and contact details is a daunting task.

Many writers find this process so boring they skimp on this critical aspect of freelance writing. And it costs them big because they miss out on many magazine leads that could potentially buy and publish their stories.

Fortunately, there are plenty of primary resources online where you can find magazine leads. Here's a list of websites that will direct you to a plethora of magazines. Check them out—you'll be amazed at how many more magazines are out there, just waiting for you to discover.

Some of these lists require you to visit the magazine's website for their writer's guidelines, and editor's name, and contact details.  You'll get the name from the list but you have to do some legwork.

Others charge a monthly or yearly subscription fee. Do you need to subscribe to them all?  No, of course not.  You can subscribe to one or two that best fit your needs, and try them out.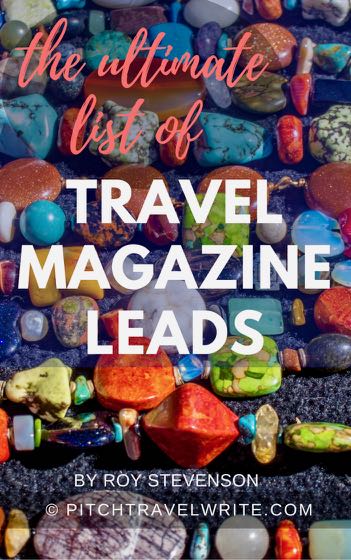 Amazon / Kindle

Amazon.com has a resource with magazines in most genres including travel, City & Regional, Women's Interests, Science, History & Nature, Home & Garden, Parenting & Family, Lifestyle & Culture, Automotive & Motorcycles, and many, many more topics. 

Barnes & Noble

You'll find more than 100 travel and lifestyle magazines here.

Book Market

Book Market has a short list of top shelf travel magazines, in-flights, transportation, and regional & city publications.

Easy Media List
Create your own personalized custom list of U.S. travel magazines on easymedialist.com.  You have to pay for this service. I haven't spoken to any freelance writers who have subscribed, but the lists are very comprehensive.  You can also purchase the top U.S. newspaper lists, alternative, and city and state local media lists here.

Echo Media
This is the website for media/advertising company Echo Media.  You'll find plenty of travel and specialty magazines listed here.  Magazine circulation figures are also given—handy to know when you're applying for complimentary travel, accommodations, meals, tours, guides, etc.

Freelance Writing

According to their website, FreelanceWriting.com is "the most comprehensive hub on the web for freelance writers to find jobs and improve their skills.  Since 1997, we have been providing the resources and services to help thousands of people make their mark on the freelance writing world.  We aim to provide a platform for every writer, no matter if they're at the beginning of their career, already established, or writing for fun."

Freelance Writing Gigs

Freelance Writing Gigs is a handy dandy list of 65 primarily non-travel print magazines that are looking for freelance articles. Includes wine, food, tea, coffee, in-flights (10), golfing, and spa magazines.

ISSUU
ISSUU.com is a digital network that creates and publishes magazines online.  Dozens of them, hundreds of them, thousands of them!

It's a cross between a magazine archive, a library, and a newsstand. It's fun scrolling through their mind-staggering selection of magazines looking for potential recruits for your travel distribution list.  And you can even 'open' the magazines by clicking on their covers, and read them.

Opening these magazines will provide insight into their editorial content and the editor's name & contact details—very helpful when you're researching a new magazine to pitch. You're going to finds magazines here that you never even knew existed!

There's an unlimited number of travel & lifestyle magazines here for you to get your teeth into. And I do mean unlimited. This comprehensive list of magazines includes a huge number of travel & lifestyle magazines.

In a half hour 'scrolling session' I found the following travel magazines: View Travel & Lifestyle, Best in Travel, Travelite, Experience Travel & Living, Good Mood Travel, and Travel Ideas.

These magazine lists warm my marketing heart. If ever there was a mother lode online, this is it!

Magazine Agent
Magazine-agent.com is another excellent source of 115 print travel and regional magazines.  Scroll down the left-hand column to find magazines in many other freelance writing genres.
Other magazine categories listed here include cooking, food & beverage, history, home & garden, photography, science & nature, and women's magazines.

The Market List

The MarketList.com is "the original electronic writer's market resource. Started in 1994 as a free online e-zine and with the first fully comprehensive writer's market guidelines index online, The Market List has a long history of providing aspiring and professional writers with markets for their fiction and non-fiction work."

Great list of magazine markets here!  Free!  What more do you want?  Go there now!

Who Pays Writers

The useful website whopayswriters.com lists many general magazines, newspapers, and online e-zines, and what they pay freelance writers.

Each post is from writers who have written for magazines, with details about word length and rate of pay. Some posts list how long it took the editor to pay up, and a few note what sort of rights the magazine buys.

The magazines lists and newspapers are shown alphabetically, so if you're looking for specific publications they're easy to find.  There are multiple entries for many of the magazines listed here. This is a good thing: you get a better overall 'feel' for the magazine and what it pays from multiple listings.

There are a few travel magazines listed here. The pay rates range from a few cents/word to $2/word. There's something here for everyone, from the beginning freelance writer to the well-published veteran writer who just targets higher paying magazines.

Worldwide Freelance

WorldwideFreelance.com is a paid subscription service that  "provides one of the largest online databases of freelance writing markets. Discover writer's guidelines for 2,500 publications."

"Today, our database lists more than 2,500 freelance writing markets with two levels of access. Everyone can browse 700 markets free of charge. The more serious writers can become Markets Plus members and gain full access to 2,500+ markets."

w3newspapers
The w3newspapers.com list of travel magazines covers adventure travel, tours, vacation needs, attractions, camping, popular destinations, island travel, cruises, traveler free tips, and more.

Writers Weekly
Angela Hoy at WritersWeekly.com offers magazine market reports here.  You'll find some travel magazine lists, and many other genres.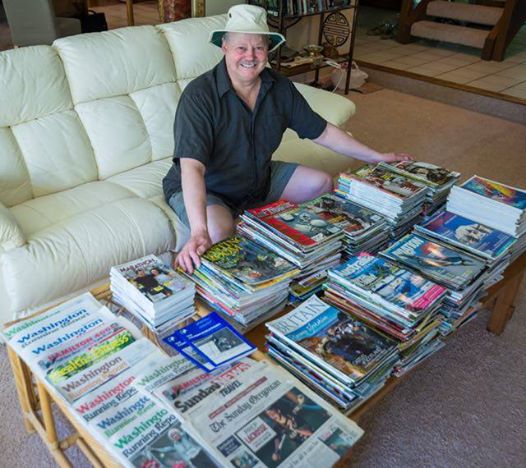 The reason I've been so successful selling my story ideas and getting my articles published is because I have huge lists of travel magazines to pitch.
Travel Magazine Lists and Resources ...

Being wired a little differently than most people, I actually enjoy the hunt for new magazines and have HUGE distribution lists.

To help novice travel writers lay a foundation quickly, or to expand their magazine lists, I've published a reference manual, 100 Print Magazines That Want to Publish Your Travel Articles.
I've also published a guide for online magazine leads. Fifty Websites that Want to Publish Your Travel Stories includes a quality list of websites where you can pitch your articles.  Websites usually don't pay writers for their articles, but it can be a good way to collect a few bylines if you're a beginner.

You can purchase these guides individually at the above links, or in our Beginner's 3-Pack along with The Complete Guide to Query Letters for Travel Writers.  Click on the graphic below to learn more about the 3-pack and save 10% …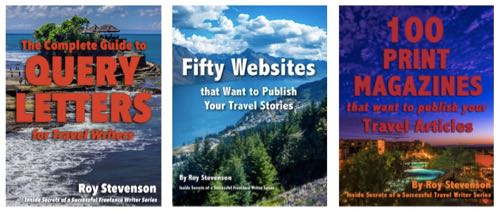 ---
Related articles with more travel magazine lists and sales leads …
I've also published some other VERY helpful travel magazine list resources on this website (PitchTravelWrite.com).  They show you how to plan your magazine search.

Here are links:

How to Build Your Magazine Distribution Lists
Where to Find Magazine Leads:  Top Six References

Finding Travel Magazine Leads on Vendor Websites

Finding Magazine Sales Leads for Travel Writers

Getting Published:  The Many Ways to Sell Your Articles

Travel Writing for Newspapers: Where to Look for Opportunities

---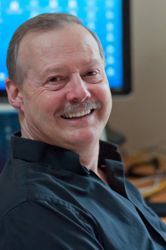 Roy Stevenson is a professional travel writer and the author of www.PitchTravelWrite.com.  Over the past ten years, he's had more than 1000 articles published in 200 magazines, trade and specialty journals, in-flights, on-boards, blogs and websites and has traveled on assignment around the U.S. and to dozens of international destinations.

---
IF YOU ENJOYED THIS POST, GET UPDATES.  IT'S FREE.