Beginner's Pack
Three Key Reference Guides to Kick-off Your Travel Writing Career

Are you wondering what you need to get started as a travel writer?
My Beginner's Pack of reference books and guides is the perfect way to kick off your travel writing career.  These three guides will lead you step-by-step through everything you need to know to get started.
For a limited time, buy all three for $49. 

That's 10% off when you buy all three of these books together.  (If you have a subscriber discount code you can save even more!)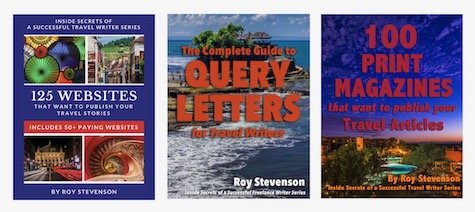 BUY THE BUNDLE

Here's how these reference guides will help you:

The Complete Guide To Query Letters For Travel Writers
Everything you need to know to craft compelling query letters.  118 pages with 20 actual query letters that you can use to create your own successful query letters. 
100 Print Magazines That Want To Publish Your Travel Articles

This gets you started with a list of 100 print magazines that publish travel articles from freelance writers.  It's the list I use to sell my travel articles. This list will save you hundreds of hours of time - time that you can spend writing and traveling instead. 
This book is also packed with expert advice to help you use the magazine listings to your best advantage, to save you time, and get published more often.
125 Websites That Want To Publish Your Travel Stories

If you want to establish your bylines quickly, getting published online is the fastest way to do it.  Here's a list of 125+ quality websites along with sixteen pages of advice about how to get published online. Save yourself hundreds of hours of research time using this list of websites each time you want to get one of your stories published. Includes more than 50 paying websites!

BUY THE BUNDLE

Note:  If you have a discount code, you can add it on the next screen when you select "Add Promo Code".

Read testimonials from customers.

---