Fifty Websites That Want to Publish Your Travel Stories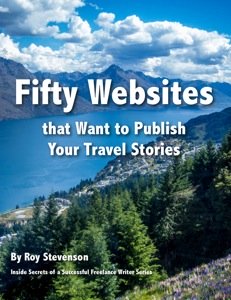 Having a quality list of travel websites where you can get published is one of the most valuable tools you can have in your toolbox. 

This eBook, Fifty Websites that Want to Publish Your Travel Stories, is a red-hot list of quality websites that are eager to publish your travel articles. 
Now, more than ever, it's important for every freelance writer to have some of their work published online.  And using this list will save you hundreds of hours of research time when you're trying to place your story online.

These days even print editors do an online search when they're trying to decide whether or not to hire a new freelance writer. 

Editors check your background and read your articles online before they decide to hire you.  Having a strong online presence enhances your "cred" tremendously.  This encourages the editor to take a chance and accept your story idea for publication.

If you are a beginning travel writer, this eBook will help you accelerate your travel-writing career by rapidly enhancing your online presence. 

Getting your work published online is a quick and easy way for novice travel writers to establish some bylines and credibility as a writer.  It provides incontestable proof that you are a published writer.

The advice in this eBook and the list of fifty websites is your short cut to success.

And if you're interested in press trips, there is another added benefit to writing for quality travel websites.

Tourist and PR agencies look favorably at online travel assignments when they are considering who to invite on press trips.  Writing for quality travel websites can be your ticket to qualify for prestigious press trips and familiarization tours.

But, not all travel websites are created equal. 

Some websites don't accept travel stories from freelance writers.  Some site owners write their own content.  Others are content mills.  You won't find any of these in this eBook.  And you won't have to waste your time sorting out the good sites from the bad ones.

What you will find in this eBook is a list of fifty, quality travel websites.  Some are large sites, others are smaller ones.  There are a variety of genres like adventure travel, women's travel, historical sites, and others devoted to specific regions like Europe, or Asia, or Central America.  You'll find these genres and many more. 

The fifty websites on this list were chosen to provide you with a broad selection of travel genres so that you can choose the best fit for your article. 
You will be proud to be published on any of these sites.  And this list will be your valuable resource over and over again.

Fifty Websites eBook:

What you get:

- A downloadable pdf file, including future updates to this eBook.

- A comprehensive list of fifty quality travel websites including information about the website, the writer's guidelines and my own personalized comments if I've worked with the website owners and have something to add.

- A ten-page introduction including the in's and out's of getting published online, the four reasons it's important for travel writers to have an online presence, and other travel writing advice for online articles.

View the table of contents.

Price:  $ 7.95

Buy now:
---