Finding Magazine Sales Leads
the Easy Way

Finding print magazine sales leads to pitch your story ideas is one of the cornerstones to getting your work published.  After all, if you can't find outlets for your stories you won't get published.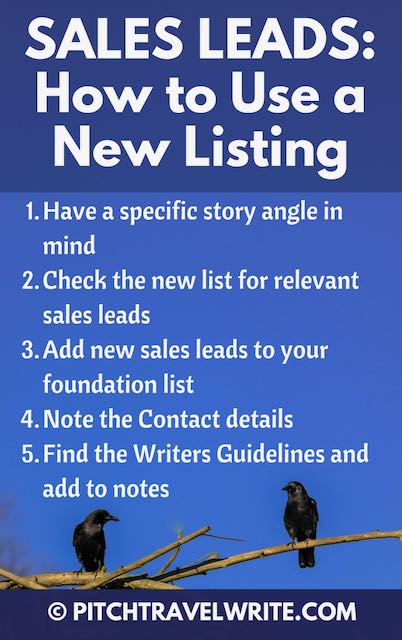 This has always been a simple, straightforward, and enjoyable process for me.  I love wading through magazine racks at my local Barnes & Noble and newsagents and consulting my well-thumbed Writer's Market.  And I enjoy doing an online search for magazines in the genres that I write about.

I never stop looking for fresh magazine leads, so I was delighted when a new coaching client told me about a useful online resource. When I looked at it, I was impressed with what I found.
I think you'll find it useful, too. 

 A Resource for Magazine Sales Leads

The resource is called EasyMediaList (www.easymedialist.com),  and offers comprehensive lists of magazines, newspapers (and radio and TV stations).  Its biggest asset for travel writers is its National Magazine Media Lists, by topic.  And yes, hallelujah, there is a 'Travel' section here, which contains 126 travel magazines!

What I really like about EasyMediaList is that you can pick and choose the magazine titles you want by checking a box.  You can bypass the ones that do not apply to the particular story or region you're working on.  And you can un-check the ones already on your list.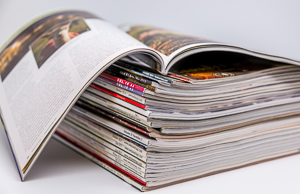 When you choose a magazine title on EasyMediaList.com, you get contact details as indicated in their list - things like the editor's name, email address, the magazine's general telephone number, and mailing address.

The website offers media / magazine sales leads for major U.S. cities in all fifty states.  So if you're planning a trip to another city or state in the U.S., EasyMediaList can help you find potential magazines and newspapers there that might go for your stories.

One thing to bear in mind is that many regional magazines prefer to work only with residents of their own states.  So don't be surprised if some of these magazines reject your pitches for this reason.  This has happened to me numerous times.  But, don't let this deter you.  You should still pitch your stories to any and all regional and state magazines where you think your article would be a good fit.  Sometimes you'll make a sale.

EasyMediaList also provides the Top 100 American Newspaper media list that can certainly help if you are pitching your stories to newspaper travel sections.  (I no longer pitch travel stories to newspapers, but that's a topic for another day.)

There are a few limitations to EasyMediaList.

EasyMediaList only offers U.S. outlets.  This means you'll still have to come up with your own sales leads for international magazines and newspapers.  Do continue to scan the magazine racks at your local bookstore for these magazines.

By far, the biggest downside for freelancers is the price.  At approximately $1 per item, putting together your magazine list can get pricey fast.

Is $1/item reasonable value?  Having gone through the process of creating multiple distribution lists, I believe it's very fair.  It takes a lot of time to hunt down magazine titles, research the publications, and collect contact details.

Given the amount of time that goes into putting together lists of magazine sales leads, I'm sure I would have used this website when I first started my travel writing career had I known about it.

However, there is better value out there if you are prepared take the time to hunt around on your own.  My article about creating your own distribution lists mentions several other online magazine databases.

But, I'm still delighted to find this new resource.  If you use it wisely, it's a great resource. 

Here's how I use EasyMediaList:

I already have my own list of 100+ print magazines to use as a foundation. I'll sort through EasyMediaList for relevant magazines that aren't on my list, and add the ones that look like good leads.
I'll wait until I have a specific article in mind. Then I'll check EasyMediaList for potential sales leads not already on my list.  Once I have the contact details, I find their writer's guidelines and then I'm good to go.

If you've already purchased my book, 100 Print Magazines That Want To Publish Your Travel Articles, you can do the same thing.  Use the magazine sales leads in this book as your foundation magazine list, and then add to it using EasyMediaList or any other available resources.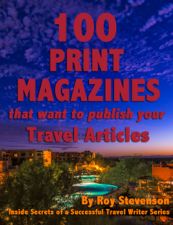 When you put together your magazine lists from a variety of sources, you'll be creating a robust reference. It will help you quickly identify magazine sales leads when you're ready to pitch an article.
If you don't already own our 100 Print Magazines book, you can purchase it on this website.  At only $14.95 for a list of 100 magazines, it's a gold mine!  (If I charged the same rates as EasyMediaList for each listing, my book would cost around $100.)

100 Print Magazines That Want To Publish Your Travel Articles also includes some things you won't find on EasyMediaList:

international publications, plus an assortment of travel magazine sub-genres.

nine pages of solid, actionable coaching information about pitching your stories to specialty magazines. This 'how to' section covers using writer's guidelines, the querying process, submitting your stories to magazines, and the thorny issues of simultaneous submissions.

you'll get more than just contact details.  All of the listings have an introductory paragraph or two (with some much longer) giving you insight into the magazine and its general editorial thrust.  In many cases I provide my personal insights into working with the editors of the magazines that have published my travel stories. You get the inside scoop from me!

links to the magazine's writer's guidelines, saving you time and effort.

Once you have a foundation list like the one found in 100 Print Magazines That Want To Publish Your Travel Articles, you can supplement your list with additional leads from EasyMediaList and many other resources you find online.

Related articles that will interest you:
My 5-Step Pitching Process from Start to Finish
Simultaneous Submissions: Sell More and Do It Faster
How to Build Distribution Lists to Sell Your Stories
Finding Travel Magazine Sales Leads on Vendor Websites
---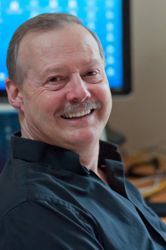 Roy Stevenson is a professional travel writer and the author of www.PitchTravelWrite.com.  Over the past ten years, he's had more than 1000 articles published in 200 magazines, trade and specialty journals, in-flights, on-boards, blogs and websites and has traveled on assignment around the U.S. and to dozens of international destinations.

---
IF YOU ENJOYED THIS POST, GET UPDATES.  IT'S FREE.