Where to Find Magazine Leads:
The Top Print References
On the Market Today

Do you struggle to find print magazine leads?  Most freelance travel writers find it an onerous and difficult task.  But it's a job that must be done well if you want to sell your stories.

Fortunately there are several excellent resources you can tap into to accomplish this task. 

I use three major sources for print magazine leads: print references (books and online), the Internet, and magazine racks at local bookstores.

Which of these three sources yields the best results?

When I analyze where my leads originate, I find that each of these three sources comprises exactly 33% of my magazine leads.  It's hard to believe but that's how it adds up.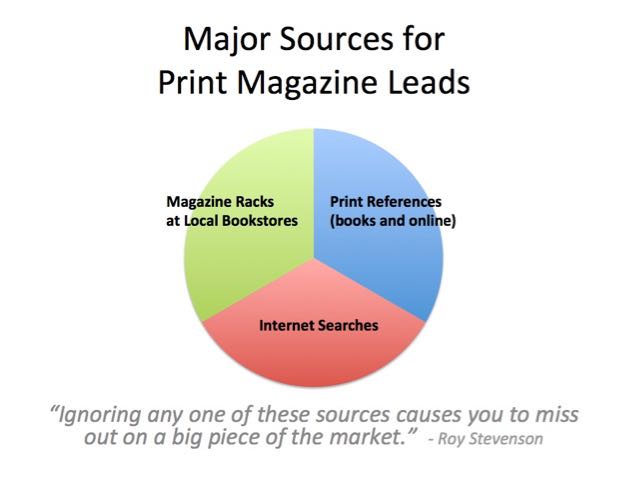 The implications are obvious.  Utilize all three of these resources to compile the most comprehensive distribution lists.  A freelancer who uses only one or two of these sources misses out on a large piece of the potential magazine market.

One of my favorite mantras about today's freelance magazine writing arena is that it's a numbers game. We have to send out numerous queries to boost our chances of getting our stories into print. The more queries we send out, the better.

From personal experience, I estimate 95% of magazine editors do not bother responding to queries. They simply delete the pitch if they are not interested in the story, without even bothering to send a rejection letter (email).

With such a poor response from editors, the querying process has been reduced to firing out pitches to as many magazines as you can track down.  If you send out enough queries you're likely to find an editor somewhere who'll accept your article for publication.

This is where many novice freelance travel writers give up.  But if you forge ahead, you'll find that mass distribution of queries is highly effective.  In fact, it's far more effective than the old school strategy.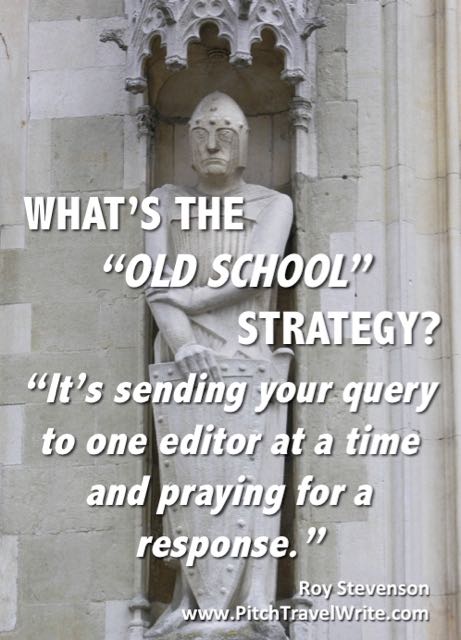 I evolved my mass distribution system through trial and error during my first two years in freelance writing.  Also known as simultaneous submissions, I can happily report it's very successful.  It's one of the primary reasons I sell 90% of all the stories that I pitch.

Most veteran freelance writers believe they are doing well if they sell 25% to 40% of the stories they pitch.  Clearly, my system works better.  My biggest problem is keeping up with my assignments.  I'm usually facing a dozen or more article deadlines, and am constantly scrambling to get my stories out the door.

So where do you find your magazine leads?  As I mentioned, reference books comprise one-third of my leads. 
Here are the best print references on the market today and why they are important. Note: some of these links are amazon affiliate links. If you make a purchase we will receive a small affiliate fee.

---
Writer's Market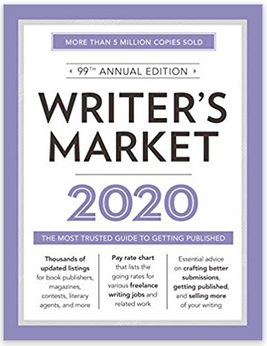 This 2 inch thick tome lists thousands of consumer magazines, trade journals, and newspapers published in the U.S.  I've found plenty of juicy magazine prospects here and have sold many of my stories using this reference.  


Writer's Market is an essential primary reference for magazine leads for freelance magazine writers. It's available online and in print. Its authors claim that it's "the most comprehensive database of verified markets available anywhere".


The advantage of the Online Writer's Market is that you don't have to carry around a bulky 2lb book in your suitcase, and you can access it from anywhere with an Internet connection. 


Writer's Market is offered in standard and deluxe editions. I recommend the deluxe edition.  It includes a one-year online subscription and access to an easy-to-use searchable database that is updated regularly. 


If you're on a travel assignment at an interesting destination, and find some potential stories on your journey, you can use it to assess your story idea's marketability. Pull up the online version and scan through it for possible magazine leads while you're on the road. 


In addition to the online option, all Writer's Market listings contain abbreviated versions of the magazine's writer's guidelines, which save you time when deciding which magazines to pitch, and which to leave off your distribution list. 


There's another advantage to using Writer's Market:  it lists magazine leads in dozens of magazine genres. These range from travel and automotive & motorcycle to food & drink, and from history to home & garden.  There are also photography, regional, rural, camping & trailer, and art & architecture listings. 


Why are these non-travel genre magazine listings a good thing?  Successful travel writers branch out beyond pitching the standard travel magazines.  Pitching travel stories to other genres broadens your freelance writing base.

Writing travel-related articles for specialty publications will exponentially increase your chances of getting your stories published.

Writer's Market also has valuable introductory chapters.  Finding Work, Managing Work, and Promoting Work sections are written by seasoned freelance writing veterans.  You'll learn a lot by taking the time to read these chapters. 


Here are some interesting chapters from Writer's Market:

How to Find Success in the Magazine World
Query Letter Clinic
Reprints and Reslants
How Much Should I Charge? 
How to Launch an Author Website
How to Get Social (Media)
The Writer's Handbook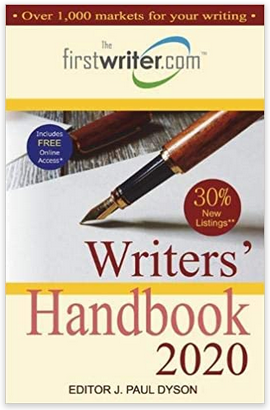 This is a U.K. reference listing regional and national newspapers, and magazines. 


This indispensable guide for writers provides details of hundreds of magazines including contact details, types of material accepted, and how to approach them. Subject indexes for each area provide easy access to the markets you need.


The Writer's Handbook also provides access to international markets. The Internet has made the publishing industry more global than ever.  Most markets accept submissions by email. 

This directory provides you with that all-important access to overseas opportunities that are now just an email away.

By focusing exclusively on what's important to writers – contact details for magazines – this directory has no unnecessary articles or obscure listings padding out hundreds of pages. 


The book also includes free access to the firstwriter.com website, where you can find even more listings.  On their website you can also benefit from other features: advanced searches, daily email updates, feedback from users about the markets featured, saved searches, competitions listings, searchable personal notes, and more.

Writers' & Artists' Yearbook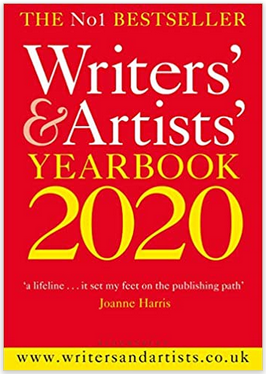 The Writers' and Artists' Yearbook lists regional and national magazines and newspapers in the U.K. and Ireland.  The book's 4,500 listings contain contact editor's details and 105 pages of UK and Irish newspapers and magazines.  


It also lists a few Australian, New Zealand, Canadian, and South African magazines and newspapers. 


Billing itself as, "the indispensible companion to navigating the world of publishing", W&AY also has 80+ articles on marketing and selling your stories and the art & craft of freelance writing.

I'm always amused at my American freelance writing peers who just can't seem to get their heads around the fact that it's okay to write for print publications in other countries. 

There are plenty of other English-speaking countries around the world.  Remember, at one time, "The sun never set on the British Empire". 

I don't know how you feel, but I don't particularly care if I'm being paid in U.S. dollars, Australian dollars, Canadian dollars, or in British pounds - as long as I'm being paid!

 I've had my work published in two dozen U.K. publications largely thanks to leads generated from this thick volume.

Take a walk on the wild side and submit some of your queries to English magazine editors.  I've found them to be real pros, and a delight to work with.  And they pay in British pounds!


3 Resources with Magazine Leads
from PitchTravelWrite
100 Print Magazines that Want to Publish Your Travel Articles

---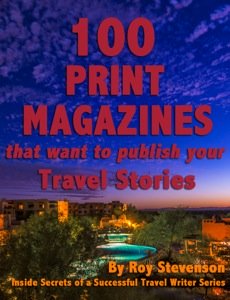 If you want to get published in print media, 100 Print Magazines that Want to Publish Your Travel Stories gives you a ready-made a list of print magazines with contact details, writers guidelines, and much more. 
---
Fifty Websites that Want to Publish Your Travel Stories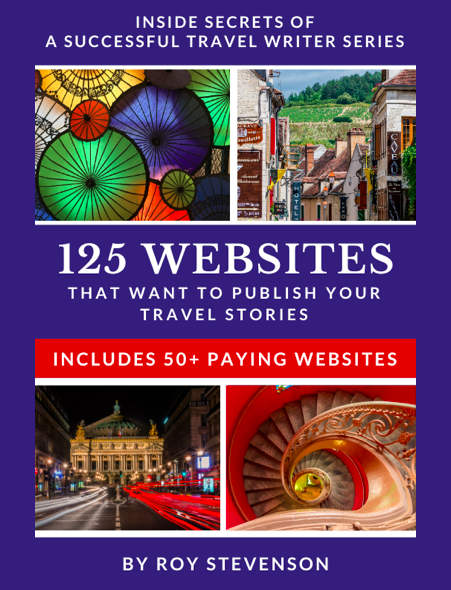 If you want to get published on a travel website, I've published a guide with a list of 125 quality websites. This list includes more than 50 paying websites and lots of advice about getting published online.

Not all websites out there are quality websites.  Many travel websites don't accept articles for publication.  Some website owners prefer to write their own stories.  Others are content mills - you really want to stay away from these.  They're bad for your reputation.

I thoroughly researched this list of 125 travel websites, and can say that you will be proud to be published on any of these.  You can learn more here.

---
How to Break Into the Luxury Travel Writing Market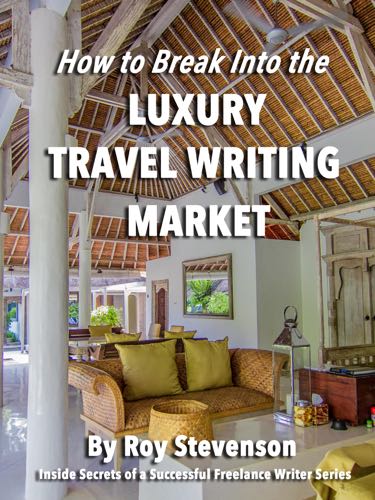 If you want to break into writing about resorts, luxury hotels, villas and spas, my 12-chapter, 130-page manual, How To Break Into The Luxury Travel Writing Market tells you how to do it. It walks you through each step of the process. You'll learn how to get luxury travel assignments and leverage them to land luxury travel trips. I've used these techniques to land assignments at dozens of the finest luxury resorts and spas in the world.

This manual contains an up-to-date list of 150+ print magazines and travel websites that publish luxury travel articles. It's the most comprehensive list of luxury magazine outlets you'll find ANYWHERE. Having immediate access to these lists alone is worth the price of the eBook, saving you hundreds of hours of research.

A few final comments about magazine leads:
You might wonder if you need to purchase all these references.  Probably not.  There's always some overlap between the first 3 references.  But you will find each reference unique enough to warrant purchasing most of them.

I started my freelance writing career by purchasing Writer's Market (U.S.) and Writer's Market (U.K.).  Then I purchased other reference texts as the paychecks for my articles started coming in.  (Note:  Writer's Market UK no longer exists.)

And remember, reference books that you buy to support your freelance writing business should be tax-deductible.  Consult with your accountant or tax advisor and keep your receipts.

Related articles that will interest you:
Getting Published:  The Many Ways to Sell Your Articles
Finding Travel Magazine Leads on Vendor Websites
How to Build Distribution Lists to Sell Your Travel Stories

---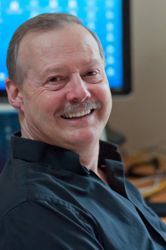 Roy Stevenson is a professional travel writer and the author of www.PitchTravelWrite.com.  Over the past ten years, he's had more than 1000 articles published in 200 magazines, trade and specialty journals, in-flights, on-boards, blogs and websites and has traveled on assignment around the U.S. and to dozens of international destinations.

---
---
IF YOU ENJOYED THIS POST, GET UPDATES.  IT'S FREE.