Diane McLeish Success Story
Diane McLeish:
A Retired School Teacher
Turned Travel Writer

By Diane McLeish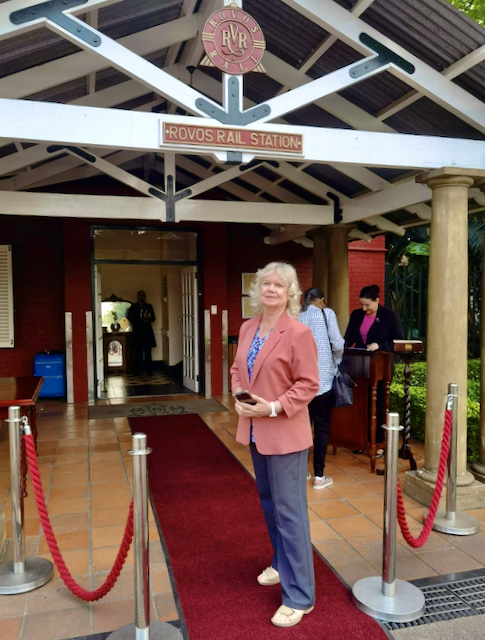 I'm a retired school teacher and although from South Africa, I've been living in Kenya for the last 18 years. My husband and I have travelled extensively in sub-Saharan Africa as well as other interesting places around the world including Mongolia and Siberia. We lived for a few years in Chile, so also explored South America quite a bit.
I had never written before 2019, but was asked to do an article on a regenerated forest and it had been a lovely travel destination. This article created so much interest that I began thinking of trying more writing.
In 2020, when we were all in lockdown during Covid, I thought that trying this new hobby would be ideal as circumstances allowed me to have the time for research, which I find so stimulating.

School Teacher Turned Travel Writer

Once lockdown lifted there was still no outside travel, so we explored different places in Kenya. We did a weekend outing, called Battlefields Patrol, to visit some of the Kenyan World War I sites. During that time it was known as British East Africa. This tour opened my eyes to the possibility of moving out of my comfort zone and writing an article on the only museum of its kind in East Africa.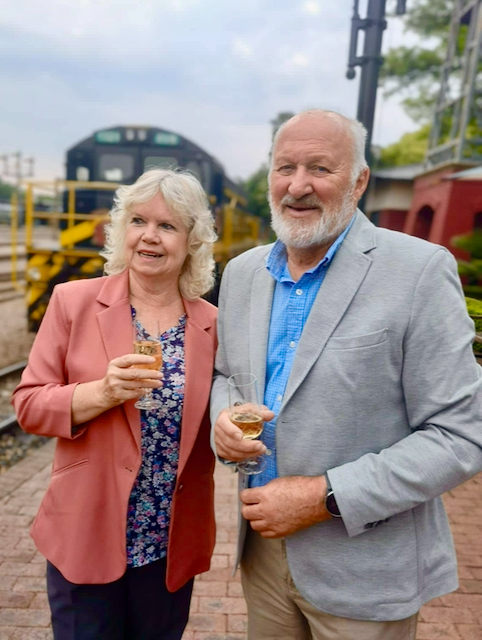 I began looking online for writing ideas and came across writer and coach Roy Stevenson! In his newsletter I found his feature article "Writing Museum Stories" and I decided to brave the challenge. This was the start of a lengthy list of writing successes.
I also bought the online list of Roy's "100 Print Magazines That Want to Publish Your Travel Stories," as well as reading some of his coaching articles. The articles that really helped me were the letters to editors proposing a story, and publishing/reselling the same story to different magazines. Sometimes my resale articles had the same heading and other times with just a slight change. I also took Roy's advice that writers should be paid, no matter how small an amount, to be recognized for the time and effort spend. I can report that I have indeed received a payment for each published story even if small at times.
My museum article was published in two print magazines (Classical Military Vehicle and Old Africa) as well as two online magazines (Historic UK and Guerrillas of Tsavo)
Here's the link to the online article:
https://www.historic-uk.com/HistoryUK/HistoryofBritain/Africa-Kenya-World-War-One/
I have tackled a mixture of topics: history, conservation of forests and national parks, conservation areas during Covid, endangered wildlife species, travel, and safari planning around Africa.
I'm pleased to inform you that every article has been published at least twice, with most published three or four times!
I have not had enough time to settle in to regular writing yet. But the 10 articles I have written to date have been published in 27 various magazines, both in print and digital, thanks to Roy's online support for new writers. If Kenya wasn't so far away, I would love to attend one of his Live Workshops!

Diane McLeish: Important Links

Here are links to some of Diane McLeish's travel stories:
Giraffe species and subspecies
https://www.ecotraining.co.za/do-you-know-your-african-giraffe/
Planning an African safari and the exploring some exciting activities
https://conservationmag.org/en/travel/planning-your-dream-african-safari-trip-the-best-tours-and-destinations
Bura Catholic Mission - oldest Catholic Church in Kenya
https://christianhistoryinstitute.org/blog/post/bura-catholic-mission
Gonarezhou National Park now thriving in Zimbabwe
https://conservationmag.org/en/places/gonarezhou-national-park-zimbabwe-a-park-reborn
Wildebeest Migration -a barely witnessed migration during Covid
https://www.goworldtravel.com/wildebeest-migration-kenya/
https://www.ecotraining.co.za/blog/wildebeest-migration-part-2/
The rare and endangered Sitatunga antelope at Saiwa Swamp National Park
https://www.ecotraining.co.za/blog/sanctuary-for-the-sitatunga/
Lamu island-how an interesting historical house survived during Covid
http://www.storyhouse.org/dianemc2.html
The Imperial Zebra - protecting the endangered Grevy zebra
https://conservationmag.org/en/wildlife/protecting-the-endangered-grevy-s-zebra
Here's a link to Diane McLeish's Facebook Page:
Facebook: https://www.facebook.com/diane.mcleish.33

Are you interested in becoming a travel writer? We have a variety of eBooks to get you started and help you become successful very quickly. One of the best places to begin is with the Creative Pack (mentioned below) or the Beginner's Pack of eBooks which you can find at this link.  You can also peruse all of our books in our bookstore at this link. For more information on the Creative Pack, please see below:

Break into Travel Writing
with the Creative Pack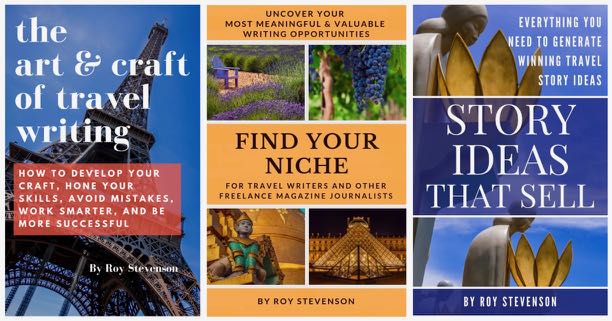 The Creative Pack includes 3 eBooks that are the starting point for every travel writer:  dreaming up unique story ideas that you can sell, finding the best writing niches for you based on your interests, passions and experience, and the art & craft of travel writing.  They're the pieces of the puzzle that come before you ever write a query letter to sell your articles to magazine editors. 
If you're just getting started in travel writing, this group of resources will help you improve your craft, generate story ideas that sell, and develop your own unique and meaningful niche. 
These eBooks can be purchased separately, but when you buy the bundle you'll save more than 10% off individual prices!  Learn more here ...

---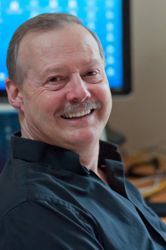 Roy Stevenson is a professional travel writer and the author of www.PitchTravelWrite.com.  Over the past ten years, he's had more than 1000 articles published in 200 magazines, trade and specialty journals, in-flights, on-boards, blogs and websites and has traveled on assignment around the U.S. and to dozens of international destinations.

---
IF YOU ENJOYED THIS POST, GET UPDATES.  IT'S FREE.