Freelance Writing:
Prolific from the Start
By Roy Stevenson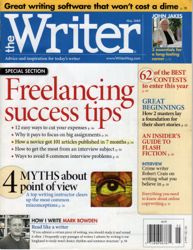 I've always loved writing. Many times I've dreamed how great it would be to make a living writing about things and places that interest me.
When I started my freelance writing career in September 2007, little did I realize that within 7 months I'd have 101 articles accepted for publication in 34 different magazines, e-zines, newspapers and in-flights. My work has been published in U.S.A., England, Scotland, Australia, New Zealand and United Arab Emirates--and three of my articles were cover features. I even have a regular column in one magazine.
How did I get so many articles published in this short time? I'd just returned to Seattle after spending five years traveling in Asia and Europe and was curious to see if I could get some articles published in travel magazines - but had no idea how to get them published.
My wife discovered a travel-writing workshop offered by the American Writers and Artists Incorporated (AWAI) in July 2007, which was just what I needed to get started. I returned to Seattle with my head swimming from three days of intensive instruction from the AWAI course, and started writing.
Editors immediately snapped up my articles as quickly as I could generate query letters—at a rate of 3-4 a week. As one editor after another accepted almost every story I pitched, it quickly became apparent that getting published was not difficult, so I set a goal to see how long it would take to
get 100 articles accepted for publication. By April 2008 that goal was attained and the number of articles continues to grow—240 in 75 different media as I write this. Sometimes I've had to stop
sending out query letters because I have ten or more articles stacked up to write. And every time I send a pitch to editors, I'm 95% certain that my story will be picked up. Only a handful of my story ideas have failed to be picked up.
Here are some secrets I've learned along the way to help you get published
more frequently, and boost your efforts at breaking into the writing market
with your first piece.

Freelance Writing Tip #1:
Research your topic before pitching it to an editor. This greatly increases your chances of an editor accepting it. Using interesting information gleaned from research in your query letter shows the editor you're prepared. This also pays off when you get the article accepted--you'll already have your rough notes and a paragraph or three.

Freelance Writing Tip #2:
Write about several different topics you're interested in. Doing this multiplies your chances of getting more articles in print. I've had articles appear in travel, culture, military history, history, film festival reviews, writing, communications, running, health, and fitness magazines. What are your passions?
Freelance Writing Tip #3:
You don't have to be an expert to write a good article on a subject. I've had articles about military vehicles appear in specialty magazines yet I'm not an expert in this field—but I do have an expert consultant who helps with vehicle identification.

I've had cover feature articles in two nationally distributed U.S. ham radio magazines yet I don't know the difference between a megahertz and UHF. Again, I had an expert give me advice on the communications equipment. The editors of these two magazines are so pleased with these pieces they have already asked me to write more.

Freelance Writing Tip #4:

Look everywhere for magazines and newspapers to pitch your articles. Most aspiring writers think the main source for magazine leads is the Writer's Market tome. However, after analyzing my first 100 articles I discovered only 13% of my magazine leads come from this source. Another 13% come from AWAI, my writer's association.

But, my two best sources (at 34% each) come from studying the magazine rack at a local bookstore, and Internet searches. Check the better stocked magazine racks in your town, particularly the specialty magazine stores, or newsagents. They tend to stock the more offbeat publications that are generally more "freelancer friendly" than the big glossies on the supermarket racks.

The Internet is the mother lode. It's amazing what you'll find when you Google "travel magazines" or "military magazines", or whatever you're hunting. You'll find more leads than you believe possible.

Does this mean you shouldn't have a copy of Writer's Market on your bookshelf? Of course not. You'll refer to Writer's Market after completing your search using these other sources—and you'll find a few additional magazines sprinkled throughout to add to your "pitch list". Obviously then,
restricting your search to one source is very limiting.

Freelance Writing Tip #5:

Read the writer's guidelines. The writers' guidelines will tell you what the editor is looking for in
submissions. For example, what length they prefer their stories to be. Not all magazines publish these, so sometimes you'll have to fly blind. Indicate you'll be flexible and work to whatever suggestions the editor wants. A good motto is, "whatever the editor wants, the editor gets".

Freelance Writing Tip #6:

Always send in multiple submissions. Today's editors realize that freelancers pitch their work to many magazines simultaneously--which encourages them to jump on your idea quickly when
it comes through their inbox.

Freelance Writing Tip #7:

Go for repeat business. You'll find once you get an article in a magazine, the editor will be much
more receptive to taking more story ideas from you. You're doing well if your repeat rate runs over 50%--over half the magazines that have accepted your pieces accept repeat articles. This saves you a lot of time hunting down new magazines and breaking in new editors. Editors also tend
to see it the same way. They prefer reliable writers they "know" to new
writers who haven't proven themselves.

Freelance Writing Tip #8:

Write the occasional article for free. But never pitch your work as a freebie. Wait until the editor tells you how they currently don't have funds to pay freelance writers before offering to give the article to the magazine. At least this gets your foot in the door and opens the editor up to the idea of you doing a paid feature in future issues.

An analysis of my first 100 articles shows that 29% were free, which may seem like a lot--but they sure boosted my portfolio and credibility. Free articles can pay off in many ways you'd never think of.
Another benefit of writing the occasional piece gratis is that you're free to sell it elsewhere, because generally editors don't retain any rights at all to free work. And the extra practice you get from writing free articles should never be underestimated—it helps you hone your writing skills and query letters to editors.

Freelance Writing Tip #9:

Resell your work again and again. The life blood of the freelance writer's income is recycling their work—seasoned freelance writers agree it's a savvy approach to freelance writing. This is the most important key to your continued survival and success as a freelance writer.
Of my first 100 articles, 74 are originals while the remainder are resells. Recycling your articles opens up a whole new world to you, as you learn to resell in different countries or regions. This technique increases your income.
And, above all, it saves you time. Here's why. Starting a new article from scratch is very time consuming by the time you've done the research, query letter and written the piece. Selling the same piece to different regional magazines or newspapers whose circulation does not overlap is a
labor free and inexpensive method to expand into other markets, while boosting your income.

Don't forget that after your work has appeared in a newspaper or magazine, the rights revert back to you (in most cases) and you're then free to resell it.

Freelance Writing Tip #10:

Pitch multiple story angles. If you have an abundance of material when you're developing a story, consider spinning out the concept into two or three other articles to sell to all and sundry.
Pitching multiple story angles to a variety of magazines and newspapers pays off well. An article about stretching for runners, for example, can be tweaked into an article about stretching for athletes generally, and even tweaked again into an article for fitness buffs.

Where am I now in my writing career? Regarding the financial prospects of freelance writing—I certainly don't expect to get rich immediately. I've managed to scrape together $1300/month average from my first 100 articles, and my second century of articles have earned me double that amount.

My biggest single payment for one article is only $600—a far cry from the $2000+ every freelancer dreams about. So I'm still a small fish in a big pond. However, by reselling the same article several times I have made as much as $1500 for one piece.
Lately, as I move up the freelance writing learning curve I've noticed consistently bigger payments for my work. I'm not afraid to send a blizzard of query emails and letters to magazines. It's a numbers game—the more queries I send out, the more articles I get published. And I'm not afraid to pitch any magazine, E-zine or newspaper I think might be interested in my story idea.

I hear about aspiring writers getting depressed when their query letters are rejected. I don't feel any pain when I receive rejection letters. I just don't see it as a big deal—at least they tell me the editor is reading my pitch. It's not personal. And I try to learn something from every rejection letter, and pay close attention to any comments editors make.
Now that I'm a full time freelancer, my goals are to increase my productivity by writing more articles—and reselling more of them. My current record is 9 articles in 14 days. I'd like to be writing one piece every day. I also want to increase my pool of editors who take my work regularly up to 60-70. This means I need to increase my overall base to at least 150 magazines, e-zines, in-flights and newspapers.
Trying some or all of these techniques improves your chances of finding an editor willing to buy your article. But ignoring these simple procedures significantly reduces your chances of getting published. I still feel pleasantly surprised when I get several magazines with my articles and checks in the mail every week. And it sure beats my previous full time job.
(Article published in The Writer magazine, May, 2009)

---
Return from Freelance Writing: Prolific from the Start to Home Page

---
IF YOU ENJOYED THIS POST, GET UPDATES.  IT'S FREE.