Writing for Free Guidelines
Writing for Free :
Guidelines for Travel Writers

Writing for free is a topic that comes up frequently when I work with new travel writers.  Most importantly, I believe writers should be paid for their work.  Even beginners can get paid for their work.
But there are times when you might want to donate an article - and other times when you shouldn't.

Here's an email I received from a novice writer along with my response:

"A travel magazine has just offered me a non-paying commission as their UK correspondent. We have just worked out the details. Basically, I will send them regular articles, and in return they will publish my stories in their print magazine and online, listing me as their correspondent."

"They will also send me business cards and will promote my blog. This will allow me to get press trips and hotel visits (I hope).  There is a travel exposition coming up in London where I met plenty of Tourist Boards last year, so I will be going to that to get more contacts."

"What do you think of this offer to write for free?"

My reply can be found in the rest of this article . . .

Writing for Free: What's In It For You?

Writing for a magazine might be very flattering when they ask you to contribute.  After you've had an article or two published in their magazine, you can fairly and honestly claim their byline in your future query letters.

But to commit long term to writing for free for the same magazine or website may not be such a wise choice.  It will cost you valuable time when you could be pitching your stories to paying (print) magazines.

You should examine your relationship with this travel magazine very closely.  How does it benefit you and your goals?  The magazine gains by receiving free content from you, on a regular basis.  What will you get in return?

You mention that you hope you can use your new travel writing position and assignments as collateral for securing press trips.  Is your goal to get free travel?  Or is your goal to get paid for your work?  Or both? 

If press trip invitations start flooding in, and if you find these magazine assignments are strong collateral when you're applying for assistance with Destination Marketing Organizations (DMOs), then by all means write for free.  And use this credential to the max.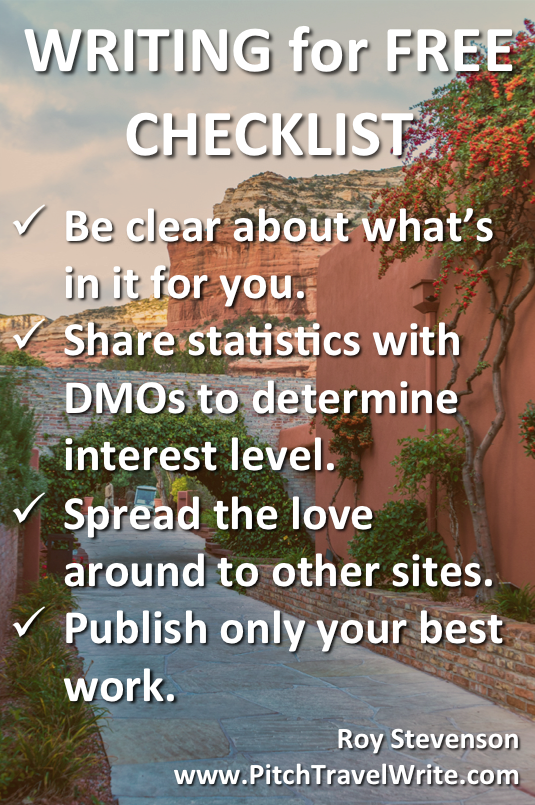 However, you might also find that your assignments with this magazine are not considered acceptable for press trips and are rejected by DMOs.  In this case there's really nothing in this arrangement for you apart from a byline.  Assuming you want the byline, plan to walk away after you write an article or two.

Writing for free can be beneficial when using these assignments as collateral for press trips to destinations that you really want to visit.  You can secure some generous travel perks by writing articles gratis.  That's a tangible benefit. 

But if there's nothing for you in the deal, spend your time and energy looking for opportunities to get paid for your work.
Use the Travel Expo as a Testing Ground

You mention that you'll be attending a travel expo in London.  That expo can be an ideal proving ground for your newfound position with this travel magazine.

Consider approaching the tourism boards that interest you by saying something like: "I'm the UK contributor for XX Magazine and have an open invitation from them to write about any destination that interests me.  Would you be interested in sponsoring me on a press trip to your destination?"

As you present your elevator speech, hand them a fact sheet about your travel magazine, with the following information:

Fact Sheet

Website URL and Statistics:
# of Pages on Site
Unique Monthly Visitors
Total Monthly Visits
Total Pages Viewed (Month)
Demographics

Print Magazine Name and Statistics:
Total Circulation
Total Paid Circulation
Total Newsstand/DMO Circulation
Places Distributed
Demographics

With these statistics in hand, talk with the DMOs at your upcoming travel expo event.  If they are interested and indicate they want to work with you, great! 

On the other hand, if you get the cold shoulder from everyone, then you're wasting your time writing for free for this magazine.

Spread the Love Around

There is another important consideration when you're thinking about writing for free for a website or blog.

If you're a novice travel writer, you want to establish a notable portfolio of online bylines to enhance your credibility.  If you have nothing online, your credibility will suffer because the editor can't find any of your work.

You should submit your travel articles to a variety of different travel websites.  You don't want to write a large number of articles for one single travel website.

Here are the benefits to getting published on different websites:

When you send a query letter to a magazine editor for a paying publication, the magazine editor will check you out online.  If your bylines are for a single website, it will not look as impressive as multiple bylines with multiple websites.
There's simply more value in getting your travel articles published on numerous websites.  It establishes a broad online presence.  And it shows you know how to establish relationships with multiple editors.
Editors will automatically search online just to see what you have "out there" in the digital realm.  Impress them by spreading the love around. If writing for free, write for a wide variety of websites to maximize your bylines and online presence.
Here's an example of how an editor will do a search and what you want them to find:

Type "Roy Stevenson travel writer" into your browser search box. 
The search results will include my stories on EuropeUpClose.com, instinctnextleg.com, yourlifeisatrip.com, Epicurean-traveler.com, realfoodtraveler.com, allwaystraveller.com, travelpostmonthly.com, goworldtravel.com, gonomad.com, coastandkayak.com, touristtravel.com, writersweekly.com, globallivingmagazine.com, travelmag.co.uk, travellady.com, and a few others. 
The editor sees a long list of bylines, over several pages: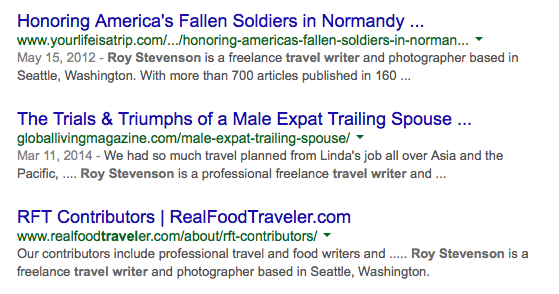 Here's a partial search result on "Roy Stevenson travel writer"
This list of websites that have published my articles looks far more impressive than if I had all my articles published on only one website.

Although it's easier to establish and maintain a relationship with one travel website, it can work against you when you turn to paying print magazines.

Hunting down quality travel websites and submitting stories to online editors and publishers is extra work for you.  But, this work is worthwhile in the long run.

Eventually the novelty of writing for free will wear off.  If your goal is to get your work in print publications and get paid for it, then write for multiple websites with the goal of collecting a wide variety of bylines.

Donating multiple articles to one website will not help you as much as writing for free for multiple websites.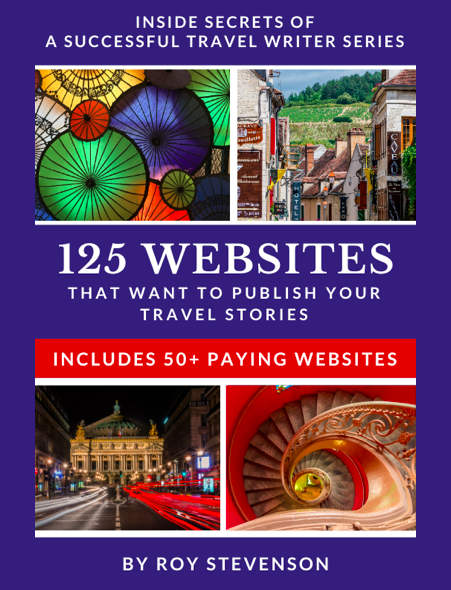 If you don't know where to find quality websites to help build your online portfolio, or you're looking for a fast list of websites to pitch your stories, I wrote an eBook, 125 Websites That Want to Publish Your Travel Stories. 
The 125 websites listed in this eBook are all sites where I would be proud to see my articles published (and many where my articles are published!). More than 50 of these websites pay their writers! 
---
Make It Your Best Work Even When You Are Writing for Free

One final thought on the issue of writing for free for travel websites. The writing quality on travel websites varies tremendously.  To fuel their insatiable need for content, some travel websites are not concerned about the quality of the stories they publish.

I've read sublime stories online that could easily have been published in a $1/word print outlet (had the writer known how to do it).  I've also read embarrassingly bad articles that will haunt the travel writer for the rest of his days.

Often there is little screening of story ideas and little or no editing of articles before they get posted.  Some websites allow the writer to post his own stories, without any oversight at all.

Beginning travel writers often unwittingly produce amateurish and clumsy stories.  Until you gain some experience, your work needs to be screened and edited.  Having unedited stories published online does not enhance your chances of progressing on to print and paying publications.

I recommend that every beginning writer gets an experienced writer or editor to review and edit their stories before submitting them to a travel website.

Getting published online will only enhance your career and credibility if the results are well-written articles.  Make certain the stories published are your best work.

With so many travel websites out there, which ones do you choose?
I wrote a guide about writing for websites.  It includes 125 quality travel websites where you can get your articles published …

Other related articles that will interest you:

Write for Free?  Why You Might Want to Do This
Getting Published:  The Many Ways to Sell Your Travel Articles
Business Basics for Travel Writers

---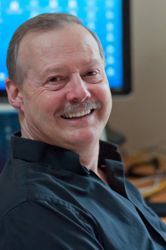 Roy Stevenson is a professional travel writer and the author of www.PitchTravelWrite.com.  Over the past ten years, he's had more than 1000 articles published in 200 magazines, trade and specialty journals, in-flights, on-boards, blogs and websites and has traveled on assignment around the U.S. and to dozens of international destinations.

---
IF YOU ENJOYED THIS POST, GET UPDATES.  IT'S FREE.