Are Travel Blogs and Websites
Becoming Irrelevant?
A Special Report

Travel blogs and websites have taken a hammering lately due to the Covid-19 pandemic. I thought it was time to ask the question, "are they becoming irrelevant?" That's what this special report is about.

There are two main ways that travel writers earn income online: publishing and monetizing their own travel blog, or writing for other people's blogs and websites.

The internet has changed the travel writing industry in many ways. But, so far, it has not developed to the extent that freelance writers can make a livable income by writing travel stories for blogs and websites.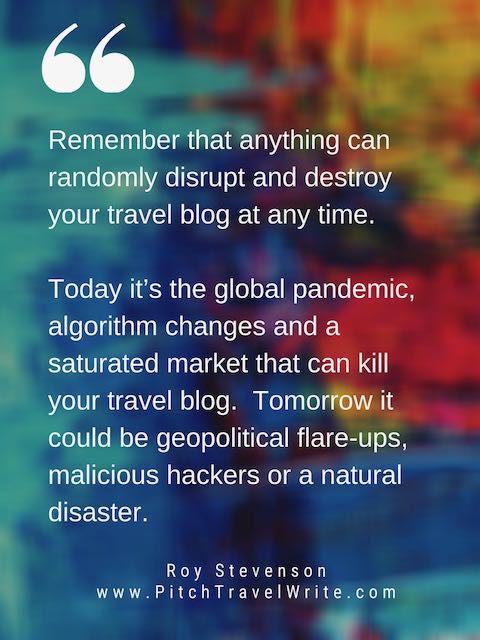 Travel websites generally do not pay writers for their stories. Or, they only pay a token amount. It's a futile exercise to try making a living by writing for them. One online travel writer I know, who is considered successful, earns less than $6000 per year — hardly a livable income. And, the competition for the few paying travel websites is fierce.

The most popular option travel writers have latched onto is starting their own travel blog. Their plan is to monetize it and travel the world, living off the income.

While this option is touted as easy, sexy, and cool, it will take you time to make any money from it — a lot of time!
Blogging experts estimate that it takes at least 3 years to build up a travel website enough to start making any substantial amount of money. And that's just for the ones that make it that long. Most blogs don't even come close.

Spending three years working for nothing, with no guarantee of bringing in an income, seems like a huge waste of time to me. (An exception might be copywriting for commercial websites - but that's a different game and not the topic of this article.)

I know plenty of travel bloggers who have spent way more than three years creating their travel blog. They're only bringing in coffee money, not a substantial income.

Although I've met a number of travel bloggers who receive complimentary stays in hotels and resorts, or are invited on press trips, those free trips don't pay the bills. You need cash for that.

There are thousands of travel bloggers who have simply given up and walked away from their blog, never having gained the traction they hoped for. Or, they let their site go dormant, hoping one day they'll get back to it. They rarely do.

Achieving financial success with your travel blog assumes that you approach your blog like a business, have a strategy, and work full time on it. You must produce a ton of high quality content, learn about search engine optimization (SEO) and know how to build your traffic organically and from social media and other sources.

You must become skilled at how to monetize it, including learning about ad revenue and ad placement, how to build partnerships with affiliate networks to earn commissions and how to get sponsorships of different sorts to earn money. Those are a lot of divergent skills to learn!

Most bloggers work solo, and travel bloggers seldom have all of these critical skills. And you need a high level of skill in ALL these areas to make money.

Add to this the tens of thousands of other people who are trying to create a money-making travel blog, and that creates a lot of competition. The market has become saturated with travel blogs and websites.

The result is most online travel stories are lost among the huge mass of information online, read only by a small number of people.

Even the smart bloggers who have developed niche markets are facing stiff competition.
For example, not so long ago, luxury travel blogs were the hot new niche. But, spend an hour or two online searching for luxury travel blogs or websites and you'll find hundreds of them, all busy diluting each other's market share.

The 500 Pound Gorilla In the Room

There's another major problem travel blogs and websites face today — they're periodically decimated by search engine algorithm changes. For most bloggers, SEO (search engine optimization) is an insurmountable problem. They're not experts.

These algorithms go by innocuous names like Panda, Penguin, Hummingbird, Florida, Pigeon, Mobilegeddon, Medic.  Whatever they're called, they've laid waste to countless travel websites and blogs over the years.

I don't know of any website or blog that hasn't been hit by one or more of these algorithm changes. And most websites and blogs continue to take repeated hits from algorithm changes.

Google has thousands of employees who work solely on updating and tweaking their algorithms. Google alone makes 500-600 algorithm changes each year, most of them small tweaks, to improve search quality. It's not possible to understand or outfox the combined brainpower of these people.

The tactics, methods and formulae behind algorithms have become so complex and wide-ranging that they're beyond the comprehension of all but the savviest techies. Building a money-making blog these days requires in-depth knowledge of data: structured data, schemas, long-tail keywords, related keywords, meta descriptions, header tags, internal linking, external linking, mobile friendly SEO, and optimized titles — to name a few.

And then, you've got to be able to flawlessly integrate your blog posts into social media to (hopefully) boost your audience. Should you use Facebook, Instagram, Pinterest, Twitter or all of the above. Do you need to keep up with the latest social media platforms? You need to figure it out for yourself.

A whole industry of SEO consultants has appeared, with promises to boost your website stats. I receive emails from at least one or two of these experts each week, each with grandiose promises to improve my SEO, increase my traffic, and create domain authority for my two modest writing websites.

Even if you hire a consultant, they can't turn your website into an instant moneymaker overnight. There is no silver bullet! It will take time and there are no guarantees.

Yet, making algorithm adjustments is almost entirely beyond the control of travel bloggers without expert help. But if you're not earning much money with your blog, can you really afford to hire an expert? Did you put it in your budget?

The Last Straw for Travel Blogs:
The Coronapocalypse!

The Covid-19 pandemic has currently reduced the traffic of thousands of travel blogs and websites to almost nothing, and many have walked away from their blogs in frustration and despair. I'm willing to bet all travel blogs are devastatingly down.

I'm not making this up. There are so many social media comments and newsletters from travel bloggers stating their traffic has been annihilated. This bloodbath is clearly widespread.

How heartbreaking it must be to see several years of hard work wiped out overnight by a raging worldwide pandemic. Massive drops in traffic slashes affiliate commissions and ad revenue - the main sources of income for most bloggers.

Back in March, 2020, I listened to a Mediavine presentation where the speakers shared that their advertising income was down 33%, and 70% of their advertisers had lowered their budgets. Twenty-four percent of advertisers have stopped all ad buying. And this was only in March. Things got considerably worse since then.

Not surprisingly, along with dramatic drops in traffic, sponsored content, affiliate income, and brand ambassadorships have declined. Even websites with products to sell have experienced a sizeable drop off in sales because of reduced traffic.

Forget about going on any sponsored group press trips. They're not going to happen until the virus has burned itself out and vaccines are available.

Overall, it's not a pretty picture.

A couple of travel bloggers have bravely tried to rally the flag and recently have claimed their website traffic is picking up again. However, they don't provide details or statistics to back up their claims.

For the few optimists saying, "Hey, it's all okay, we're making a comeback" — please have the courtesy and transparency to give us the facts so we can see for ourselves. Show me the money! Exactly how much has your traffic and income have picked up?

I suspect the lack of data to back these optimistic claims is because the comeback isn't all that impressive.

Regardless of when the pandemic winds down — and someday it will — and when travel blog and website traffic picks up again, there's a lesson to be learned.

Remember that anything can randomly disrupt and destroy blogs and websites at any time in the future.

Today it's the global pandemic, algorithm changes and saturated markets that can kill your travel blog.  Tomorrow it could be geopolitical flare-ups, malicious hackers or a natural disaster.

Cyber warfare, for example, is no longer a science fiction movie theme — it's here. And these hackers don't care about you or your travel blog.

These situations are beyond your control.

Am I recommending you abandon your website or blog? No, of course not. Publishing a blog is a creative endeavor as well as a technical one. Many people get satisfaction from writing their blogs.

But you need to develop multiple streams of income to see you through the hard times for when the next catastrophe strikes. That also means banking a solid chunk of change during the good times so you have something to get you through the bad times.

Let's All Do the "Pivot" Dance Today

Everyone is suggesting that afflicted travel bloggers "pivot" and divert their websites and posts in another direction during this time of Covid-19.

Is it realistic to expect travel bloggers to pivot? Can bloggers instantly change the direction and content of their blogs to some other theme or topic? And how long will the new direction take to gain traction? At best, this advice is lame.

Maybe these people are suggesting that travel writers and bloggers simply change direction and enter a new writing field like, say, copywriting. If that's the case, they're blissfully ignoring the fact that it takes years to successfully break into a new field. Copywriters face a huge learning curve and there are few overnight successes.

I think we're at the point where travel blogs and websites as significant money making entities are becoming irrelevant. The Internet is simply too volatile and competitive to support a steady, livable income in the travel writing and blogging arena.

An Achievable Stream of Income

There are plenty of travel bloggers out there who have the right stuff to get their stories published in paying print magazines. I've read many well written blogs that could easily have been published in paying print magazines.

On a few occasions I've been impressed enough with their writing to suggest they pitch their stories to print media and that they could make anywhere from $200-$2000 for their articles. I never heard back from any of them. Not a one!

If you're a travel blogger and want to be paid a fair price for your articles, I suggest you start pitching your stories to print media. I continue to write for print media. Print still pays. I've said this before and I stand by it.

On my annual trip back to the U.S. last year (2019), I had four print magazine assignments that paid out a total of $4,800. And that's not including our comped accommodations including a couple of nights in a luxury treehouse resort in Ohio, in the same cabin where movie star Matthew McConaughey and his family stayed. Or, our all-inclusive comped tourist passes and meals in Vancouver, B.C, Canada.

I know many travel bloggers have serious doubts that their writing may not be a good fit for the print travel glossies. This is understandable because blogs are unfettered by oversight and aren't edited by professional editors.

Writing for print media requires selling an editor on your story idea, and then producing a publishable piece that also passes the editor's scrutiny. It seems difficult to the uninitiated, but actually can be accomplished by a series of easy, repeatable steps.

Many travel bloggers could do extremely well selling their stories to print publications. After all, they're already writing travel stories and know how to recognize a good story angle. They've already demonstrated an entrepreneurial flair by putting themselves "out there" and they're probably decent photographers, too.

Breaking into print media may not seem as easy as writing your own blog, but since when has starting a new business endeavor been easy? Writing for print media is an achievable transition for talented and motivated travel bloggers. And it can be another income stream.

And for anyone who thinks print is dead, wake up and read this research, Travel Print Media is Growing, published in 2020.
You may not get rich getting published in print media, but at least print media pays writers for their work when the story is published. As you move up the travel writing totem pole, you'll be paid more for your work and it gets easier to sell your stories.

Give it a try - you might find it's not as difficult as you think.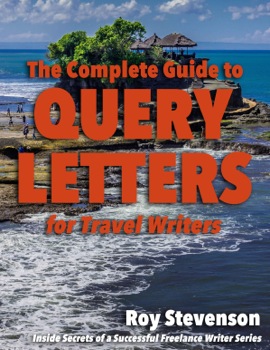 Do you need help writing query letters that catch the attention of editors?
If you're looking for a guide to help you write query letters to editors, I've written The Complete Guide to Query Letters for Travel Writers to help you.  It includes everything you need to know about query letters, along with 20 sample query letters that you can use as templates for your own queries.
---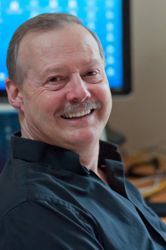 Roy Stevenson is a professional travel writer and the author of www.PitchTravelWrite.com.  Over the past ten years, he's had more than 1000 articles published in 200 magazines, trade and specialty journals, in-flights, on-boards, blogs and websites and has traveled on assignment around the U.S. and to dozens of international destinations.

---
IF YOU ENJOYED THIS POST, GET UPDATES.  IT'S FREE.