Travel Blogs:


7 Things to Consider
Before You Start One


"Should I start a blog?" 

I hear this question from travel writers every week.  With the internet bursting with travel blogs and websites, I have to say I have mixed feelings about how to answer the question.

I don't want to kill their enthusiasm and say "no", but I also know how much time and energy it takes to create a successful blog.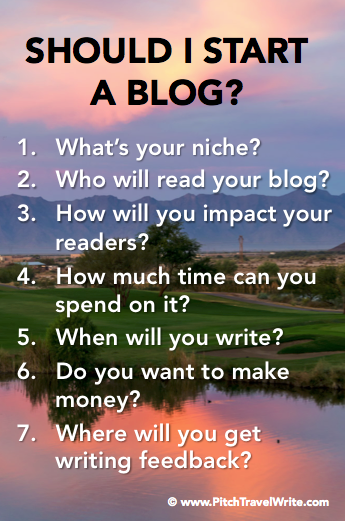 In fact, it's a question I can't answer, because everyone has a different reason for wanting to start a blog, and each person has different expectations about what success (or failure) looks like.

Novice travel writers say they want to start a blog to hone their writing skills.  If they haven't been published, it's a way to show magazine editors their writing skills.

Some people start travel blogs to keep their families and friends up-to-date on their globe-trotting.

Others start travel blogs to get free stuff like complimentary travel or travel gear and accessories.

An ambitious few start blogs to make money.

No matter what your reasons for wanting to start a blog, one thing is true:  it's really easy to start a blog.  In less than an hour you can be up and running on some of the popular platforms. 

Starting a blog is easy.  Keeping it going is the hard part.  Just ask a blogger, any blogger.

If you're thinking about starting a travel blog, here are seven things to think about before you go online:

1.  What's Your Niche?

General travel blogs and websites number in the tens of thousands.  This is good for someone looking for information online, but not so good for a beginning blogger. 

There are simply too many general travel websites today.  It will be difficult for readers to find you because your new site will get lost in the chatter.

The only way to get noticed in today's travel blogosphere is to find a niche - a very specific one.

We rarely search for something as generic as "travel".  Our searches are much more specific and include places and interests.  "Luxury resorts in Bali", "best ocean beaches in the world", "wine cruises" or "golf courses in the Caribbean".  These are the things we search for.  Notice, the word "travel" wasn't in any of those searches.

Your niche needs to be specific enough for the search engines to send someone to your site.  And your posts need to be focused on a topic so that your readers can find lots of good information about it.

Here are a few examples from our readers who have travel blogs with specific niches: 
Tim Cotroneo (TravelDreamsMagazine) blogs about golf resorts on exotic islands. 
Shelley Pittman (A Toast to Life) blogs about her love of sailing, food and wine in the Bay area. 
Sharron Calvin (FourCornering) blogs about the American Southwest.
Having a niche will help you decide on what topics to write about.  It will help you stay focused to keep your readers interested.  And, it will help you know where to promote your blog so you can build a following.

2.  Who Do You Want To Read Your Blog?
Whether you write a post for a blog or an article for a magazine, you always need to think about your audience.  Who do you want to read what you write? 
The answer isn't "everyone".

Let's say you want to start a blog to show off your portfolio to magazine editors.  Your audience is magazine editors.  What you post to your blog will be articles that show your professional writing style and capabilities.  You won't post silly, unfocused musings for this audience.

You will target a completely different audience if you start a blog to keep your family and friends informed about your travels.  For your friends and family you can be silly, chatty and random.  Anything goes.  (But you won't send a link to your editors.) 

What if you want to use your travel blog as collateral for press trips and Fam tours?  In this case it's important that you have a lot of readers in the market they are interested in.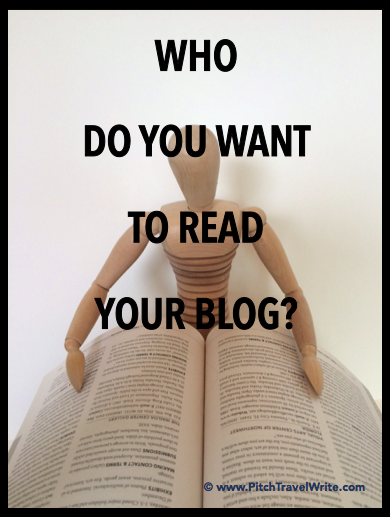 You need to be able to describe who your readers are. 
Are they in their 20's or are they baby boomers?  Are they budget travelers or are they affluent?  Do they love adventure or would they rather sit at the pool and sip on a cool drink?

Tourism and media reps are trained to look for high traffic travel blogs and websites.  They also look for visible social media presence. 
They want to know who your readers are so they can understand how you will promote their region and what to do in their part of the world.

3.  How Will You Impact Your Readers?

People become your followers because you offer them something they won't have if they don't read your blog or website.  How will you help them?  What will you do to solve their problems?  How will they change as a result of what you write?  What will they learn from you?

I started my website, PitchTravelWrite.com, because people kept saying, "I want to know how to do what you do."  My entire website and all the content I write centers around this statement.

My purpose is to teach people to do what I do.  I write articles with the intent of teaching my readers what I know about getting published, getting paid and getting comps so they can do it, too. 

Your blog won't have the same thrust as mine, but the point is that it needs to have a thrust.  It needs to impact your readers in some way. 
How will you serve your readers so they want to keep reading what you write?

4.  How Much Time Can You Spend?
One of my travel writing friends called her blog "a time suck" during one of our conversations a while back.  She blogs about her food adventures during her travels. 

Keeping a blog alive and kicking takes time and effort.  How much time will you spend caring and feeding your blog?  How much time do you have available?

When I was researching websites for my eBook, 50 Websites That Want to Publish Your Travel Stories, I came across countless travel websites that had folded.  Hundreds of them.

Web authors get tired of constantly writing fresh copy for their websites and blogs.  After a while they simply stop writing and walk away. 

Blogs (and websites) require much more than the time needed to write a post.  You need time to learn a few technical skills to set up your blog and post your articles.  And you need to learn about SEO to make sure the search engines can find your posts. 

You need to learn about photography, using images and graphics on your blog, and perhaps even learning to make short videos.

You also need social media skills to help build and engage your audience, and then lots of creative ideas for articles.

If you don't want to learn these things, you can hire someone to do them if you have the money - but either way, they need to be done.

Knowing how much time you have available to do all these things is important before you start.  You'll be surprised about how much time it takes, especially in the early days while you're learning.

5.  When Will You Write?
I know the idea behind writing a blog is to have control over what you write and when you want to write it.

But the truth is, if you don't think about "when" you will sit down to write, you probably never will do it.  It's easy to procrastinate something that's not on your schedule.

I've run across quite a few blogs where articles are posted only sporadically, and I can't count the number of ezines I've received that begin with an apology like "It's been a while since I posted anything ..."

Everyone deserves time off, but some bloggers are "off" more than they're "on".  And then they wonder why no one reads their blog.

If you want to build traffic to your blog, you need to consistently post to it and keep your readers engaged.  Do you plan to post every day, once a week, or twice a month? 

Decide how often you will post to your blog, schedule it, and stick to your schedule.

6.  Do You Want to Make Money?
One thing that surprised me while doing the research for this article is that the vast majority of bloggers do not start a blog to make money.

At recent travel blogger's conferences in the U.S. and England, when the audiences were asked if they were making any money from their travel blogs and websites, only 4% at each put their hands up.  This means that 96% of travel bloggers and website owners are making nothing from their blogs and websites!

As it turns out, the vast majority of bloggers don't even want to make money from their blogs.  They blog for the love of writing about their topic, and that's fine.

But what if you are among the ambitious few who want to monetize your blog?

The decision to monetize your blog changes the game.  You are no longer doing it only for the love of writing about a topic.  You are starting a business. 

As with all businesses, you need to have some business strategies.  And, it requires a lot of work to implement your strategies. 
Expect to work full-time to build your travel blog into a business - even if you already have a full-time job!

7.  Where Will You Get Writing Feedback?
As I mentioned in the introduction, many novice travel writers use their blogs to practice their travel writing and use it as a 'portfolio' to show to magazine editors when they pitch stories. 
This is a great idea if you follow through and ensure that your blog is professionally written, your topics are interesting and insightful, and you post regularly.

You won't impress magazine editors with anything less than this.  I've seen numerous travel websites and blogs that are more of an embarrassment to the writer than an incentive to editors to buy their stories.

Using your blog to practice your travel writing has one major drawback: you don't get any professional feedback.  Without feedback, your writing is unlikely to improve. 

Sure, your family and friends are going to say your writing is great, but take that advice for what it's worth - they're not editors.  And, they love you, so what else would you expect them to say?

Even if you're writing dozens of articles on your blog, your writing will not improve on its own.  In case you're thinking of the old phrase "Practice makes perfect", it doesn't apply to writing a blog. 
Only perfect practice makes perfect.  You need feedback.

You will keep making the same spelling and grammatical errors if there's no one to point them out to you.  You'll only get better at making those errors! 
Same goes for clichés and flat adjectives.  You won't even know you're doing something wrong without the right feedback. 

My favorite suggestion for perfecting your craft is by writing for print magazines.  It's a kind of "on-the-job training" that helps you improve your writing game. 

Many travel writers complain when magazine editors ask them to rewrite their articles.  But, this process teaches lessons that you can't get anywhere else.

Some editors will rewrite your stories for you.  When this happens, compare the rewrite line-by-line with your original copy.  You will find the stories read so much better.  They're cleaner, clearer, and tighter.  These are lessons you'll never get from writing your own blog copy.

So that's it for travel blogs …

If you consider these seven things and you decide you still want to start a blog - then go for it! 
Have fun with whatever niche you choose to write about, and be sure to send me a link to your blog so I can read your posts.

Related articles that will interest you:
Travel Bloggers:  Profiles and Advice for Beginners
How Microsoft Word Can Help You Improve Your Writing
100 Print Magazines that Want to Publish Your Travel Articles eBook
---
---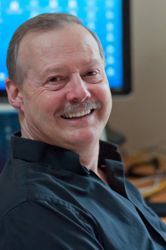 Roy Stevenson is a professional travel writer and the author of www.PitchTravelWrite.com.  Over the past ten years, he's had more than 1000 articles published in 200 magazines, trade and specialty journals, in-flights, on-boards, blogs and websites and has traveled on assignment around the U.S. and to dozens of international destinations.

---
IF YOU ENJOYED THIS POST, GET UPDATES.  IT'S FREE.