Writing Free Content for
Travel Blogs:
Should You Do It?

Weighing the Advantages & Disadvantages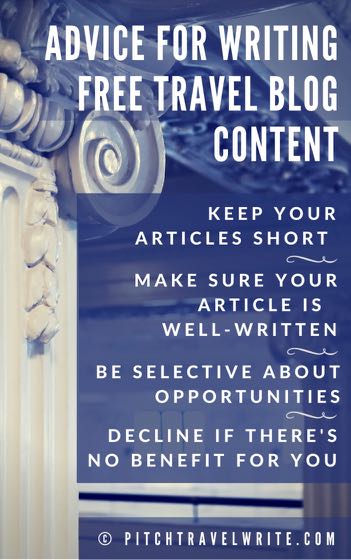 Should you be writing free content for travel blogs? 
Writing articles for free has  been a contentious issue for a long time, and is a much-debated part of the travel journalism culture.  Writing for travel blogs and websites has expanded that discussion. 
Should we write free content for travel blogs and websites? 

Some freelance writers are adamant that we should never write anything unless we're paid.  After all, we don't call a dentist, a plumber or a computer technician and expect them to provide their services free of charge.  So, why should travel writers do that?   

This is a gray area for travel writers.  It's gray because we can use our print and blog assignments to request complimentary travel perks.  And, this can open up travel opportunities to exotic destinations around the world.

Veteran travel writers regularly use assignments with travel magazines, websites, and blogs as collateral for comps.  In exchange for an article or blog, it's possible to have our airfare covered, score complimentary accommodations, meals in restaurants, entry to tourist attractions, free travel guides and more.

A travel writing couple that I coached was approached by a cruise magazine to write free content for their high traffic website.  Their blogs could be about cruises - or about any destination they wanted to write about.  The editor of the blog was willing to provide them with a letter of assignment for any destination that interested them.  

But there was a catch.  They wouldn't be paid for their work.

They asked what I thought.  Should they do it or should they pass?  So I helped them weigh the advantages and disadvantages:

Advantages:

There were a number of advantages for writing free content if they approached it professionally and strategically.  Here are my thoughts:

Writing for a cruise blog could lead to complimentary cruises. The couple is interested in cruising so this is a good fit.  Assignments with this magazine could be great leverage for this, anywhere around the world. Their blogs can be a series of day-by-day accounts or just a single blog about the cruise.

Open-ended assignments have great potential when planning trips. Having an open assignment for any destination can be used as collateral for requesting assistance with accommodation, meals, ground transport, entry to tourist attractions, or personal guides.
The online cruise blog has a respected print publication as well.  Blogging for the online version of this publication will enhance their credibility as travel writers.  It's a prestigious byline.
After they've written a few travel blogs and established a good relationship with the editor, they can pitch the sister print magazine with cruise-related stories. This means they'll need to deliver quality content for the blog.  If they do, they'll have the inside track.

In contemporary travel writing, blogging for a magazine's website is similar to having front-of-book articles published in the print magazine.  In this case, well-written blogs could lead to paying print assignments.

Writing free content for a prestigious website is also a great built-in reference.  They can use the clips later to apply to write for other blogs that do pay.
If they pitch their article to paid publications first and aren't able to sell it, this blog is a great fallback.  And it might be enough to satisfy an obligation to a tourist office when a print assignment falls through, which occasionally happens.

The couple has complete editorial control.  That means they decide what to write and when they'll write it.  There's no obligation.
If they find this arrangement is not providing any benefits to them, they can quit at any time.
Disadvantages
The big disadvantage is they aren't being paid.  This could be a deal-breaker if you're depending on your writing income to pay the bills. In this case the other benefits are secondary. 
That wasn't the case for this couple.  They were very interested in the travel benefits and not so concerned about income. They decided to do it. 
Please note: not all blogs and websites come with the benefits suggested above. You'll need to look carefully at each opportunity.

My Advice
My writing advice to this couple was to go with it and accept this invitation for writing free content.  The advantages far outweighed the disadvantage of not being paid.

Interestingly, I'm also coaching two other travel writers that have ongoing writing assignments with travel websites and blogs.  They've used them successfully in similar ways.  One travel writer uses her blogs to secure comped trips.  She has also broken into a sister print publication.
Advice for Writing Free Content for Blogs

Here's my best travel writing advice for writing free content for blogs and websites:

Keep your articles short, 250-750 words. Most blogs fall within these parameters.  Don't spend an inordinate amount of time writing a free blog post.  (Remember, you're not being paid.)


Do make sure they're well written.  Very little, if any, editing is done before your blog gets posted.  You don't want to be embarrassed by poorly written post.

Writing free travel content for blogs and websites can have excellent benefits if you are selective. Weigh the advantages versus the disadvantages for each blogging opportunity and decide what it's worth to you.  Use the bullet points above to help you.
If you already have a lot of writing clips (bylines), there may not be as many advantages for you.  Every situation is different.
Don't hesitate to decline an invitation for writing free content if there's nothing tangible in it for you.  Your work has value – don't give it away unless you're getting something in return.
Break into Travel Writing
with the Creative Pack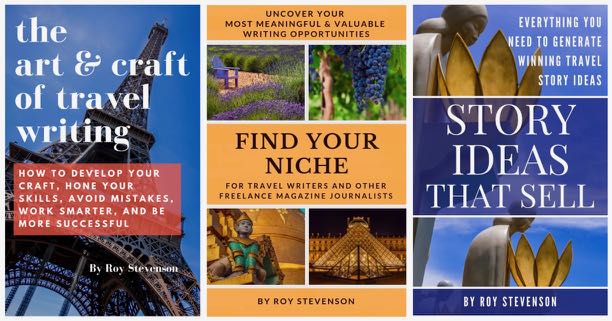 The Creative Pack includes 3 eBooks that are the starting point for every travel writer:  dreaming up unique story ideas that you can sell, finding the best writing niches for you based on your interests, passions and experience, and the art & craft of travel writing.  They're the pieces of the puzzle that come before you ever write a query letter to sell your articles to magazine editors. 
If you're just getting started in travel writing, this group of resources will help you improve your craft, generate story ideas that sell, and develop your own unique and meaningful niche. 
These eBooks can be purchased separately, but when you buy the bundle you'll save more than 10% off individual prices!  Learn more here ...

More articles that will interest you ...
Getting Paid for Your Travel Stories
How to Make Money Travel Writing
Write for Free?  Why You Might Want to Do This
Business Basics for Travel Writers

---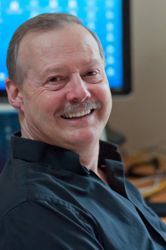 Roy Stevenson is a professional travel writer and the author of www.PitchTravelWrite.com.  Over the past ten years, he's had more than 1000 articles published in 200 magazines, trade and specialty journals, in-flights, on-boards, blogs and websites and has traveled on assignment around the U.S. and to dozens of international destinations.

---
IF YOU ENJOYED THIS POST, GET UPDATES.  IT'S FREE.