Make Money Travel Writing
How to Make Money
Travel Writing:
Think in Multiple Income Streams
In a previous article, Can You Make Money as a Travel Writer?  I made the point that it's important to have another steady source of income before you embark on this journey.  Making money as a travel writer takes time.

This follow-up article shows you several ways that you, as a freelance travel journalist, can earn more income.  So, if your goal is to make a go of it in freelancing, this article is for you.

One of the keys is to expand your boundaries within the areas of "travel" and "writing".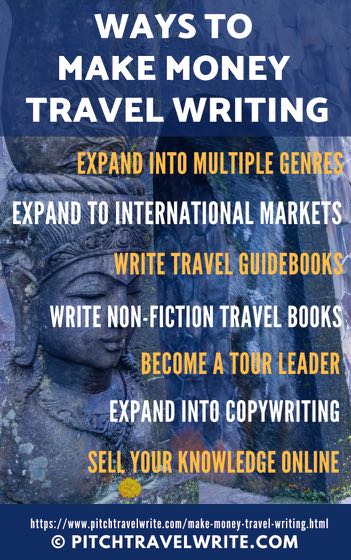 Expand Your Genres and Cross Some Borders
Few, if any, freelance travel writers sustain themselves solely through writing for magazines and newspapers.  However, savvy travel writers who enjoy writing for print media maximize their outlets and make money by …

•    Writing in multiple magazine genres
•    Expanding into international magazines and newspapers, and
•    Selling their knowledge and experiences online
 
If you look at my writer's website, Roy-Stevenson.com you'll see that I write in several different genres.  I write about travel and culture, and related topics like wine, beer, and food.  I also dabble in communications, military history, vehicles, weapons, and film festivals. 

Often my genre articles have a travel bent, but I write them for specialty magazines.

I've also had several hundred articles published in fitness, health, sports, running and triathlon magazines.  I've even written several dozen articles for writing magazines about the craft of writing.

Writing in multiple genres has these advantages: 

It opens up a broad range of subjects and is more interesting than having a single focus.  It encompasses all your interests and experiences - and may help you grow into new areas.
It opens up a broader market to sell your articles - beyond travel magazines. 
And, it opens up opportunities for additional income.  Many genres are more lucrative than the travel genre.
Whether you're writing travel articles or you're writing about almost any other topic, another way to make money and expand your market is to write for international publications. 

I've sold articles in just about every English-speaking country in the world.  Because query letters are sent via email these days, and payment can be done electronically, there truly are no borders when it comes to where you can sell your stories.

Expand into Travel Guidebooks
But, even with a wide variety of print outlets, most enterprising freelance writers have other streams of income to make ends meet. 

Writing guidebooks is a potential way to make money for any travel writer.  There are several approaches you can take in this area.

Here's an example of one of the most successful U.S. travel writers who started out by writing a guidebook:  Rick Steves of Europe Through the Back Door fame.

Mr. Steves started out by writing his own guidebooks, and grew that experience into a popular PBS TV and DVD travel series. 

He eventually expanded into a thriving tour business and he now employs a large staff of tour guides who lead tours throughout Europe.  He offers travel consulting services for people who want help planning their trip to Europe. 

He also sells an exclusive line of travel gear in his store in Edmonds, Washington, and online.  No, this isn't an ad for Rick Steves - but it's a great example of diversification!  And it started with a guidebook.

There are sometimes opportunities to write for guidebook companies like Frommers, Fodor's, Lonely Planet, Rough Guide, and others, but a few words of warning:

these positions are much sought after because they're considered prestigious, and
guidebook publishers don't pay as well as you might think.
With the large increase in freelance travel writers over the past decade, guidebook publishers pay considerably less than they did in the last two decades of the twentieth century.  It's not so easy to make money this way.

Nevertheless, having guidebook bylines is an impressive addition to your portfolio and will certainly enhance your credibility for other types of travel writing assignments.

If you're offered the opportunity to write a guidebook, be sure to do the math before you commit to it: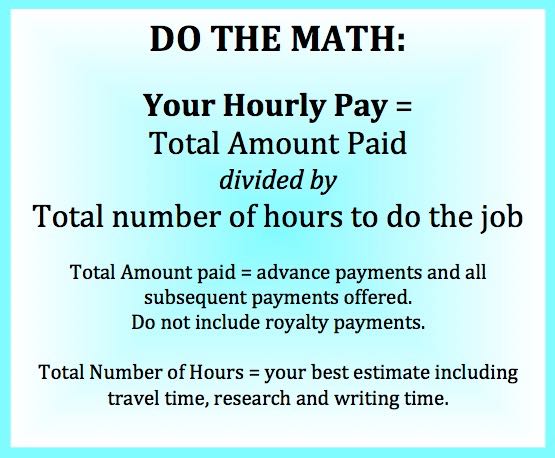 This gives you a rough idea of your hourly pay.  If the final hourly figure is disappointing, decline the offer.  Several guidebook writers have told me their earnings covered their travel expenses with little or no pay for their time.  In other words, their travel was comped but they didn't make money.

Writing guidebooks takes a lot of time and effort;  your other writing projects get put on hold.  Calculate whether writing a guidebook is financially worthwhile before you commit to it. 

Here's an example:

A few years ago, a travel writing peer offered to recommend me to a guidebook publisher.  The book was about waterfall hikes in Washington State. The publisher was offering a $2,000 advance and another $2,000 upon completion of the book. While this seemed like a nice chunk of change, a few quick calculations showed that it was not a good business proposition after all.

After I did the math, I determined I would actually be in the hole for a couple of thousand dollars after travel expenses.  Then, when I factored in the loss of income by putting other writing projects on hold during that time, it would have been financially disastrous.  I politely declined the opportunity, tempting as it seemed.

When you write a book for someone else, they dangle royalty payments as an incentive.  In truth, you can't count on royalty payments - they might never materialize. 

You'll also be expected to promote the guidebook - even though the publisher will make most of the money.  There's something wrong with that picture.

In my opinion, if you want to make money by writing guidebooks, then write, publish, and sell your own guidebooks.

Expand into Non-Fiction Travel Books
The next time you're in your local bookstore, browse through the travel section.  You'll find dozens of entertaining books about the authors' travel experiences. 
Here are some examples (note: some are amazon affiliate links and we'll make a few cents if you click on it and make a purchase):

I recently read a hilarious and very saucy travel memoir by Kristin Newman entitled What I Was Doing While You Were Breeding.  My wife and I both enjoyed reading it and laughing at her antics across the globe.

Of course, everyone has heard of Elizabeth Gilbert's life crisis/travel odyssey Eat, Pray, Love.  It sold gazillions of copies and was turned into a popular movie starring Julia Roberts.

A friend of mine, Chris Wallace, wrote a travel memoir Prepare to Come About - about life transformation.  It's her story about how navigating the Salish Sea on the historic Schooner Zodiac helped her - and her family - get their bearings. If you're a boat enthusiast you'll relate to her experiences.

Although I wasn't a character in the book, I was aboard a couple of the cruises she highlights in her book.  (Side note:  The cruises on the Schooner Zodiac are awesome - if you're ever in Washington State you should plan one into your itinerary:  www.schoonerzodiac.com.)
Other notable authors in the travel writing pantheon include Mark Twain, Paul Theroux, Bill Bryson, Pico Iyer, Michael Palin, and Rolf Potts.  Read some of their books and you'll understand why they're so popular.

Many veteran travel writers compile their stories and articles into anthologies for public consumption.  Some of them do well out of it, and it's a good way to recycle your travel stories.  You might need to do a little re-packaging, but it's a way you can make money. 

Become a Tour Leader
I know several other travel writers who lead tour groups for educational or commercial tour companies. 
In fact, at my recent travel-marketing workshop in Seattle, three of the attendees were also tour operators and guides.  Travel writing is an area they are exploring to supplement their work with tours.  In the words of one of the participants, she wants to:  "go on a trip without 60 people trailing behind me."

Leading tours is also a great way to visit a destination and get to know it intimately.  Your expenses are covered, and you can sniff out a few stories while you're doing your job.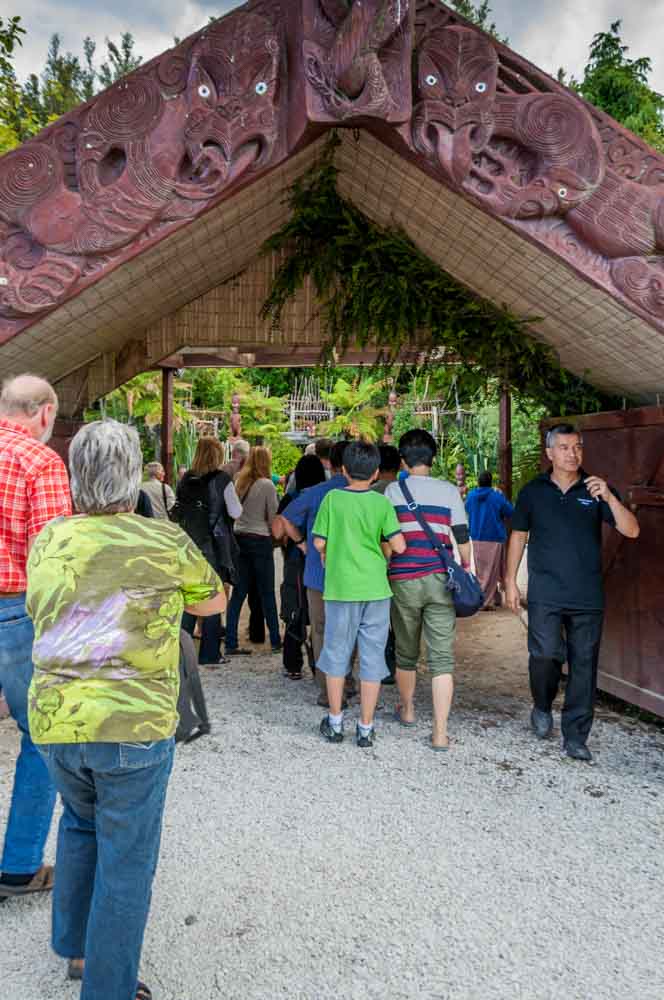 Tour operator (on right) calmly herding six busloads of tourists into a Maori Village for food, culture and evening entertainment in Rotorua, New Zealand.
Expand into Copywriting to Make Money

Writing marketing copy for businesses has tremendous earning potential for freelance writers.  I've met many travel writers who are primarily copywriters.  It's their main way to make money because it's a more lucrative source of income.  They dabble in travel writing as a sideline to score an occasional press trip.  More power to them.

Copywriters crank out everything from brochures and reports to sales letters and newsletters, and white papers.  Some copywriters specialize in corporate websites and blogs.  Well-established copywriters generally make good money, and six-figure incomes are not unusual for savvy copywriters.

The disadvantage, if you don't choose your client base carefully, is that it can be boring.  It doesn't have the glitz and glamour of travel writing. 

I do occasional copywriting, from writing book reviews to publicity emails, but this isn't one of my strong interests or a significant revenue stream for me. 

However, there are plenty of experts out there who love this field and can help you break into copywriting. 

If you're looking for a down-to-earth, personal approach to learning the ropes of copywriting, Pete Bowerman, aka The Well-Fed Writer can help you. 

Pete's website is a "no-hype" information portal for aspiring and experienced copywriters.  There's a real person behind it, and he has a myriad of resources to help beginners and experienced copywriters.

If this interests you, I suggest you start by watching the short video on his home page at this (affiliate) link:  www.wellfedwriter.com.

Selling Your Knowledge & Experience Online
Deriving income from several sources, or "multiple income streams" is the approach most successful freelancers take these days. 
As I mentioned in Part 1 of this series, one of those sources of income can be a job.  Or, it can be a variety of other freelance work like many of us have done. 

There's one other avenue worth exploring, depending on your expertise and your desire to make a living as a freelancer.  You can sell your knowledge and experience online.

And that's the topic for Part 3 of this series, where I'll talk about how I do it, and how others have done it, too.

Related articles that will interest you:

Travel Writing Business Basics

Part 1:  Travel Writers - Can You Really Make Money?

---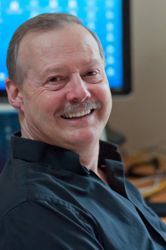 Roy Stevenson is a professional travel writer and the author of www.PitchTravelWrite.com.  Over the past ten years, he's had more than 1000 articles published in 200 magazines, trade and specialty journals, in-flights, on-boards, blogs and websites and has traveled on assignment around the U.S. and to dozens of international destinations.

---
---
IF YOU ENJOYED THIS POST, GET UPDATES.  IT'S FREE.