Where to Pitch Travel Stories
Where to Pitch Travel Stories

Every week I get emails from travel writers asking me where to pitch travel stories.  Which magazines are the best targets for their query letters?

Through my writer's coaching business I've worked with more than a hundred novice travel journalists, and I notice the one thing they also struggle with is finding the right magazines to pitch their stories to.

The process of figuring out where to pitch travel stories confounds most writers at the onset of their career.

In light of this, I devoted an entire chapter to this topic in my marketing book, The Complete Guide to Marketing and Selling Your Travel Articles.

But, for those of you who don't have my marketing book, or anyone who wants a quick refresher, here's a summary of how I do it: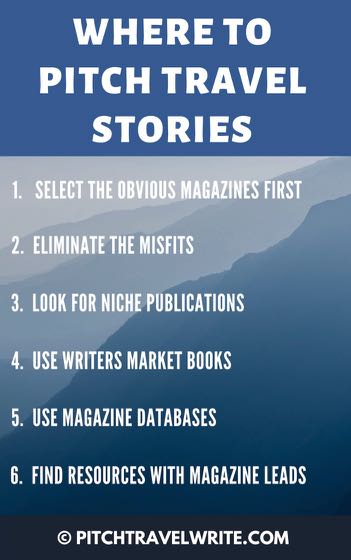 Select the 'Obvious' Magazines First
Many magazines will be obvious choices for where to pitch travel stories.  They will just leap out at you.

I've sold dozens of travel stories where the match-up between my story idea and a magazine just seemed so perfect that all I had to do was write an enticing query letter and fire it off to the editor — and then wait for the acceptance.  Many, many times it has literally been that easy.

Here are some examples from my magazine archives where to pitch travel stories.  These are ideal story/magazine pairings that practically sold themselves.

•    My stories about New Zealand's two major tourist resort areas—Rotorua and Queenstown — easily sold to Australia & New Zealand Magazine.  This was a slam-dunk. The magazine picked these stories up overnight—and paid well too!

•    My story about a four-day beer cruise in the Puget Sound on a historic 126-foot long schooner was also a done deal with Beer Magazine. In fact, I had three magazines express interest in this story.

•    My story about a deluxe Balinese vegan resort and spa sold immediately to Vegan Fitness Magazine.

•    My story pitch about three ghost towns in the Columbia River Gorge sold easily to Columbia Gorge Magazine. This was such a natural fit.

•    I sold a series of 19 marina destination stories to a regional yachting magazine — another natural fit.

•    A series of historic mining town stories was snapped up by Lost Treasure Magazine.

•    A story about the World War II Bletchley Park Codebreaking Center in England sold quickly to Monitoring Times Magazine, a ham radio magazine — another great fit.

•    A story about England's Royal Signals Museum sold to Popular Communications Magazine, a ham radio magazine. In fact, two magazines wanted this story.

•    A story about Seattle's Museum of the Mysteries sold pronto to Mystery Magazine. Go figure!

•    A story about the Sequim Lavender Festival sold rapidly to Pacific Horticulture Magazine.

•    A story about military museums in Edinburgh Castle sold to Scotland Magazine—one would certainly hope so!

•    A story about the Virginia Air & Space Museum sold to Spaceflight Magazine. (If I couldn't sell a story about a space museum to a spaceflight magazine, there's something terribly wrong!)

I think you get the idea. There was something just so right about pairing my story ideas with these magazines.

Having pointed out that some magazines would seem to be a perfect fit for your story, I need to temper this with a grim reality of freelance writing.

I have often been surprised at how many magazines that I believed would jump on my story, actually ignored my pitch altogether. This is why I recommend you always send your queries out to all the magazines you think your story would fit. My magazine distribution lists range from 5 to 50 publications each. 

But, take heart, because there's also another way to focus in on potential magazines to pitch travel stories.

Eliminate the Misfits

When I have a travel topic in mind, and I'm looking for where to pitch travel stories, I'll often work by process of elimination.

Here's how it works. 
Obviously, some travel story ideas will not be a good fit for some magazines, so those magazines are removed immediately from my distribution list.

Removing some magazines from your distribution list for that particular story idea is an effective technique.  It gets the 'unlikely' magazine candidates off your list so you won't waste your time sending them query letters.

Here are some examples to better illustrate this process:

When I'm trying to sell a luxury destination travel story, I would not bother pitching it to budget travel magazines. Budget travel magazines are simply not interested in high-end travel stories—their readers want to travel cheaply, and will not go to expensive destinations, resorts, or restaurants.

If my proposed story is about a new super-deluxe international resort in Bali, I will pitch it to high-end glossy magazines that run spa and resort stories.

If I was pitching a story about an inland luxury attraction or destination, I would not pitch it to Islands or Coastal Living Magazines. I would target inland regional and state magazines instead.

If my proposed story is about a new—but relatively minor—tourist attraction in my region, it would not be a good fit for international magazines.  Nor would it fit into magazines from other states.  I would turn to local, regional, and in-state publications to pitch this story, and eliminate the magazines outside those boundaries.

Most of this boils down to using your common sense. But you would not believe how many inappropriate queries magazine editors receive every week. It's probably their biggest complaint.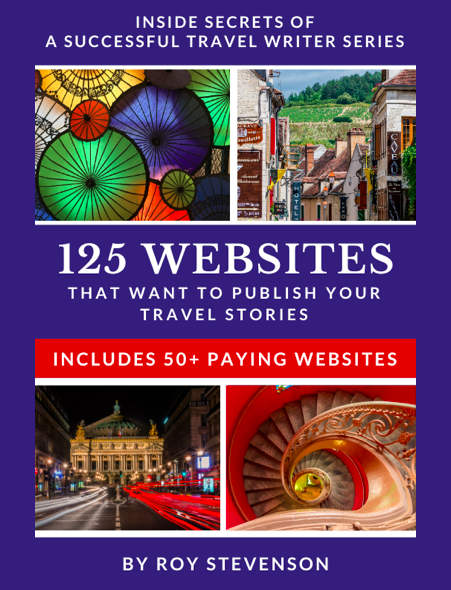 If you don't know where to find quality websites to help build your online portfolio, or you're looking for a fast list of websites to pitch your stories, I wrote an eBook, 125 Websites That Want to Publish Your Travel Stories. 
The 125 websites listed in this eBook are all sites where I would be proud to see my articles published (and many where my articles are published!). More than 50 of these websites pay their writers! 
Where to Pitch Travel Stories When Querying Themes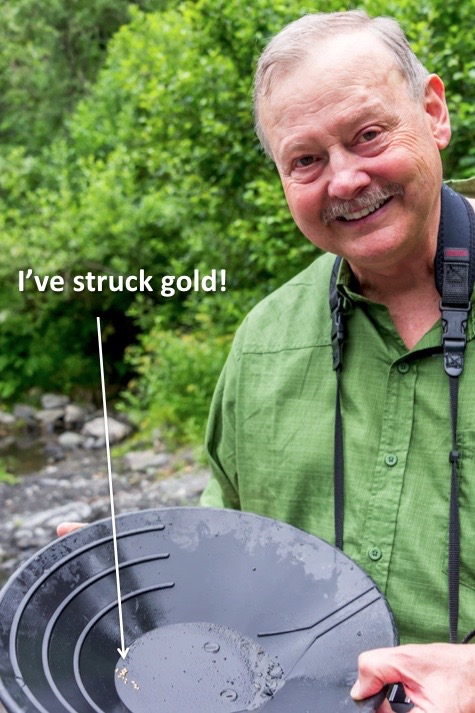 When your travel story idea has a theme your approach is different. You have to be very selective about your choice of target magazines.

If one of my stories has a particular emphasis — such as military museums — it would clearly not be a good fit for most standard travel magazines on the rack.  So I would query this story to military magazines that have museum sections.

Spend some time thinking about which magazines might be interested in your theme.  Look for niche magazines where you can pitch your travel stories.

Zeroing In on Other Resources to Find Out Where to Pitch Travel Stories

There are a few more places to look to find where to pitch travel stories - to help you zero in and finalize your list.

You can look at the magazine's Writer's Guidelines, (that is, if they actually have them).

Writers Guidelines spell out very clearly what types of stories they prefer and just as importantly, what they don't want.  Writer's Guidelines can usually be found somewhere on the magazine's website, so keep digging around until you find them.

I also refer to my Writer's Market book for potential magazines to pitch.

This thick tomb contains thousands of magazine leads, and I've found plenty of juicy magazine prospects here.  The magazine listings here contain abbreviated versions of their Writer's Guidelines, so pay attention to what they do and do not publish.

I always do an Internet search for the magazine genre I'm writing about.

I'm constantly amazed at how many magazines I uncover online.  I have found many solid leads for where to pitch my travel stories that resulted in published stories.

Other Great Sources of Magazine Leads
Another excellent source of magazine leads is my eBooks.  They will speed up the search process for you tremendously and save you a lot of time. 
These reference books contain lists of several types of travel magazine and website genres:
125 Websites That Want to Publish Your Travel Stories
100 Print Magazines That Want to Publish Your Travel Articles
How to Break Into The Luxury Travel Writing Market - Lists 21 Luxury Travel websites & 55 Luxury Travel Magazines.
There are a number of other sources, including databases, for tracking down magazines for your travel stories.  They are outlined in my marketing eBook, The Complete Guide to Marketing and Selling Your Travel Articles.

It may take you a day or more to assemble each list, but once you have it, you only need to update it occasionally, as you discover new publications.

How Many Magazines to Pitch for Each Travel Story?

For each travel story I pitch, I create a list of every magazine I think would be a good target. Through trial and error, I have found that it takes this many magazines to get positive results — in other words, to get my story accepted for publication.

For example, I regularly send my running and triathlon training queries out to 50+ magazines.

It's a numbers game. The more pitches you send out, the better your chances of seeing your article published.  It's that simple.

Some Final Advice About Where to Pitch Travel Stories
If you are in doubt about whether to pitch a magazine, send your query.  I have been pleasantly surprised many times when 'long shot' magazines have picked up my stories, and 'dead cert' magazines have completely ignored my queries.

The good news is that after you've been doing this for a while, you'll be able to tell almost immediately which magazines will be good targets for your stories, and which won't.

After years of going through this process, I can now decide in a few seconds whether a magazine will 'work' for a story idea, or not. And, as you get to know the magazines, you won't spend much time making these decisions either.

Good luck and just keep pitching!

Break into Travel Writing
with the Creative Pack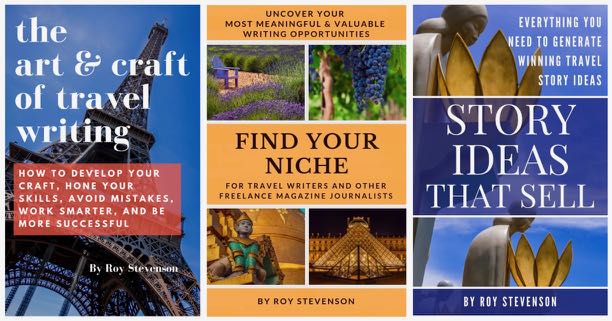 The Creative Pack includes 3 eBooks that are the starting point for every travel writer:  dreaming up unique story ideas that you can sell, finding the best writing niches for you based on your interests, passions and experience, and the art & craft of travel writing.  They're the pieces of the puzzle that come before you ever write a query letter to sell your articles to magazine editors. 
If you're just getting started in travel writing, this group of resources will help you improve your craft, generate story ideas that sell, and develop your own unique and meaningful niche. 
These eBooks can be purchased separately, but when you buy the bundle you'll save more than 10% off individual prices!  Learn more here ...

---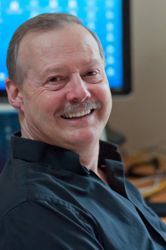 Roy Stevenson is a professional travel writer and the author of www.PitchTravelWrite.com.  Over the past ten years, he's had more than 1000 articles published in 200 magazines, trade and specialty journals, in-flights, on-boards, blogs and websites and has traveled on assignment around the U.S. and to dozens of international destinations.

---
IF YOU ENJOYED THIS POST, GET UPDATES.  IT'S FREE.