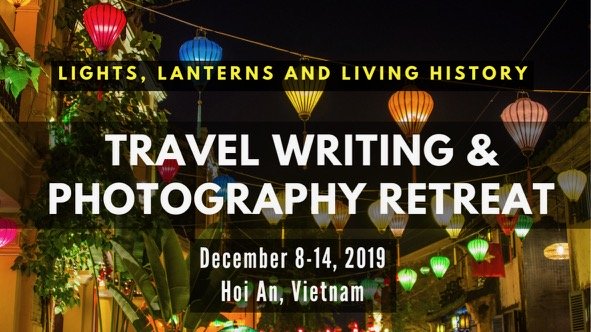 Trip Planning for Travel Writers
Trip planning is an important part of any major trip because travel writers need to be well prepared in order to get the most out of them.  Poor preparation will result in you spending more time and money on your trip, thus reducing your profit. 
Travel writing is a business and you want to make the most of every trip.  Any major trip should be thoroughly planned, and the steps below are especially important if you're planning an international trip.
---
Trip Planning Safety Check

Before starting your preparations, you will want to check safety conditions in your potential destination.  It goes without saying that you don't want to travel to a war zone or political flashpoint.  Certainly some journalists will want to go to these places, but usually not travel writers.  We tend to enjoy going to more pleasant destinations.

The U.S. Department of State website is a good reference for checking your potential travel destination for any travel advisories.  You can find travel alerts for short-term conditions such as cyclone season in the South Pacific, or spring break in Mexico, for example.  There are travel warnings for long-term conditions such as dangers and/or instability of a country.  And you can get country-specific information for any country in the world, friendly or otherwise.

This website is also a good starting point for all kinds of information such as entry/exit requirements, passport and visa requirements, safety and security, medical facilities, and much more.  Although the website is written primarily for U.S. citizens traveling abroad, it's still got valuable information about every country that could be beneficial no matter where you are from. 

The point is – consider travel safety as your first step in trip planning.  Here are my top ten travel safety tips for your next trip.

Gather Information About Your Destination

Once you have decided on your destination, your next "trip planning" task is to gather information about your destination.  You will need a solid reference base in order to dream up potential story ideas.  Use guidebooks, search internet, and contact the destination embassy or consulate's tourist office for literature and brochures. 

I also do an internet search for articles by other travel writers to see their take on the place.  Reading articles by other writers gives you an idea about what's already been written about the place and may trigger some new ideas.

It usually takes me several days to gather my reference material and read through it, but spending this time early on really pays off.  Here's how I do it.
Select Your Story Ideas

From your research and reading, it's time to select potential stories to pitch to magazines.  Yes, that is plural.  You need to be thinking in terms of multiple stories, not just one.  And you need to be thinking in terms of multiple publications, online and off-line. 
Maybe there was a time when you only needed one story for one trip, but not these days.  Not unless you've landed an assignment with all expenses paid.

Back to getting the most out of your trip – as a savvy travel writer you will want to pitch multiple story ideas about your destination.  The more assignments you have in-hand, the more money you will make from your trip.  On one of my annual trips to Europe I rounded up 23 articles for 11 different magazines, including one article that paid over $1,000.

Also, the more assignments you have in-hand prior to the trip, the more likely you can request and will be offered comps to cover some of your costs.

For some ideas on what types of stories you can pitch, see the page on this website about Types of Travel Stories.  Thinking through common themes, "the best" travel stories, and your interests and passions should help you come up with a long list of potential story ideas.
Trip Planning:  Food and Lodging

When you have established your list of potential stories, create a list of cities you will visit and do a search for accommodations that fit within your budget.

If I'm paying for the lodging, my trip planning includes looking for budget accommodations near the tourist hot spots, usually close to the center of the town.  Although accommodation costs tend to be lower further away from the center of town, you'll end up wasting time catching transport into the city center and sometimes this adds quite a bit to the cost of the trip.  Time is money when you're on the road, so find convenient places to stay.

This is where a good map and good internet resources come in.  I use travel websites such as TripAdvisor to start my search and then work from there.  Read reviews for hotels you're considering and locate them on the map before making your bookings.

If you are writing about food and restaurants, your trip planning should include selecting the places where you'll be eating.  If these are trendy, popular restaurants make sure you book reservations in advance. 
If you're not writing about food, then you can wait until you get there and find places where the locals eat.  You'll save money staying away from tourist restaurants, and you'll get a chance to meet the people who live there.  The food is usually better, too.
Create Your Itinerary

Now that you know what you want to see and have selected your places, it's time to flesh out a tentative day-by-day schedule.  On this calendar, you list the places you'll be seeing each day.  Having a detailed, daily itinerary is especially important for overseas trips, so you can make the most of your time.
Your trip planning should include estimating the amount of time needed for visiting each attraction.  This builds some structure into your day so that you won't get so caught up seeing one place and end up missing the others. 

But flexibility is also key.  Try not to book yourself too tightly – often there are things you'll want to see that you didn't plan for and you need some time to build these things in.  Some things take more time than you planned, either because of transport, crowds or the place was even more interesting than you anticipated. 
Leave yourself a little breathing room to enjoy your visit.
Book Your Transportation

Your trip planning isn't complete until you arrange your transportation.  Leave this until last because until you know your daily itinerary, you won't know exactly how long you need to stay in a place. 
Obviously, you are sometimes limited by how many days you can get away – but changing airfares these days is very costly.  Book your transportation when you feel confident that you've included everything you need to see in your itinerary. 

Booking transportation includes round trip air tickets and internal flights within the country or region you're visiting, if needed.  It also includes rental cars, trains and/or coach bookings.  Arranging as many of these things in advance makes it more likely to have a smooth trip once you arrive at your destination. 

So that's my trip planning process for major and international trips.  Following the above steps will ensure that you make the most of your trip once you're there and the most profit from your travel writing.
---
Other related articles that will interest you:
Preselling Your Travel Stories
Travel Guidebooks vs The Internet:  Is One Better than The Other?

Your Travel Itinerary:  How to Maximize Your Overseas Trip
Guided Tours:  What's So Good About Them?

---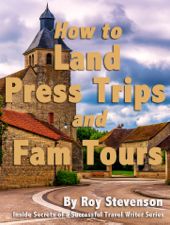 Special Report:
How to Land Press Trips and Fam Tours
I've written a guide about how to land press trips and fam tours.  It will tell you everything you want to know about how to get into the inner circle and get invited on regional, national and international press trips. 
---
---
IF YOU ENJOYED THIS POST, GET UPDATES.  IT'S FREE.