Writing for Trade Journals
Writing for
Travel Trade Journals

What if there was a huge selection of travel publications screaming out for good informative copy and that pay well.  You'd want to learn where to find them, right?

That's where travel trade journals enter the picture.

Most travel writers believe their primary targets are the glossy consumer travel magazines you see on bookstore magazine racks.  Because these are the most obvious choices, travel magazine editors are inundated with queries from travel writers. 

Editors at the most prestigious and highest paying magazines receive dozens of pitches each day!  These editors are highly selective about the writers they work with and the stories they publish. 

Beginners aren't likely to get their stories published in these top shelf glossies.  They'll jostle around in the travel writing mosh pit for quite some time before they score a lucky breakthrough into these elite travel publications.  And this could take years!

But writing for travel trade magazines can be a way to break into travel publications and get paid – without waiting years to do it.

What's special about travel trade journals? 
Getting published in travel trades is less competitive than for consumer magazines.  That's because most travel writers don't know about these publications and so they don't pitch them. 


And travel trade journals usually pay well.  Let's look at why these publications can be a good place to get published.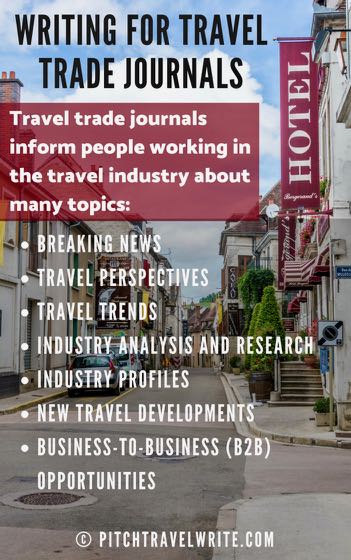 Trade Journals Defined

So what's a trade journal?

These publications are targeted at people in a very specific industry or business. They're also known as trade magazines, trade papers, professional magazines, custom publications, or simply "trades".  They can be print magazines or online websites.

Trades focus on specific industries such as:  agriculture, automotive, construction, engineering, food & beverage, forestry, manufacturing, landscaping, mining, travel, and tourism.

Most industries have trade magazines.  You just have the think of an industry and then find the publications targeted for that industry.

What are Travel Trade Journals?

Travel trades inform people working in the travel industry about breaking news, perspectives, trends, industry analysis and research, industry profiles, new travel developments and Business-to-Business (B2B) opportunities.

Travel trade publications and websites cover a wide range of related fields.  For example, hotel operations and hospitality have trade journals targeted for their industry.  So does the culinary industry, travel agents, luxury travel, cruise travel, and adventure travel.  Just about every segment of the travel and tourism industries have trade journals.

A significant number of travel trades help event planners – the people who organize corporate and business meetings, conferences and conventions. Meetings and conferences are big business because they bring large groups of people into a destination for a short period of time.

Specific examples of the topics you'll find in travel trade magazines include new hotels opening, new cruises being offered, or new airline routes and destinations that are opening.

Some travel trades feature travel destination articles, just as you would find in any standard travel glossy.

"Hard" information is important to editors of trade publications.  Quoting statistics, highlighting new trends, and providing examples are well received by the "trades".

If you are able to supply a case study or quote an expert, your story idea might be well received by the travel trades.

Travel trades are a stealth publishing niche and remain very much under the average freelance writer's radar.  They're an undiscovered market.  And the trades generally pay well because of the higher level of expertise and research necessary to write for them. In many cases, the "trades" pay better than travel magazines!

Writers like regular assignments with the trades because of their solid pay rates. Writers who have discovered the "trades" are on a good thing.  They don't want to encourage more competition so they don't shout about it from the rooftops. 

The good news is there are plenty of travel trades out there.  I have a list of more than 60 travel trades, and there are many more beyond my list.

How To Break Into the Travel Trades

Writers with an interest in specialty travel areas should pitch their story ideas to the travel trades. 

If you're plugged into a specific area of the travel business such as hotels, luxury travel or tours, you already have some resource material.  Just refine your ideas and pitch to the editors of travel trades.

A background in any specific area of travel is helpful but not always required. Above all, you'll need good writing skills, a system for tracking down hot travel topics and trends, and a willingness to research your topics in depth.

Trade magazine writers obviously need to build their industry contact lists.  You'll need to befriend destination public relations and media reps and in-house PR people for a start.

Specific Examples of Travel Trade Articles

I've written for seven trade journals in my freelance writing career, two of which have been travel trade magazines. 

Here are my published travel trade articles:


A 700-word piece about the Mystery Weekend in Langley, Washington. Published in Northwest Meetings & Events magazine, it paid $350.
A 1500-word article about how to behave on FAM Tours, published in the same magazine, and paid $600.
The same editor commissioned a short article about sports venues in the Pacific Northwest, paying $250.
A great travel piece in a trade called Off Road Adventures. This custom publication is for businesses associated with four-wheel-drive vehicles, such as repair shops and customizing and detailing shops.
Here's how I got a travel piece published in Off Road Adventures.

A few years ago, I was planning a trip to England and lined up a string of U.K. travel assignments.  One of the events on my list was the world's largest military vehicle show in Kent.

I wondered, "Would Off Road Adventures Magazine be interested in a story about this military vehicle show?"  I pitched the story idea and the editor jumped on it.  I was paid $1002 for a 6-page feature about this exciting event.

How To Approach Travel
Trade Magazine Editors

The standard query letter is the best way to approach trade magazine editors. Pitch them a story aimed at their aspect of the travel industry.

You can also introduce yourself to editors through the "back door".  To do this, you simply send a well-written letter of introduction to the editor explaining your writing and researching background, why you're interested in their aspect of the travel business, and your background.  If they're looking for a writer, you might be able to get in this way. 

Further Advice on Breaking Into the Trades

When you're traveling independently, or on press trips or Fam Tours, you should always have your story antennae up for potential "trade" stories.

For example, while you're on a press trip touring wineries, breweries, distilleries, or restaurants, pay attention to what they offer.  Are any of them using new and innovative techniques or recipes?  This has potential for a trade journal.

If you discover something newsworthy, you simply need to track down appropriate travel trade journals that match your topic. 

Although the travel "trades" may not offer the glamorous patina of top shelf travel glossies, your chance of breaking into them are far better for beginners.  Your chances of getting repeat assignments with travel trade journals are also much higher.

I know several travel writers that glean significant incomes almost entirely from working the "trades".  But you'll never know who they are because they're keeping quiet about this undiscovered market!

Trade Magazine Resources

Trade journal listings can be found at:
www.Freebizmag.com
www.tradepub.com

You can also do a search for "travel and tourism trade journals" or for a more specific travel topic to find more information. 

---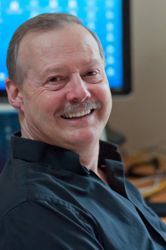 Roy Stevenson is a professional travel writer and the author of www.PitchTravelWrite.com.  Over the past ten years, he's had more than 1000 articles published in 200 magazines, trade and specialty journals, in-flights, on-boards, blogs and websites and has traveled on assignment around the U.S. and to dozens of international destinations.

---
IF YOU ENJOYED THIS POST, GET UPDATES.  IT'S FREE.