Tim Cotroneo :
My Story as a Golf and Travel Writer

By Tim Cotroneo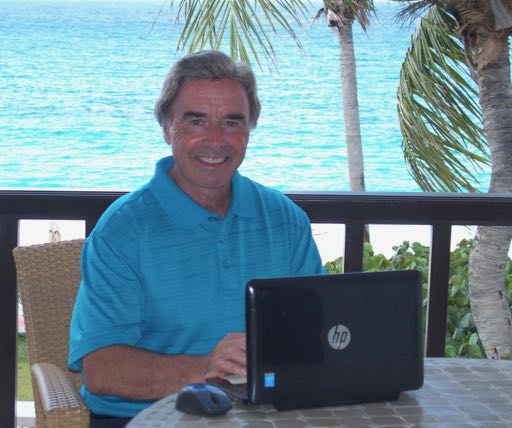 Tim Cotroneo enjoying the view while he does some work from his villa in Anguilla.
In 2011, I attended a travel writers workshop and listened to a presentation by a speaker named Roy Stevenson who shared several travel writing tips. I thought to myself, "if I can accomplish half of what this guy has achieved in his short travel writing career, I'll be as happy as a clam."

After the workshop my wife and I planned a trip to the Turks and Caicos Island of Providenciales.  I emailed the golf professional at the island's only 18-hole course in advance of the trip and presented myself as a golf and travel writer.  I thought to myself, "I have nothing to lose and everything to gain."  On the trip I met with the pro and played the course. 

My First Yes

During our stay in Providenciales, I noticed a glossy magazine on the coffee table in our hotel room and read it. Upon returning home to Minneapolis, I pitched this magazine a story idea about what I experienced at the golf course when I played there.

The editor said yes!  I wrote the story and got paid $300. I was officially a travel writer and have been writing about golf and travel ever since.

In 2014, I met Roy again in San Diego.  He was one of the keynote speakers at the same conference where I was also speaking.  After his talk, I introduced myself, kept Roy's business card and subscribed to his PitchTravelWrite Marketing Tips newsletter. 

My writing journey has gained momentum over the years.  After my first "yes" I started writing monthly articles for a local golf publication. In addition to making some great contacts, it kept my writing sharp as I continued building my portfolio.  And I received a monthly check to boot.

Polishing My Craft

I believe the best travel writers are constantly fine-tuning their craft. One of the ways I hone my skills is by receiving email newsletters on a variety of niche topics. One of my favorites is Roy's free weekly "Marketing Tips" e-zine.

Roy is a big proponent of one of my favorite sayings: "The more you give, the more you get." His email newsletter is extremely generous in presenting what he has learned over the years.  Roy shares marketing tips regarding his pitching acumen, plus how to garner press trips, and even thinking like an editor.
I look forward to what he covers because his emails almost always provide me with a nugget that makes me say, "I never knew that, or I can use that for my next pitch."

A few weeks ago, Roy wrote an article on improving your travel writing craft entitled the "Writing Exceptional Ledes: 12 Best Ledes for Kicking off Your Travel Stories".  The lead sentence is key for whether your reader keeps going or gives up on your article.
I latched on to Roy's first suggestion, which was to use a single word to entice the reader. That same week I wrote an article whose first sentence featured just a single word.  "Exhilarating" perfectly captured the essence of a story on a picturesque hotel located in Valencia, Spain.

Tim Cotroneo and his wife Judy enjoy a boat tour.
Catching Island Writing Fever

During my virgin trip to Turks and Caicos I caught a fever. Caribbean fever. As someone who resides in a state with six months of winter, I can't wait to go where it's warm. Since my foray into travel writing I've covered 25 different Caribbean islands. For many of these trips I haven't paid a dime.

This past year I've traveled to Costa Rica, Panama, back to Turks and Caicos, Great Exuma, Jamaica, Spain, and Puerto Vallarta. I've also managed to wedge in a few trips here in the states. With each trip I've expanded my network, my writing portfolio, and travel writing forever memories. I showcase most of these stories on two personal websites (see links at the end of this article).

One of my best long-term writing gigs occurred after I pitched a small business magazine with a query about a Chicago native who became a hotelier on one of the most beautiful beaches in the Riviera Maya.
This article led the editor to ask me if I'd be interested in becoming their travel writer.  Say what?  Say yes!  I wrote expat entrepreneur destination pieces for this quarterly publication for five years before it folded.

Luxury, Golf, and Clam Happy

Recently I've transitioned into the luxury travel writing realm. I've stayed at and written about Four Seasons Hotels, St. Regis Resorts, and luxury oceanfront villas. I come from very humble beginnings, so the idea that my wife and I enjoyed a complimentary stay in a five-bedroom villa overlooking the Caribbean Sea is something for which I'll be forever grateful.

This past week I was on the cover of a golf magazine that featured my press trip to Valencia, Spain (story on page 16).

Next week I travel to Jamaica and the following month to the island of Anguilla. The Jamaica trip is all expenses paid, and the Anguilla trip includes staying for a media rate at a Five-Star hotel, along with a free night at another oceanfront villa.
I continue to write about golf, and during the Anguilla trip I'll play a Greg Norman designed golf course for gratis.  And I still aspire to achieve half of what Roy has accomplished, but at this point in my travel writing career, I'm as happy as a clam! 

Tim Cotroneo displays his golf swing on the Danzante Bay course in Mexico.
Learn more about Tim Cotroneo:

You can see Tim's writing portfolio, blog and additional articles published at these links: 
https://timcotroneo.com/
https://traveldreamsmagazine.com/
http://www.americanbusinessmag.com/author/tim-cotroneo/

Related articles that will interest you:

The Remarkable Travel Writing Journey of Pam & Gary Baker
Sailing into Freelance Writing by Chuck Warren
Do You Need a Marketing Coach?

Break into Travel Writing
with the Creative Pack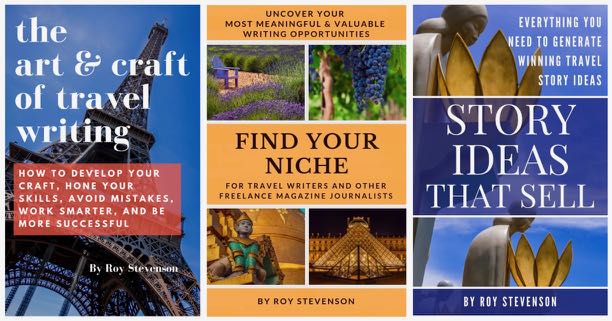 The Creative Pack includes 3 eBooks that are the starting point for every travel writer:  dreaming up unique story ideas that you can sell, finding the best writing niches for you based on your interests, passions and experience, and the art & craft of travel writing.  They're the pieces of the puzzle that come before you ever write a query letter to sell your articles to magazine editors. 
If you're just getting started in travel writing, this group of resources will help you improve your craft, generate story ideas that sell, and develop your own unique and meaningful niche. 
These eBooks can be purchased separately, but when you buy the bundle you'll save more than 10% off individual prices!  Learn more here ...

---
---
IF YOU ENJOYED THIS POST, GET UPDATES.  IT'S FREE.