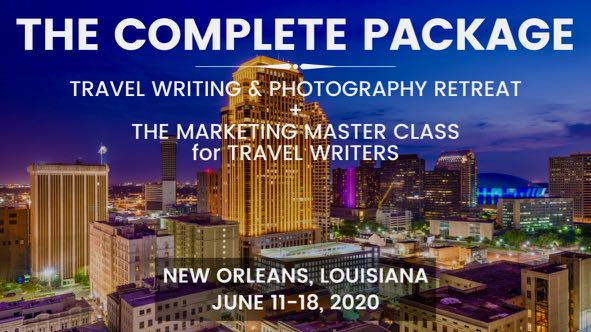 Successful Travel Writing:
Five Ways to
Add Life to Your Travel Story
Successful travel writing consists of more than just stating that a tourist attraction is "there".   Unfortunately, many novice travel writers and bloggers believe making a list is all they have to do.  They list the names of a destination's main tourist attractions and think they've done their job.

If you want to break into glossy travel magazines and quality travel websites, and get paid, it's going to require more effort than simply making lists. 
Magazine editors expect you to be entertaining as well as informing.  They pay you to use your story angle to conjure up images of the destination in their reader's minds.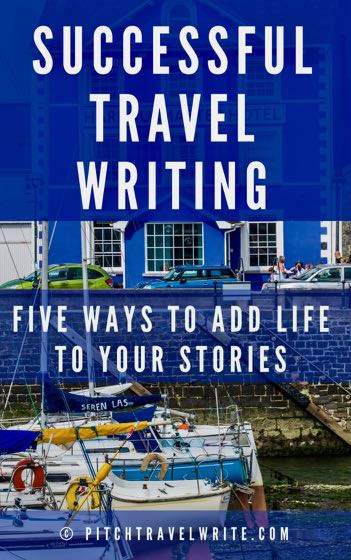 Guide Book Writing vs
Successful Travel Writing

Listing a destination's attractions is characteristic of travel guidebook writing.  It's the sort of entry we'd expect to find in Wikipedia. But this type of writing is wooden and flat.  It's not entertaining, successful travel writing by any stretch of the imagination.

Guide book writing is typically impassive.  Here's an example:

"This fine museum has the world's largest collection of Cham artifacts, housed in buildings marrying French-colonial architecture with Cham elements."

It can also be stilted, as in this example:

"By UNESCO decree, more than 800 historic buildings in Hoi An have been preserved, so much of the Old Town looks as it did several centuries ago".

These sentences give us information about the place.  But it's hardly exciting, successful travel writing!  Throwing in a few historic facts doesn't add much spice to the description.  And it doesn't bring the place to life.

Don't get me wrong here - I'm not dissing travel guidebooks.  This sort of writing is perfectly acceptable – for guidebooks.  The purpose of a guidebook is to list the major tourist attractions at a given destination, tell us a little about their history, and inform us.  They're designed to help us figure out what exists at a destination and help us decide what to see.  They do this well.

But guidebook writing tends to be two dimensional. It doesn't "take us" to the destination.  It's purely informational.

Successful travel writing is meant to entertain the reader.  It needs to be alive, engaging, and fun to read.  Yes, it also contains information about the place – but it's presented in an entirely different way from guide books.

Top echelon travel writers add a third dimension to their stories. They "show" us each tourist attraction through well-crafted descriptions.  They paint a picture for us and bring the place and its people to life.  And they seem to do this effortlessly. 

The truth is, elite travel writers work hard to craft their words and earn $1/word assignments (or more) in top shelf magazines.

Successful Travel Writing Tips

To move up to the next level of travel writing, beyond guide book style writing, you need to vividly describe each place or travel experience.

To liven up your stories and help your readers "see" your destinations better, you must describe each tourist attraction or activity in more detail.  You must tell the reader how the place looks and feels. 
Successful travel writing means you need to subtly weave in the facts.  And you want to do it with brief descriptions.  You don't want your freelance travel magazine articles to read like a guidebook, a Wikipedia entry, or worse - like a geography or history textbook.

A successful travel writing tip and a golden rule is, whenever you mention an attraction or a tourist activity, you need to tell the reader what it looks like. 

For example, if you write "The French cathedral is considered one of Europe's most beautiful" you must tell the reader why it's the most beautiful. 
Is it because of its architectural style?  What is it about the style?  Is it gothic?  Does it have turrets?  Or is it the material of smooth white limestone paired with colorful, stained-glass windows?  

You also need to help the reader imagine how it feels to be there.  How did it make you feel standing at the base?  Did you climb up to the top?  How did that feel?  How do you think the other people visiting felt?

Here's an example of a novice writer's approach to Budapest tourist attractions:

"We took in Budapest's most famous sights include Buda Castle (the coronation sight of Hungarian kings), Fishermen's Bastion (a viewing terrace on the Buda side of the Danube, named after the guild of fishermen who defended the city walls), the atmospheric Gothic revival Parliament Building, and St. Stephen's Basilica, named in honor of Hungary's first King."

Can you see how it's hard to read the paragraph above?  It lists some of the city's attractions, but it doesn't help you to see or feel these places.

Here are brief descriptions of these same attractions, written by a more experienced writer:

"Castle Hill overlooks Budapest like a majestic emperor. You'll easily spend a day or two exploring its eclectic museums, Sandor Palace, and Buda Castle (which houses the Hungarian National Gallery) in this perfectly maintained medieval town, complete with cobblestone roads."

"Two spectacular sights within a stone's throw of each other on Castle Hill's picturesque Holy Trinity Square are the renowned Matyas Church, with an unforgettable mosaic tiled roof, and Fisherman's Bastion, the section of the medieval wall manned by the Fisherman's Guild, with spiked turrets looking like something from a fairy tale."
"The nearby Houses of Parliament (built 1885-1904) is equally stunning, with a 96-meter high red dome, Neo-Gothic and Baroque architecture, and decorated with 233 statues, 27 gates, 10 courtyards, and 691 rooms. The line for the tour is however, formidable, and you might be better off simply walking around the outside."

With more detail the reader learns more about these places, and can  easily imagine what it looks and feels like.  Simple words help the reader know the place is big, tidy or old.  Metaphors like "something from a fairy tale" help, too. 
You can take many approaches to describing your attractions.  The goal is to make it easier for your readers to imagine them.  You don't have to go overboard with your descriptions, either.  In fact, you want to be careful not to overdo it.

You might be worried that you won't be able to list as many attractions because you're using more words to describe each of them.  Your expanded descriptions will definitely make you focus on the most important attractions in each place. This is fine.

Your article will be much richer and more meaningful because of the enhanced descriptions. And as a bonus, your reader's heads won't be swimming from the long list of attractions you're throwing at them.

Some Prompts for
Successful Travel Writing Descriptions

Here are a few typical travel writing scenarios and some prompts to help you to better describe them:

If you're on a European cruise and you stopped at several ports of call, what were they like?  Was there a tiny village with winding, cobblestone streets and a single church at the top of the hill?  Or was there a bustling city crowded with wine tasting rooms and locals buying fruit and vegetables at the market?

If you visited a ghost town, how could you describe it better to your readers? Was there only one building standing – and even that was leaning and ready to fall?  Or was there a well-preserved small town with a few thriving restaurants and bars for tourists passing through?  Maybe there was an unusual cemetery with gravestones from the 1900's – what did it feel like to wander through it?

If you went snorkeling off a tiny Indonesian island, what sort of marine life did you see? What color were the fish?  Did you see schools of fish of different sorts?  How did it feel to see all the colors and activity just below?  How big were the turtles?  What shapes did you see in the coral reefs?
 
If you took a sailing vacation on a yacht, how big was the yacht?  Was it new and luxurious, or was it an old wooden yacht?  What did the crew look like?  Young?  Old?  Salty old dogs?  What culinary experiences did you have?  Fresh seafood?  What kind?  Who cooked it?  What was it like on the open sea?  Was the air salty?  Cold?  Windy?  What color was the ocean?  Was the water crystal clear?  Did the sunlight reflect brightly off the water?
 
If your yacht moored overnight, where did you stop?  In a cove?  What did the cove look like?  Was it secluded?  Were you there alone or were there other yachts there?

Here's a description I wrote for a wine tasting magazine of a wine cruise through Washington State's Puget Sound's San Juan Islands:

"That night we moor in the most beautiful anchorage of our cruise—Parks Bay, on Shaw Island. The sweeping, horseshoe-shaped cove is sheltered on three sides with cedar and fir trees that descend down to the rocky waterline. Tonight the water is calm, the wine is uncorked and the sunset is spectacular."

As you can see from these examples, successful travel writing involves describing the places you see, asking the right questions – and making the answer part of your story.  If you describe the place you see in enough detail, your readers will "see" the destination and "feel" your trip.  The picture you paint with words helps them imagine it.

Adding small descriptive phrases will transform your writing from "meh boring" to successful travel writing with lively and sparkling prose.  You will advance to the next level.  And over time it will snag you better paying assignments in the more prestigious magazines.

Do you struggle to craft an engaging story,
and wonder how to get past this barrier?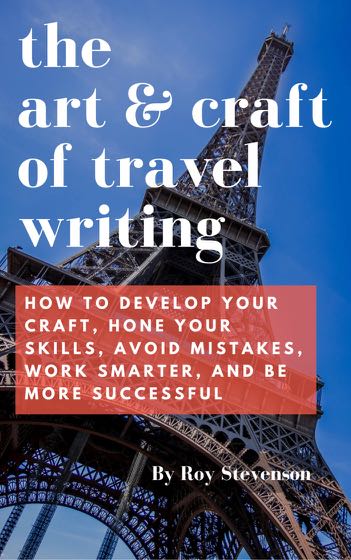 There are many tools and techniques you can learn.  And they're not difficult!
If you're prepared to work on your writing style and make improvements, you'll get your stories published in highly respectable, paying publications.

The Art and Craft of Travel Writing is a handy reference with tips and techniques to help you.
Related articles that will interest you:

---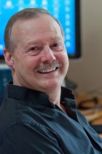 Roy Stevenson is a professional travel writer and the author of www.PitchTravelWrite.com.  Over the past ten years, he's had more than 1000 articles published in 200 magazines, trade and specialty journals, in-flights, on-boards, blogs and websites and has traveled on assignment around the U.S. and to dozens of international destinations.

---
IF YOU ENJOYED THIS POST, GET UPDATES.  IT'S FREE.