Selling and Reselling
Articles:
Three Tricky Situations and
How to Handle Them
Reselling articles can be tricky business, especially in the age of print and digital media.
In the space of a few weeks I received emails from a few travel writers asking very similar questions. They wanted to know:  "can I resell my online stories to other websites" and "can I resell an online story to print magazines?"

These are excellent questions about reselling articles, and if handled incorrectly, they can cause some problems.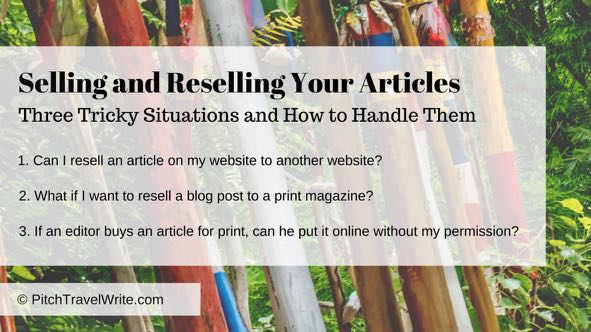 Reselling Articles: Three Tricky Situations and How to Handle Them
Let's look at each question individually:

From Website to Website
"I run two websites of my own.  Does this mean that any content I have already published on these two sites cannot be sent to other website editors for publication on their sites?"

Yes, you are correct.  It is bad form to give away, or resell, any of your identical articles to another website or blog.  Both sites may suffer ranking and traffic loss due to the duplicate content.

And the editor will be very upset if you haven't disclosed that its been published online somewhere else.  They expect original content.

One choice is to remove the article from your website and then donate (or resell) it to another website.  Or, you can write fresh content about the same topic for the other website.

The exception to this is syndicated sites, where the syndicator gives credit to the originating site.  Also known as syndicated content, you want them include a link back to your original content, and to use the proper metatags.  If handled properly, this tells the search engines where the content originated and keeps duplicate content from becoming an issue.  (Although beyond the scope of this article, you can read more at this link at Google support.)

Reselling Articles From a Blog to Print Media

"If I want to resell an article to a print publication similar to one of my blog posts, how much should I change it?"

Savvy magazine editors will check to see if your story is anywhere online before they accept it for publication. Once I accidentally sold an article that was already posted on my writer's website - I forgot it was there.

I learned a valuable lesson: always check online prior to pitching an editor!

Editors don't want to see the same, or similar stories online if they're considering publishing it in their magazine. Editors believe that any story you're selling should be original.  They should not see it online.

This is fair.  If travel writers start reselling articles from their website, the magazine editors will get complaints from their subscribers. "Why should I pay for a subscription if I can find the stories online for free?" they will ask.

If you want to resell a story to a print publication, make sure you remove it from your blog or website first.

Now for the good news about this situation:

It you sell it to a print magazine first, you can later post it to your blog or website. Wait a suitable period of time (3-6 months is acceptable).

But, there are a couple of exceptions: 


If the magazine has purchased ALL RIGHTS to your story it means they now own it.  Fortunately, very few magazines do this.  The ones that do insist on all rights tend to pay very well, so giving up those rights is worth it.
Many magazines will publish your story in print and then post your story to their website.  Always check to see if a magazine does this.

But don't post it on your blog if the print magazine has posted it on their website. It will be duplicate content. Search engine algorithms will detect duplicate content. You don't want to do this! You should link, instead, to the article on the magazine's site.

Sold a Print Article – Editor Publishes It In Print and Online

I received this thorny question from a PitchTravelWrite newsletter subscriber:

"Many magazine editors purchase our articles for publication in their print issues, and then stick them on the Internet without our permission.

My questions are, can they legally publish our work on both sites without getting our permission first? And, should they be paying us more for our stories that they're going to publish in both these media?

This excellent question affects most freelance writers during their careers.  It's a major point of contention in the freelance writing community.

Theoretically, editors are supposed to ask our permission to post our articles on their websites.

However, if the editor issues a contract stating that your article may, or will be, posted on their website, you won't have any recourse. If you signed the contract, you've agreed to this condition.

Now it's time for a reality check. The vast majority of magazine editors do not issue contracts. Of the 200 magazines, specialty magazines, custom publications, newspapers, trade journals, in-flights, and on-boards I've written for, perhaps only 15% have ever bothered issuing contracts.

This means that if a magazine has not issued a contract, or purchased any rights, you have recourse to confront the editor about publishing your article twice. You can claim that your agreement (usually via email) only permits the editor to publish your story in their print magazine.

You are then within your rights to demand an extra payment for the publication posting your article online.
The exceptions are:
(a)  If the editor has issued you a contract, or,
(b) If the editor mentioned in his email to you that it is the magazine's policy to also post your work on their website.

Reselling Articles and Preserving Strong Relationships with Editors
Let's look at the practicalities of this situation.

If you've been writing for a publication for some time and they've published several your articles in their print magazine and online, and things are going swimmingly, do you really want to make a fuss?

By confronting the editor with demands for extra payments for your online articles, you might suddenly find your relationship with that editor go cold. The editor is likely to think you've become a high maintenance writer and is not going to be interested in accepting  your future stories for publication.

Certainly, you're entitled to request extra payment from any magazine that runs your work online, unless the magazine states otherwise on a contract or in a letter.

I do know of some freelance writers who request extra payments for any of their stories published online.  If you can do this gracefully early in your negotiations, do it.  However, if not done with professionalism and finesse, I think you can scotch your chance of establishing a long and fruitful relationship with that editor.

My personal view is that if an editor chooses to additionally post my articles online, they're helping me establish a stronger online presence. This, in turn, enhances my credibility with other editors when they check me out online.

I may be missing out on some short-term cash here, but at least my freelance writing reputation and image online has been improved.  And, I haven't trodden on the toes of editors with whom I'm trying to cultivate productive relationships.  I'd rather continue my relationships with print editors for future paid assignments.

Ultimately, you'll have to make your own business decision about whether you want to request extra payment for articles published online.  

The Art of Reselling Articles

These are three tricky situations.  Related to this topic is this question:

What about reselling articles that have been previously published in other print publications?  Is this okay?

I've resold as many as 300 reprint articles—and made a ton of money from them. I've resold some of my print articles as many as ten times, with very little extra effort. 

In my article, The Art of Reselling Your Articles I cover this topic in depth.  Reselling articles can work in many situations, but there's an art to it.

Other Related Articles That Will Interest You:
Six Reasons to Presell Your Travel Stories – and How to Do It
Five Ways to Sell Articles More Successfully
Getting Published: The Many Ways to Sell Your Articles

---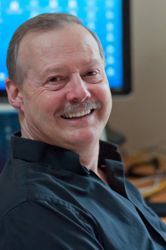 Roy Stevenson is a professional travel writer and the author of www.PitchTravelWrite.com.  Over the past ten years, he's had more than 1000 articles published in 200 magazines, trade and specialty journals, in-flights, on-boards, blogs and websites and has traveled on assignment around the U.S. and to dozens of international destinations.

---
---
IF YOU ENJOYED THIS POST, GET UPDATES.  IT'S FREE.