The Bright Side of
Rejection Letters
Novice writers often tell me how despondent they feel when they get rejection letters from editors.

A while back one writer told me that her fear of rejection emails has prevented her from sending out numerous queries. And over the years, I've seen article after article on handling rejection. 
Apparently receiving rejection letters from editors is a big deal.  But, I've always been puzzled by this phenomenon.

In my bylines you'll see that I've had more than 1000 articles published, in 200 different magazines, newspapers, trade journals, inflights, onboards, and websites.  Impressive figures, you might be thinking.

But in order to achieve that many published articles, can you imagine how many rejection letters I've received? 

I can assure you, it's a lot!

So, if rejection letters are making you feel bad, or keeping you from pitching more stories, here's my perspective to help you look at rejection differently.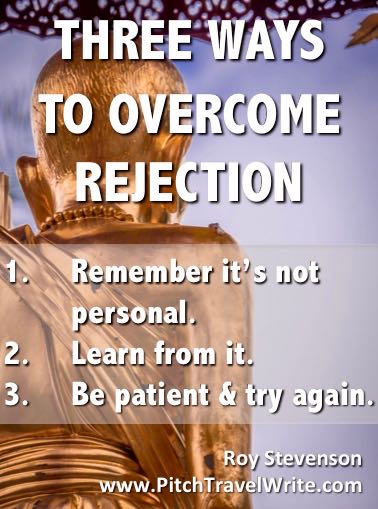 Three Ways to Change Your Perspective about Rejection Letters from Editors:

1.    Rejection is not personal, it's just part of the process.

Think of a car salesman.  When you go out shopping for a car, you look at different models, you try them out, you check out different dealerships, and maybe you buy one and maybe you don't. 

The car salesman doesn't feel bad every time a potential buyer walks away.  He just looks for the next potential buyer.

Or what about real estate?  You might go house shopping for days, weeks or months before you find one that you like.  Real estate agents don't expect every person to buy a property from them every time.  It just might not be the right time or the right property for that particular person.

Showing people cars and houses isn't much different than sharing a story idea with an editor.  You're the sales person and the editor is the potential buyer.  Sometimes the story idea is a good fit; sometimes it's not.  Sometimes the timing is right; sometimes it's not.

Freelance writers and other creative types tend to take rejection much too personally.  It's not personal.

If you know you have a good story to tell, there is a buyer out there.  Just keep looking (see #3).

2.    You can learn a lot from rejection letters.

These days many editors don't bother sending rejection letters to writers.  It's a lazy way to do business, but they often don't have the time to respond to every query.

So when an editor takes the time to send a rejection letter to you, it's often very useful.

Here are some examples of my rejection letters and what I learned from them:

Example 1.
I pitched a story about the San Juan Islands, near Seattle, to Islands magazine…yes, that Islands magazine.  The one all travel writers yearn for as bragging rights.  Here's what the editor wrote:

"We recommend for writers who are new to us or have not written for us very recently, no matter how experienced, start out by pitching to our front-of-the-book section called Discover. These need to be tightly focused, strong-angle pieces that are unique/compelling discoveries around the world. Please take a look at the attached guidelines and get back to me. Some ideas we've loved recently, just to give you an idea, have been a moonlight party on St. John, which tied into a scenic hike; fish-scale art on the Azores with an opportunity for readers to purchase; a famous ukulele maker that offered visitors a tour of the factory. Like most of the magazine, this department focuses mainly on warm, tropical destinations and only has limited space for temperate islands."

What I learned ...
Now, this may have been a 'canned' response that the editor cut and pasted into his email reply, but I certainly appreciated him sending such a clear picture of what he wanted for his magazine.  It set me straight. 
And, what's more, this polite and professional rejection didn't deter me from pitching this excellent magazine later when I had a more appropriate (warm, tropical) destination story.

Example 2.
Here's a rejection I received from Cruise Travel magazine:

"Thank you for your query. I am sorry, but your ideas do not fit our current needs. FYI, Cruise Travel is not currently seeking any new contributors unless they are experienced cruise writers who can provide their own original photography to complement their manuscripts. If this is you, then I'd suggest submitting cruise clips and photo samples with any future query. Thanks for thinking of us."

What I learned ...
The take home message from this rejection is that it's probably not worth my time continuing to pitch this magazine until I have amassed an impressive list of other cruise line magazine bylines.  They are looking for cruise experts with original photography.  Duly noted.

Example 3.

Here's another rejection I received from a top shelf travel magazine:

"Due to the small size of our team we struggle to address all the pitches we receive in detail, and consequently – to make the most of our resources and to fit the balance of each issue we are planning out – our policy is to approach directly the writers we would like to work with.
Feel free to send over some examples of your work (preferably as website URLs, low-res PDFs or JPGS, or word docs) and we will keep them on file. Best wishes."

What I learned ...
This rejection tells me that this magazine has an established 'stable' of writers that the editor reaches out to for content.  I still sent some samples of my best work, but as expected, never heard back from this magazine.  And in future, I only pitched them my absolute sexiest stories about exotic tropical destinations.

3.    It's often about patience and timing.

Another point for the 'rejection averse' to remember is that just because a particular editor rejects your story ideas, doesn't mean they will reject them in the future. 

Several times, after I've established a strong working relationship with editors (and had a chance to impress them with my writing skills and ability to deliver before deadline), I've had them accept story ideas that they previously rejected.

Many rejections aren't about the story idea – they're about timing.  It may take you a long while to sell your story idea because the timing might not be right.

For example, if you pitched a destination piece about Cuba to a travel magazine a decade ago, your query probably would have been flatly rejected.

But recently I'm noticing a spate of Cuba travel articles in print and online. Cuba has suddenly appeared on the destination travel radar as more and more Americans are finding ways to visit Cuba.  It's become quite the vogue place to visit and write about.

The lesson here:  Be patient.  Sit tight.  Bide your time.

If your story angle and destination are hot, eventually you'll find an outlet for it.  Often it's about patience and timing.

And, if one magazine is not interested in your story, there are usually other publications that will be.  So, dust off your distribution lists and fire that query out to other publications.

Three Strategies to Increase Your Acceptance Rate and Minimize Rejection Letters:

1.    To add to the mantra of exercising patience and timing, don't forget the value of persistence.

When you receive a rejection letter from an editor, immediately pitch another story idea.  I do this regularly and it often works.  You've got the editor's attention so find out if a different idea will work.

Back to the realtor example – when a customer tells her they don't like one house, she doesn't stop there.  She shows them another one.

Same with the car salesman.  Just because you don't like one sedan doesn't mean he won't show you other models.  He tries to lead you to anything that might be a good fit.

As a writer, if the editor doesn't like the first story idea then try another one.  (And another, if you're full of ideas.)


2.    When you hand in a completed (sold) article to an editor, pitch another story idea in the same email.

I did a survey of this technique and was pleasantly surprised to find that this tactic works about 55% of the time for me.  Over the years this has added up to hundreds of published articles for me.

This adds to your acceptance rate with minimal effort.  And it lowers your rejection rate since the editor knows you.  (Just make sure you're handing in a quality article, within deadline.)

3.    Pitch story ideas as often as you like.

I'm often asked by writers, "How frequently can you pitch an editor?" My answer: "As often as you like".

When I first started my writing career, I thought that you should only pitch an editor a single story idea each month.  Any more than that, I feared, would be gratuitous excess.

Then, at a writer's conference, I met a seasoned freelance writing veteran and asked her how frequently you can pitch an editor.  She said, "Who says you can't pitch an editor every week?" to which I had no answer.

It doesn't say anywhere that you can't pitch an editor a different story idea every week. 

The fact is, if you have a good story idea every week for a particular magazine, then you should send a pitch every week to that magazine. The editor is not likely to be annoyed. Rather, he or she is more likely to be impressed with your persistence. 

The more times you put your name in front of an editor, the more they will come to recognize it . . . and eventually they will send you emails accepting your stories.

Couple these strategies with other techniques like simultaneous submissions and multiple story pitches and you will begin to laugh in the face of rejection.

You will start selling more stories than you can handle, and those rejection letters won't matter so much anymore.  You'll know they're just part of the process.

---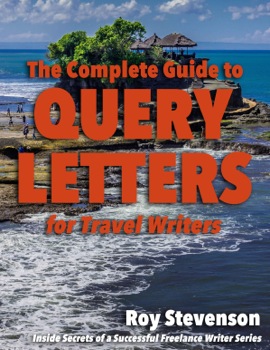 There's no need to struggle with writing a query letter. 
Here's a guide that tells you everything you need to know, along with 20 sample query letters that you can use as templates to help you write your own queries. 
It's a steal at less than $20. 
---
Related topics that will interest you:

Simultaneous Submissions:  Sell More and Do It Faster

Multiple Story Ideas to Earn More Money
Query Multiple Story Ideas to Multiply Your Income
---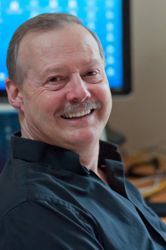 Roy Stevenson is a professional travel writer and the author of www.PitchTravelWrite.com.  Over the past ten years, he's had more than 1000 articles published in 200 magazines, trade and specialty journals, in-flights, on-boards, blogs and websites and has traveled on assignment around the U.S. and to dozens of international destinations.

---
---
IF YOU ENJOYED THIS POST, GET UPDATES.  IT'S FREE.