Luxury Travel Writing: 
My Story and
How You Can Do It, Too
After returning from a luxury travel writing assignment, when I tell other writers about the trip, they always ask how I managed to do it. 

There isn't a short answer to the question.  So, I've written a few articles about it.  This one is about how I got into luxury travel writing in the first place, followed by some advice about how you can do it, too.

I have to admit, when I started out in travel writing, luxury wasn't even on my mind.  I just wanted to get published and build up my bylines.

I pursued any article that an editor wanted to publish, on any topic.  After a while, my travel bylines topped more than 100 - about anything and everything I was interested in.  Most were stories about places, people, and events in the Pacific Northwest, the beautiful region I call home.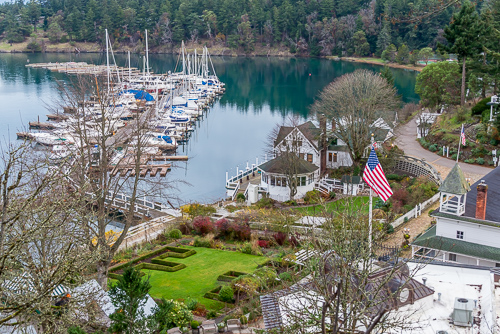 From our luxury condo we looked down on beautiful Roche Harbor, on San Juan Island, WA.
I wrote articles about Puget Sound yachting destination marinas, a schooner rendezvous, brewing companies, classic car museums, ghost towns, and even a few short restaurant reviews.

I wrote about a motorcycle tour around Mount St. Helens, kayaking in Alaska, a Bonsai Garden, a lavender festival, and tourist towns on the Columbia River Gorge.

Some of my travel pieces focused on Northwest wedding destinations, winter destinations, rock climbing spots, wildlife refuges, sports venues, rodeos, creameries, and historic forts.  Local, regional, and even some national magazines and newspapers published these stories.

I wrote stories about sculptors and a beekeeper, a radio & electricity museum in Bellingham, Washington, and a UFO festival in McMinnville, Oregon.

You get the idea - I was up for any assignment and showed the regional magazine editors that I was a solid, reliable, diverse, and diligent travel writer.  It worked.

The first few years were like an apprenticeship.  I figured out how the whole travel writing thing worked. 
I learned how to dream up exciting story ideas, create enticing query letters, and how to write a captivating story.  And I learned about the business, like how to develop relationships and get repeat business from magazine editors.

After a couple years, I got an assignment to stay at, and review, some Inns and B&B's around the Puget Sound.  I enjoyed these gigs, and they gave me a taste of writing about boutique and luxury properties.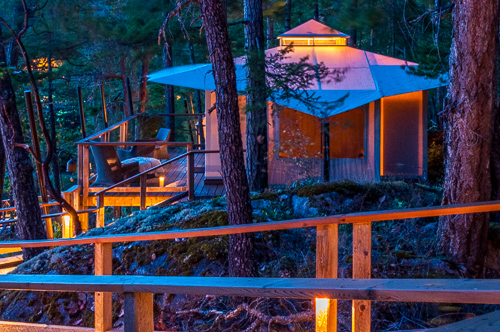 A luxury experience glamping (glamour camping) in Canada. The "camping" part was being in the forest, overlooking a beautiful lake. All the rest was pure luxury.
This led to some roundup assignments about resorts and lodges for local magazines.  Assignments about destination wineries and fine dining restaurants soon followed. 
I began to acquire a taste for luxury assignments!

One memorable assignment took in six of the Pacific Northwest's finest lodges, spread throughout British Columbia, Washington, Oregon, and Idaho.  I started receiving the odd complimentary spa treatment and massage, and some memorable meals and wine tasting sessions.

By this time I had built up a large number of outlets for my travel stories (magazines, newspapers, online travel websites, trade journals, on-boards, and so on) and suddenly my luxury travel destination assignments began to snowball.

I learned that I was able to apply the same principles to snare assignments for international destinations and resorts and began traveling further afield.

In New Zealand I was able to parlay my assignments for luxury accommodations far beyond a travel writers budget.  It even included my own personal concierge and limo service, staying in a villa overlooking the beautiful scenery of Queenstown.

I've stayed in some of Europe's finest resorts and hotels including Germany's magnificent La Belle Époque in Baden-Baden, the famous Hotel Nassauer Hof in Wiesbaden, and the exclusive Hotel Bareiss resort in the Black Forest.  I've also done time in boutique hotels in Singapore, Wales, Bali, Indonesia and a few other countries along the way.

How can my story help you?  There are three lessons, or recommendations that I can give you:

Earn Your General Travel Writing Stripes First
My transition into luxury travel writing did not happen overnight.  Over time the assignments came my way because of the work I had done over two or three years.

Some writers fluke a luxury travel assignment right off the bat, but you're more likely to be offered the plush assignments only after you've been writing for a while.  Luxury travel destinations and properties will take you more seriously when you have a solid foundation of bylines behind you.

---
Luxury properties want to see several respectable magazine and website bylines to your name.  The resort's media and marketing representatives look for some assurance that you will deliver an article or two about their resort.  And travel writers with impeccable bylines imbue this confidence in the resort media reps.

Get Published in Many Different Outlets

Besides writing about diverse travel topics, get published in as many different outlets as you can.  Why?  You'll have an easier time finding outlets for luxury destination and resort stories because you'll have a wide selection of choices on your publications list.

The wider the variety of outlets that you write for, the better your chances of being able to round up those all-important assignments that get you these mind-blowing trips to luxury resorts.

Some writers have a steady relationship with a few outlets and work with their regulars.  This is good and you need to do this.  But you also want to expand your outlets and genres into as many as possible, beyond the regular ones.  Make sure you have a broad magazine distribution list for print and online travel websites.

Luxury Travel Writing is competitive - here's the best way you can get started ...

On the surface, staying in high-end resorts and being pampered at spas sounds easy.  Don't forget there are thousands of other travel writers out there also working the luxury travel market.

Because there's plenty of competition, you want to position yourself for best results.  Everything from initially lining up the assignments to working with the tourist office and your hosts, to writing the articles takes a lot of effort.  The trip itself may be luxurious, but everything surrounding it is hard work and you have to deliver on your promises.

If you've decided at this point that writing about luxury travel destinations is for you, then here are the steps to pull it all together:

Step 1: Decide what luxury travel destination or resort you want to visit.

Step 2: Research the destination or resort and come up with some viable story ideas that you can sell to magazines and newspapers.

Step 3: Pitch these stories to the magazines you've already been published in, plus a whole bunch of new magazines.  Secure your assignments.  Here's where to look for outlets.

Step 4: After you have some "letters of assignment" in hand, approach the resort or destination tourist office and politely request assistance with accommodation, meals, transportation, tours, and entry to the major tourist attractions.

Step 5: Take your trip & enjoy!  (Ah - finally, the easy part.)

Step 6:  Once you're home, write up your stories, get them published, and send PDF and hard copies to your hosts.  Always do this—they'll love you for it. 

Step 7: Repeat. 

Good luck with your journey into luxury travel writing.  I hope your future holds lots of luxurious travel in a style beyond what you've ever imagined.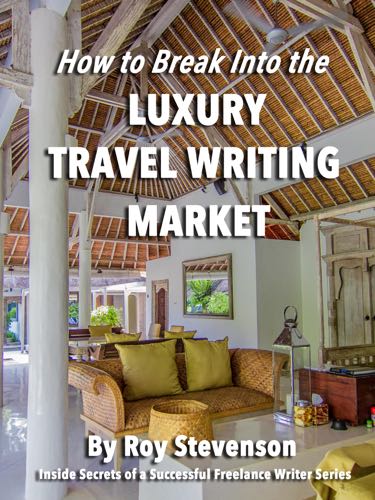 If you want to break into writing about resorts, luxury hotels, villas and spas, my 12-chapter, 130-page manual, How To Break Into The Luxury Travel Writing Market tells you how to do it. It walks you through each step of the process. You'll learn how to get luxury travel assignments and leverage them to land luxury travel trips. I've used these techniques to land assignments at dozens of the finest luxury resorts and spas in the world.

This manual contains an up-to-date list of 150+ print magazines and travel websites that publish luxury travel articles. It's the most comprehensive list of luxury magazine outlets you'll find ANYWHERE. Having immediate access to these lists alone is worth the price of the eBook, saving you hundreds of hours of research.

Related articles that will interest you:
Find Your Travel Writing Niche
5 Reasons to Expand Your Writing Genres
How to Break into Luxury Travel
---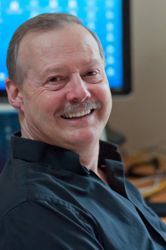 Roy Stevenson is a professional travel writer and the author of www.PitchTravelWrite.com.  Over the past ten years, he's had more than 1000 articles published in 200 magazines, trade and specialty journals, in-flights, on-boards, blogs and websites and has traveled on assignment around the U.S. and to dozens of international destinations.

---
IF YOU ENJOYED THIS POST, GET UPDATES.  IT'S FREE.