Writing a Successful Hotel Pitch
Writing a Successful
Hotel Pitch

Any travel writer will tell you, a hotel pitch is a hard sell. Hotels, lodges, villas, spas and resorts are not stories in and of themselves, no matter how much you love them.

But it's possible to break into travel writing with resort, hotel, lodge, villa & spa stories. In this post are my best tips about how to do this.

Accommodations are our second largest expense, after airfare. Travel writers who receive complimentary stays at hotels, resorts, lodges, and villas will save some serious coin. Comped stays have become a necessity for travel writers to survive.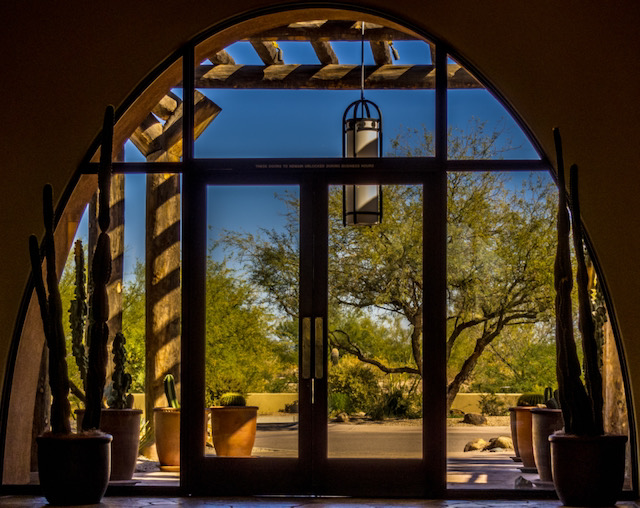 Thanks to my successful hotel pitch about luxury resorts in Arizona, we were able to enjoy spa treatments at the Aji Spa at the Grand Sheraton at Wildhorse Pass. Doors open when you get advance assignments and write travel stories about hotels, resorts, villas, lodges and spas.
Depending upon your assignment, the biggest advantage of hotel travel stories is that you get to stay for free, sometimes for several days, in exchange for writing about it. You're treated like a VIP, given gift baskets and toured around the property. Usually you're invited to enjoy special meals in their restaurants.

In return for providing you with complimentary stays and meals, hotel and resort media reps expect something from you. They don't give these freebies out of the kindness of their hearts!

Ultimately, you're expected to write articles to publicize their properties. This might also include social media coverage if that's what you promised in your hotel pitch.

But stand-alone hotel stories are a hard sell.

There are literally thousands of beautiful historic and boutique hotels, luxury resorts and villas, rustic lodges, and exotic spas, across the globe. And while each of these may seem worthy of publication in glossy travel magazines, few editors will run stories about them.

You must offer editors particularly interesting angles that will captivate their readers.

A successful hotel pitch . . .

What's the secret to writing a successful hotel pitch?
Find something unique or interesting about each property and build your story angle around it. To write a successful hotel pitch, you need to ask, "What makes this hotel so special?"

Is the property . . .

An historic building with some great tales to tell?
An historic castle with a rich legacy?
Haunted?
A renowned wedding destination?
The most luxurious hotel or resort in the area?
A romantic fall getaway lodge?
A retreat for the rich & famous?
Frequented by royalty?
Crawling with movie stars or VIPs?
Famous for its world-class golf course?
These are just a few potential story angles, but I think you get the idea.

Your hotel pitch needs to point out special or unique features to capture the interest of editors so they'll commission your stories.

How to Find a Unique Angle
for Your Hotel Pitch

Don't despair. Finding a unique hotel angle is not as difficult as it seems. Some hotels have stories that absolutely jump out at savvy travel writers.

I've had 56 published travel articles that have featured hotels, resorts, villas, or lodges as the main theme, or as their secondary topic. At the very least I've been able to slip a paragraph or two about the property into my travel stories as a kind of  'honorable mention.'

Here are a few of my most interesting hotel, resort, and lodge travel stories. While you're reading through the list, pick out my unique angle for each hotel pitch:

Bali's Finest Luxury Resorts and Villas, Global Living Magazine, 2013
Arizona's Luxury Resorts, Global Living Magazine, 2014
The Northwest's Finest Rustic Luxury Lodges, Northwest Travel & Life, 2012
Romantic Fall Getaways, Northwest Travel & Life, 2014
Cruising the Burgundy Canal in a Luxury Boutique Hotel Barge, Global Living Magazine, 2013
Roche Harbor Resort, San Juan Island—Washington's Destination Wedding Mecca, Mid-Columbian Magazine, 2008
Chena Hot Springs Resort, Northwest Travel & Life, 2014
Ruthin Castle, Wales, EuropeUpClose.com 2015
Apache Spirit Ranch, Tombstone, Arizona, TravelMag.co.uk 2012

These were all amazing assignments, although I think my 28-day assignment in Bali was the high water mark of my travel writing career. We stayed in twelve high end luxury resorts and villas for a month and enjoyed every minute.

Everything on the list above were tantalizing resort stories, and easy for me to sell.

But what if you can't find enough "juice" in the resort property for your next hotel pitch?

Have another look at my list. You'll notice the first four articles are roundup pieces about several resorts and lodges in a specific region. That's your key.

Can you do a roundup hotel pitch?

Hotel Roundup Stories

Roundup stories about the finest resorts, villas, and lodges at a destination sell much easier than stories about a single property.

This means your hotel pitches for your destinations should be about the finest, or the most romantic, or the most luxurious lodges, resorts, villas, and hotels at your destination.

You'll have much better luck querying 'collective' stories rather than individual properties in your hotel pitches. And you'll enjoy visiting the different hotel properties and picking out the unique features of each one.

Listing Hotels in Your Article

Another way you can use hotels as collateral for complimentary stays is by listing them at the end of general destination roundup stories. These listings are usually in the 'Where To Stay' section.

"Where to Stay" listings will usually satisfy PR/media reps at hotels and resorts enough to provide you with a comped stay.

I've done this countless times and stayed at some lovely hotels and B&Bs around the Puget Sound region, Leavenworth, and Tri-Cities in Washington State; Portland, Oregon; Bisbee and Tombstone, Arizona; Juneau, Haines, Fairbanks, Petersburg, and Ketchikan, Alaska; and Sacramento, California.

This technique also works well with international hotels and resorts. It's led to some of my most memorable stays ever in Wales; in Baden-Baden, Wiesbaden, Heidelberg, The Black Forest, Erfurt, Koblenz, and Berlin, Germany.

In 2012, was able to use hotel listings as collateral for comped stays in Rotorua, Queenstown, and Picton, during a trip to New Zealand. My roundup travel stories required a listing of three hotels in the two largest towns.

Before I traveled to New Zealand, I did some homework on the hotels and resorts at these destinations. After locating suitable properties, I politely requested complimentary stays with the hotels on my list, and soon had all of my accommodations covered at what turned out to be some spectacular properties.

And these properties were always thrilled to receive the publicity when my stories were published.

A Step-by-Step Guide for Hotel Listings

1. If any of your articles have "Where to Stay" sections, (and most online roundup travel stories do) then you need to get busy emailing the hotels and resorts at your destination to request assistance with comps.

2. Track down the hotel contact details on the Internet. And then blast out a whole bunch of polite requests. Make sure you spell out exactly what the properties will get in return for comping you. And make sure you specify exactly how many nights you are requesting at your target hotels.

3. Don't do this mass-emailing piecemeal. Send your request out to one or two dozen hotels. There's always a hotel or two 'out there' looking for publicity.

Travel Writing Ethics and
Comped Hotel Stays

I know some journalists who flash their business card at the hotel's front desk and announce they're travel writers. They request a comped stay — and often get it — without an assignment.

Unfortunately, many of these writers disappear into the sunset, never to be heard from again. They seldom produce a story about the hotel, or one that even mentions the hotel. And, they probably never intended to write a story to begin with.

This practice is unethical. You don't deserve a comped room just because you're a travel writer. And travel writers who abuse a hotel's trust like this ruins things for the rest of us. The hotel media reps become gun shy and suspicious of anyone who calls themself a travel writer.

Because unscrupulous travel writers have worked the system, most hotel media reps who have been burned will expect evidence of an assignment before they sign off on the writer's comped stay. And, fair enough. No assignment, no comped stay.

The expectation is that travel writers earn their comped stays by providing the property with some sort of publicity. And they deliver on that promise. Quid pro quo.

Please don't be one of these abusers, no matter how much the temptation. Cheat the hotels and you'll find doors slamming shut.

Always have an assignment or two, in advance, that will give the hotel primary or secondary coverage. Do this, and you'll find hotel doors graciously opening for you.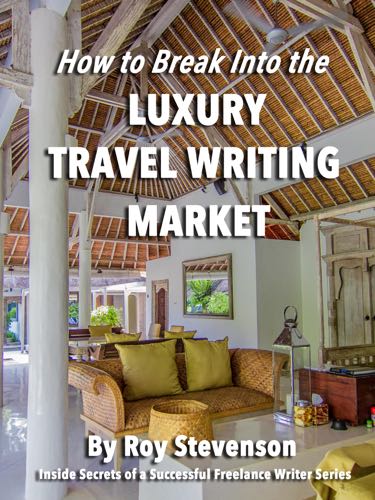 My 12-chapter, 130-page manual, How To Break Into The Luxury Travel Writing Market, walks you, step-by-step, through the luxury travel writing process. You'll learn how to get luxury travel assignments and leverage them to land luxury travel trips. I've used these techniques to land assignments at dozens of the finest luxury resorts and spas in the world.

This reference guide contains an up-to-date list of 150+ print magazines and travel websites that publish luxury travel articles. 
It's the most comprehensive list of luxury magazine outlets you'll find ANYWHERE. Having immediate access to these lists alone is worth the price of the eBook, saving you hundreds of hours of research.
You can learn more about it and purchase it at this link . . .

---
---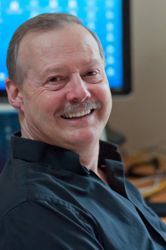 Roy Stevenson is a professional travel writer and the author of www.PitchTravelWrite.com.  Over the past ten years, he's had more than 1000 articles published in 200 magazines, trade and specialty journals, in-flights, on-boards, blogs and websites and has traveled on assignment around the U.S. and to dozens of international destinations.

---
IF YOU ENJOYED THIS POST, GET UPDATES.  IT'S FREE.