The Best DSLR
for Travel Writers:
A Buying Guide

By Linda Popovich

In every travel writer's life, there will come a time when your Point-and-Shoot camera won't meet your needs anymore. When this happens, most travel writers upgrade to a DSLR (Digital Single-Lens Reflex) camera.

The main reasons travel writers decide to make this upgrade are:
•    Your magazine editors are rejecting your photos because of poor image quality
•    Your photos and action shots are blurry
•    Your JPEG images are dark or grainy and can't be adjusted
•    Your lens is too limiting and you can't get distance shots

But, now you have to find the best DSLR camera that fits your travel writing needs. And this is the hardest part of upgrading to a DSLR camera—especially if you aren't a camera expert.

In addition to the bewildering variety of camera brands and camera bodies, there's also a huge selection of lenses.  With so many options available, it's hard to know which DSLR is best suited to your travel writing needs.

To take the mystery and fear out of buying a DSLR, here are my recommendations: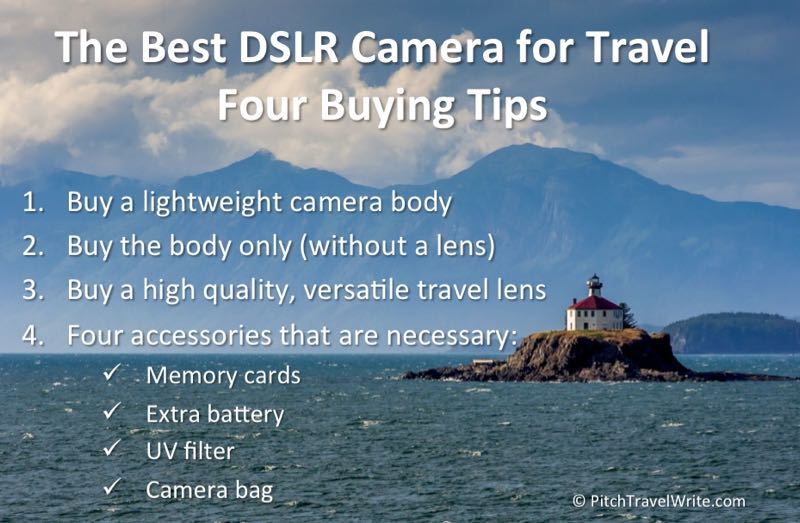 Buy a lightweight camera body.
DSLR's come in consumer, enthusiast, and professional categories. Your first DSLR camera should be from the consumer category. This comes with a couple of advantages:  they're lightweight and great for travel, and they cost considerably less than the high-end models.
(Be warned: consumer DSLR models come with a multitude of features – probably more than you'll ever use, but don't let this deter you. You can always take photography courses at your local community college to learn how to utilize them.)

Although consumer DSLR's are lightweight, they're still very durable, and great for travel. If you take reasonable care, your camera body will last several years. 

All major brands offer consumer quality models. Your best bet is to stick with a major brand like Nikon or Canon. The reason I suggest buying a major brand is that you want to feel certain they'll still be around in a few years when your camera needs parts or service, or when you're ready to upgrade.

Your first step is to go to a camera store and play around with several models to decide which one you like best.  Note how it feels in your hands and if it feels 'balanced'.  Look through the viewfinder. Play around with the dials. Look at the menu and the screen. Ask questions about its main features.

I'm partial to Nikon cameras because I think they're more intuitive than some other brands.  But you shouldn't necessarily buy what somebody else likes.  Buy the one that you like best. 

As long as you stick with a major brand, your choice will be fine.  The major brands put a lot of research and development into their cameras and deliver quality products.  None of them are a bad choice.

Buy the body only (without a lens).
When you decide to make your purchase, buy the "body only" option.  Do NOT buy a camera/lens combination. 

Lenses that come bundled with the camera are known as "kit" lenses.  Many beginners buy the body/lens combo and soon find out that the lens doesn't suit their needs.  Inevitably, "kit" lenses are a waste of money. 

In addition, kit lenses tend to be lower quality and you won't recoup much on your investment if you try to sell them.  Buying a camera with a kit lens is a typical beginner's mistake.

Most travel writers don't know that the lens is more important than the camera body when it comes to image quality and versatility.  Although I'm suggesting you purchase a lower end camera body, you should still buy the highest quality lens you can afford. 

Think of your camera body as something that you upgrade every few years as technology improves.  Think of your lens as an investment that you'll continue to use as you 'grow' into newer camera bodies. 
Even when you ditch the old camera body, you can usually keep using the same lens as long as you stick with the same manufacturer.

You're better off buying the camera body only, and then purchasing your lens separately.

Buy a high quality, versatile lens.
As a travel writer and photographer you'll want to travel as light as possible, so your goal is to use one lens that will serve you well in most situations. 

You'll need a wide-angle lens for landscapes and cityscapes.  And, you'll need a telephoto lens to capture faraway objects and buildings. Close up people shots are obviously important for travel stories, too.  But you don't want to have to change lenses for every situation. Many a travel photographer has found—to his or her great disappointment—that while they were struggling to change their lens, that special moment or person they wanted to shoot has disappeared.

Fortunately, you can find a single lens for all these situations. 

For several years now, the Nikon 18-200 mm lens has been rated as the best DSLR travel lens on the market.  Tamron has also entered the market with a lightweight, versatile lens, the Tamron 18-270 mm.  Canon also offers an 18-200mm lens for their cameras. 
Any of these lenses will pair well with your camera body for travel photography, and they are offered at very competitive prices. 

To get an idea of your cost for a camera body and travel lens, here are some examples of the approximate costs for 3 similar consumer-quality camera bodies:  Nikon D5500, Nikon D5300, and Nikon D5200.
Here's a comparison for each camera body and 2 competing lenses: Nikon 18-200mm and Tamron 18-270 mm.  (I'm including affiliate links to amazon.com so you can read customer reviews and learn more about each product.)

If I was purchasing a DSLR for the first time today, I'd be happy with any of these options:

You can see just by looking at your options within one camera brand and two competitive lenses, your cost will vary from $949 to $1350.  That's a big enough difference to care about!  The best DSLR for you often comes down to your budget.

The most expensive option is the newest model, the Nikon D5500.  If you like to buy the latest technology and have the budget - then this is the best DSLR choice for you - go for it!

However, you'll save money if you buy an earlier model (like the D5200 or D5300).  These are both good options. (The D5200 is still available online but not on amazon.com so a link is not provided.)

Roy still uses a Nikon D5100 with a Nikon 18-200mm lens and loves it!  His travel photos are beautiful and satisfy the magazine editors he works with.  He's not the least bit interested in upgrading to the newest model just to get a few new bells and whistles.

Read the reviews for any model you're considering purchasing.  Also, look for promotions and rebates before you make your purchase on any model.

You can also save money buying the Tamron lens instead of the Nikon lens.  Since image quality for travel writers is important mainly for print publications, you shouldn't notice a  difference between the two lenses.  But you might notice a difference in lens performance.  A Nikon lens on a Nikon body will probably respond slightly better. 

Try them both out in your camera store and then decide if you think there's a difference, and if it matters to you.  I have a photography friend who has a Nikon DSLR with a Tamron 18-270 lens and he loves it.  (His photos are gorgeous, too.)

Similar offerings can be found for Canon and other brands.  First, find a good basic body model then pair it with a versatile travel photography lens for the best DSLR/lens combination.

Accessories that are Absolutely Necessary
1.    Memory cards 

You can own the best DSLR in the world, but you won't have any images without a supply of memory cards for storage. 
You'll need several memory cards. I always pack extras, even if I don't use them.  Always travel with more cards than you think you need.  They're small, and it's much better to have too much storage than not enough. 
I'd suggest purchasing two or three SanDisk Ultra 32GB cards to get started.  Purchase more if you're planning an extended international trip.

2.    Extra battery 
Always buy an extra battery for your camera.  There's nothing more frustrating than having a dead battery in the middle of an exciting trip.  You need a spare.
Keep your extra battery charged and in your camera bag (or pocket).   When you travel, charge your batteries at night so you start each day with a fully charged battery in your camera, and a fully charged spare in your pocket.

3.    UV filter to protect your travel lens

This name is deceptive—it comes from film days when UV filters blocked UV light and removed the blue cast from images.  That's no longer important, but the name remains (to confuse the rest of us).

If UV filters are not necessary to block UV light, why should you use one? 
A UV filter on the front of your travel lens protects your lens from damage caused by rough handling, and also protects your lens from scratches.

A couple years ago Roy lifted his camera out of his bag to take some shots at a castle in Wales, and found his UV filter completely shattered.  Since he's very careful with his camera gear, he could only trace it back to someone bashing his bag while trying to fit theirs into the overhead compartment on the plane. 

He removed the broken filter and carefully disposed of it, then proceeded with his shoot.  All went well.  The good news is he only had to replace the $45 filter - not the expensive lens.  So the filter did its job protecting the lens and we replaced it when we got home.

It's also easier to clean a UV filter than it is to clean your lens because it's flat.  Buy a high quality filter and use it to protect your lens and keep it clean. 
A couple good choices are:
Hoya 72mm UV Multi-Coated filter (less than $40), and
B+W 72mm 72mm Clear UV Multi-Resistant filter (less than $50). 
Either of these are a good choice.  Don't buy a cheap filter.  
And make sure you buy the right size filter for your lens.  The filters shown here are for a 72mm lens - check your lens size before you buy.  (For example, the Tamron 18-270mm lens has a 62mm lens opening so you will need to buy a smaller UV filter.)

4.    Camera bag 
Camera bags protect your camera from rough treatment.  The type of camera bag you choose is a matter of personal preference.  I suggest something small and well padded. 
Make sure your bag has extra pockets for memory cards, batteries, and a micro-fiber cloth for cleaning the front of your lens. 

A small bag is great for travel since it's light and easy to carry, It also fits into a larger bag or backpack for more protection when you're on the plane and transporting your bags in taxis, buses and trains. 

Never, ever put your camera bag into checked baggage.  Always keep it with your carry-on luggage.

DSLR's versus Mirrorless Cameras

If you are looking for the smallest possible option for travel, the best DSLR for you may not be a DSLR at all - it may be a mirrorless camera. 
Over the past few years, mirrorless cameras have appeared on the market and are gaining in popularity.  These cameras are smaller and lighter than DSLR's, yet they produce high quality images.

Mirrorless cameras are great for travel because your gear is lighter.  They're less conspicuous out in public because of their smaller size.  I've heard they are also better for video, if that's your thing.  But they have some shortcomings.

The current advantage of DSLR's over mirrorless cameras is the greater variety of lenses available.  Also, DSLR's are better in low light, and better for action shots such as sports, wildlife, and other fast-moving subjects. 
At this time, I still think a DSLR is a better option, but I'm keeping an eye on mirrorless cameras as they improve and expand their lens options and capabilities.

Since they are an entirely different kind of camera, I'll do a separate report on them in a future article on this website.

So, what is the best DSLR for travel writers?
It's as simple as choosing a good camera body and a versatile lens.  This is the easiest way to get high quality images for your travel stories, and to travel light to your destination.

---
Linda Popovich is a freelance travel photographer based in Seattle, Washington. Her images have been published in at least 58 regional, national, and international print magazines and also in online travel magazines.

Her work has been published in Australia & New Zealand Magazine, Collectible Automobile, Aviation History, Spaceflight, Global Living, Classic Boat, Blue Water Sailing, Canadian Yachting West, Beer & Brewer, Beer Connoisseur, Renaissance, Compass, Gorge Guide, Northwest Travel, Harbors, 48 Degrees North, Washington Tasting Room, Oregon Coast, Garden Answers, Pacific Horticulture, Walking New Zealand, and many other publications.  She's also the Editor and Publisher of PitchTravelWrite.com and happens to be married to Roy Stevenson, the author of this website.

---
Related articles that will interest you:

How Travel Photographs Will Help You Sell More Travel Stories

---
Sign-up for our free weekly e-zine and download your free copy of Get Published Now!:

---
---
IF YOU ENJOYED THIS POST, GET UPDATES.  IT'S FREE.