Do Travel Writing Awards Help You Sell More Travel Stories?

If you've been in the travel writing game for a while, you've noticed some travel writer's bylines like this:

"Kate Somebody is an award-winning travel writer with articles published in this magazine, that magazine and another magazine."

These writers promote their travel writing awards on their websites and mention them in their query letters.  They hope to impress editors enough to commission their stories.

But, just how effective are these awards at securing assignments from travel editors? 
Should you spend time chasing awards?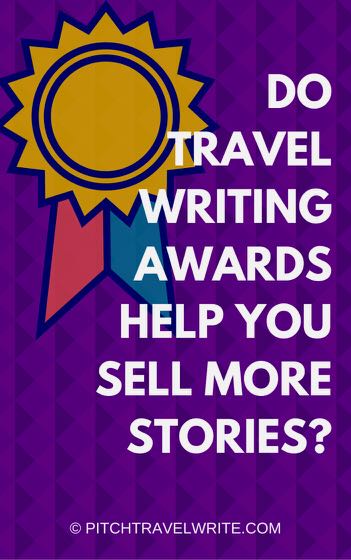 Ever since I started travel writing, I wondered, "If travel writing awards can help me sell more stories, I want in!"  But first, I wanted to find out if competing for travel writing awards justified the time I'd spend doing it.

I decided to go to the source.  I sent out surveys to several travel magazine editors and asked these two questions:

Are you likely to be impressed enough with award winning travel writers to commission their stories?
What do you look for in a travel writer's query that will help you decide whether to buy a story?
The editor's comments were eye-openers!  And they were very generous in providing important insights into their selection process. 
Here are their enlightening responses:

Nicholas Walton, Artemis Group Managing Editor for Jetsetter, Explorer, The Art of Business Travel

"No, awards don't impress me. They are given out by associations like candy.
Research into our titles, a concise pitch that answers all the obvious questions, a publication in similar titles are all that work for us."

Jeff Burger, Editor,
Business Jet Traveler

"A mention of awards from certain journalism competitions might catch my eye, as might impressive publication credits. But I base my decision on whether to use a story on just two factors:

 Would the article be a good fit for us? and
 How skilled and talented is the writer?
If the answer to the first question is yes, I look at the query letter itself to begin answering the second question. If it's grammatical and the pitch is well stated, I usually ask to see unedited Word files of past articles rather than published clips so I can gauge what the person's work looks like before an editor gets hold of it."

Allen Cox, Editor-in-Chief,
Northwest Travel & Life Magazine

"No, not impressed enough with travel writing awards to commission their stories. While awards are impressive, you only win one if you submit for an award. Plenty of solid travel writers never play the award game. Just because a writer wins an award does not mean they are going to be a better contributor than one who has not. I have worked with award winners who have missed deadlines and even forgotten assignments altogether.

"While awards would not exclude a writer from getting an assignment, more important factors in a query are the writer's story idea, how well it fits our publication and where they have been published before."

Donna Vieira, Editor,
Dreamscapes Travel & Lifestyle Magazine

"Impressed, sometimes perhaps, but awards don't sway me to commission stories or assign writers on media trips. There are many award-winning travel writers whose style may not be appropriate for our publication. Some never meet deadlines or have an attitude, and are more trouble than they are worth. Some may not accept our fees. Some submit sloppy work.

I prefer to commission travel writers who are personable, consistent, detail oriented, on time, accurate and respectful to everyone — especially if they are representing our publication on media trips. These qualities are much more important — and impressive — than awards.
 
Three things impact our decision:

Has the proposed topic or destination been covered recently, or have we already commissioned a similar story from another writer for future publication?
Is the story timely? In other words, fall and winter issues in Canadian magazines tend to cover ski or sun destinations, fall drives, cruising, Asia, South & Central America, Australia/New Zealand, etc., while spring and summer issues feature American, Canadian, European destinations and outdoor activities.
Might the writer's proposal offer opportunities for ad sales for the magazine? After all, if the magazine doesn't make money, it no longer exists. Free editorial exposure won't feed the bottom line. We have to find a balance between interesting editorials that may not add to revenues and editorials that can."

Conclusions about travel writing awards

These four travel editors from around the globe were unanimous in saying they don't pay much attention to travel writing awards.  They're much more interested in well-written articles that are a good fit for their magazine.  And they look for writers who are personable, consistent, detail-oriented, and accurate.

Winning an award doesn't necessarily result in quality work, as some of these editors pointed out.

What counts in travel writing is putting together a good pitch that fits with what the magazine needs.  That's how to get your stories published.

If you enjoy playing the awards game and get personal enjoyment from competing,  then go for it!  But do it for fun and to fulfill a personal need.

You won't gain credibility with editors – or get the assignment – just because you won an award.  You're better off using your time and energy to match your story idea with what the magazine needs, and then writing a good query letter to get the assignment.

---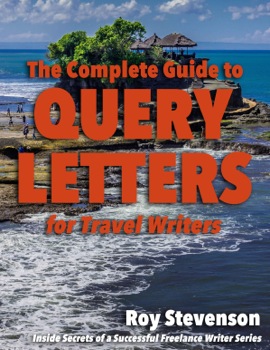 There's no need to struggle with writing a query letter. 
Here's a guide that tells you everything you need to know, along with 20 sample query letters that you can use as templates to help you write your own queries. 
It's a steal at less than $20. 
---
Related articles that will interest you:

Travel Story Marketability: What Makes a Story Hot
How to Get Published 90% of the Time and Make Money
Getting Published:  The Many Ways to Sell Your Articles

---
---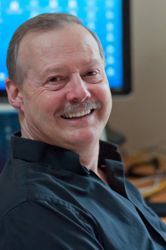 Roy Stevenson is a professional travel writer and the author of www.PitchTravelWrite.com.  Over the past ten years, he's had more than 1000 articles published in 200 magazines, trade and specialty journals, in-flights, on-boards, blogs and websites and has traveled on assignment around the U.S. and to dozens of international destinations.

---
IF YOU ENJOYED THIS POST, GET UPDATES.  IT'S FREE.