Writing FOB Articles:
Are They Worth It?

As you pore over magazine writer's guidelines, you'll notice that many of them suggest you break into their magazine by pitching them with Front-of-the-Book (FOB) story ideas.

Most travel writing experts will tell you this is a great way to break into a prestigious magazine.

What are front-of-the-book articles?  They are very short pieces, usually ranging from 100-300 words.  They're mini-articles.

These short blips usually focus on one small aspect of a travel destination and you can find them in the first few pages of most travel magazines.  Here are a few examples from three popular travel magazines:

Example from Afar Magazine

One common format shows short descriptions of key points of interest about a place to accompany the photos.  In this case, art, dining, spas, hotels and the market in Seoul.


Example from Outside Magazine

This FOB format is a full-page photo with a brief story or description.  The story is about the ant-sized person (Sonnie Trotter) hanging off the face of the cliff.  Written by the photographer (Ben Moon) who got the shot.


Example from Travel and Leisure Magazine

In this format, two short front of book articles share a page with an ad image of luggage tags.  Confessions of a Parking Valet story in the bottom left, and a story about a new art pavilion on the right.

As you can see from the examples, these tasty little hors d'oeuvres could be brief announcements about a new resort that has just opened up in Baja, or tell about a patisserie in Paris that serves delicious chocolate éclairs. 
A front of the book article can be about two new boutique wineries that have just opened in the Napa Valley, or a trendy new restaurant in Seattle.  Or it could highlight a new tour where you can swim with dolphins in the Caribbean, or an undiscovered museum in Prague. 

FOB's generally don't take too long to write, and are considered easy pitches to magazines because editors are constantly scooping up these short stories to fill the early pages in their magazines.

Most editors and travel writing experts recommend that journalists start with front of book stories. This way, the editor can have a low-risk look at your writing before assigning you those lengthier feature stories that we all yearn for. And indeed, thousands of travel writers have broken into magazines by starting out with front-of-book articles, and they swear by this technique.

On the surface, front of book stories would seem to be a great way to get your foot in the door of a top shelf magazine.  They can enable you produce some quick bylines and parade your name before the editor of higher paying magazines. And, once you've shown what you can do, front-of-the-book articles may lead to bigger and better assignments with that magazine.

Depending on the magazine, you will be paid anywhere from $50-$300 for FOB's, so you won't get rich off doing these short articles.  But then again, they don't take much time to write.  If you're being paid on the higher end of the scale it might be worth your time.

Writing FOB's - Another Viewpoint

So the experts say you should start with front of book stories.  My viewpoint is different. 

I don't believe front-of-book articles are valuable for a new travel writer. I've never bothered pitching them.

Here's why.

I don't pitch these short articles because I hate wasting a good feature story in a short 250-word piece.  And only for a small payment.

I also find it frustrating writing short articles.  It's not my style. 

I like to paint a fuller, more complete picture of my destination rather than trot out a tiny morsel that people will forget about the moment they turn the page.

For a while, early in my travel writing career, several editors asked me to write short blogs and articles akin to FOB's.  I dutifully wrote them as a favor to the editors who also happened to be my friends.

And once the editor of a top shelf military magazine asked me to turn my feature story pitch into a FOB, which I did. The magazine is considered prestigious in the military writing arena and I wanted that byline credit.

But, eventually I noticed I was scrambling around cranking out these short pieces and they were killing my time . . . time that I should have been spending developing longer feature stories and bringing in more money.

I concluded that FOB's were distractions, taking up the time I should have been researching and pitching feature stories.

I also believe that if an editor really likes the story idea in your query letter, your idea will be accepted for publication as a feature story.  If you've got a great story to tell, it won't matter if you haven't written for them before.

Of course, if you have some solid bylines to back up your query, the editor is also more likely to accept your pitch over a complete beginning writer's pitch.

Looking back after eight years of travel writing, I've still managed to sell 900 articles to 190 different magazines, newspapers, trade journals, in-flights, on-boards, and travel websites.  So deciding not to pitch front of book articles hasn't harmed me.

Have I missed opportunities to get my work published in some prestigious magazines because I don't pitch these little guys?  Maybe, but I don't regret it.  My focus has always been on feature articles and I seem to have accumulated plenty of them.


Front of Book or Not - What's Your Choice?

So what about you?  I've presented two sides to this argument so that you can consider each approach.

Am I recommending that you adopt my 'maverick' approach and forget about pitching front of book stories entirely?  Not at all.   This is my personal travel writing philosophy and business model.  FOB's aren't in that model.  They're not my thing.

You'll have to decide whether you want to start or enhance your writing career by pitching front-of-the-book articles. 
Writing FOB's has worked for many travel writers, so you shouldn't discount them.  It might be a great way for you to break into the higher paying glossies.

Other related topics that will interest you:
Using Writer's Guidelines to Sell More Stories
Writing a Query Letter to Sell Your Articles

Getting Published: The Many Ways to Sell Your Articles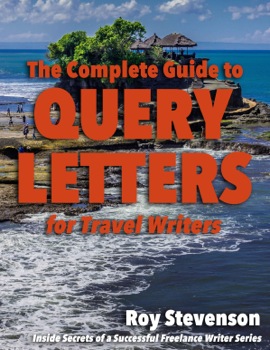 If you're looking for a guide to help you write query letters to editors, I've written The Complete Guide to Query Letters for Travel Writers to help you.  It includes everything you need to know about query letters, along with 20 sample query letters that you can use as templates for your own queries.
---
---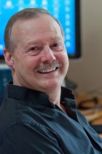 Roy Stevenson is a professional travel writer and the author of www.PitchTravelWrite.com.  Over the past ten years, he's had more than 1000 articles published in 200 magazines, trade and specialty journals, in-flights, on-boards, blogs and websites and has traveled on assignment around the U.S. and to dozens of international destinations.

---
IF YOU ENJOYED THIS POST, GET UPDATES.  IT'S FREE.