Your Travel Writing Craft

As travel writers, we put words together to paint pictures of the destinations we visit.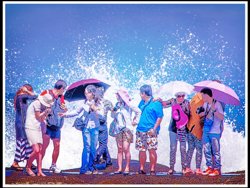 Writing about a place we love seems like such an easy thing to do.  From the readers perspective, we live a charmed life. 
But, as you know, there's much more to your travel writing craft. 
Things behind the scenes that your reader doesn't know about:
How to say the words in just the right way. 
Sharing valuable information to catch their attention. 
Knowing how to keep them engaged. 
All of this, and more, is part of writing.

There's also a lot to learn about controlling your time, and freeing yourself up from mundane tasks so that you can spend more time on the things you love to do – writing and travel.

So, this section includes information about topics that focus on aspects of your travel writing craft.  How you can improve your writing and increase your productivity – and get those articles out to the editors.

Make It More Interesting
Travel stories need to catch your readers attention and keep them engaged throughout the article. 
Many new writers start their travel writing career by pitching front of book (FOB) articles to editors of magazines.  Because FOB's are short, they're easy to write and a good place to start.

And there are many techniques that you can use to keep your readers engaged.  As you develop as a travel writer, your writing style improves.  But rather than wait for that to happen, here are seven ways to make your stories sparkle now. 
When you're ready for more, read this article where I give you nine ways to beef up your travel stories.  I've included some references to help you "see" the different techniques, and to pursue this topic in more detail.

If you've taken a travel writing workshop  you've already got a good start on travel writing and the process involved in selling travel stories.  But honing your skills is an ongoing process.
One of the best ways to keep your readers interested in your story is to convey a sense of place so they can feel the ambiance of a place.  It's an important skill to develop as a travel writer.
Travel writers also need to have an edge in order to sell their story ideas to editors.  To have an edge - and maintain it - you need to always have unique angles to your stories.  One of the ways to do this is to move out of your comfort zone every time you travel.  By doing this you will learn new things and come up with fresh and exciting ideas.

Spend a Little, Earn a Lot
The longer you stay in this game, the more you realize how much more there is to learn.  There are ways to do this that will help you earn more money. 
One way to improve your writing is to have some good reference books to help you with style, structure and general guidelines about writing. 

Many of these ways will cost a little bit of money, but sometimes it's worth it to spend a little to make a lot.  Read more about how to earn more by investing in yourself. 

Work Differently
Having said that, there are plenty of ways to improve your writing without spending money.  Freelance writing is a solitary activity and some of these suggestions involve doing your work a little differently. 
There are certain mistakes that are common, especially when you're just getting started in travel writing.  Read about these seven mistakes so that you don't make them.

One of the best ways to reach out for help is to link up with other people who can help you.  Most writers need feedback – even when they're already well published.  Here are six ways to improve your travel writing by getting the feedback you need.

Beyond humans, technology can also help you.  We all want our articles to be readable.  But did you know that your word processor is your best friend if you know how to access your readability statistics?  This article tells you how.
Sometimes you'll find that the advice from the "experts" in travel writing contradict each other.  Here's how to turn bad advice into best practices.
Some writers love to travel so much that they want to start a blog.  Here are seven things to consider before you take the plunge and start your travel blog.

Practice, Practice, Practice

The simplest, and most effective way to improve your travel writing is to practice – simply sitting down and writing every day. 

"Practice makes perfect" may be an overused cliché, but it's the only way to rise to the top of your game. 

As humans we tend to procrastinate.  We think we need to be inspired before we can sit down and write.  We're wrong about that. 
Inspiration shows up while we're doing the work, not before we get started.

So sometimes you need to trick yourself into getting your work done.  Here are seven habits you can adopt to build structure and accountability into your day, and get your work done.  No more procrastinating! 


Travel Writing Craft:  Make it Better

What are your goals as a travel writer?  If you don't know your goals, then you won't know if you're getting anywhere.  In this article you can see the different kinds of travel writers and where you might fit - a good way to help clarify your goals.

Do you hate administrative tasks?  Would you rather go to the dentist than put together a new distribution list of publications?  Do you wish you could earn more money for each article you write?

The good news is that there are systems and processes that will make your work flow more easily.  There are ways to take the drudgery out of the things you hate to do, and create more time for the things you want to do. 

Many things you do on a regular basis can be done faster.  Most of us work solo, so learning some smart processes and systems will help you to create more time for writing and travel.
Are you making these 5 travel writing blunders?  Check out this article, find out how you measure up and what you can do to avoid these mistakes.

Some processes will help you to earn more money for many of your articles.  Read this article for five ways to work smarter, free up your time, and earn more.

Travel Writing Marketing Coaching Program

Registration is OPEN
Twice each year I open up my Travel Writing Marketing Coaching services to new clients.  In order to provide quality service, I only accept five people each time. 
My expertise is primarily teaching you how to market and sell your articles, and then using your assignments to request complimentary travel perks.  If you need help learning to sell your articles successfully so you can travel better, my coaching program can benefit you.

Registration is currently OPEN for my coaching services.  You can learn more at this link ...
Related articles that will interest you:

Why Freelance Writers Need a Professional Website
Dreaming Up Story Ideas that Sell
Turn Your Travel Writing Worries into Wins

100 Print Magazines that Want to Publish Your Travel Articles
50 Websites that Want to Publish Your Travel Stories
7 Reasons Bloggers Should Write for Print Media
---
IF YOU ENJOYED THIS POST, GET UPDATES.  IT'S FREE.