Upcoming Travel Shows
Recently I posted an article about how travel shows are good places for travel writers to network with tourism media PR's and how this can help you.  These events can be gold mines for resourceful travel writers, if you know how to approach the media PR's. 
I hear about travel and trade shows all the time, so we've created this page as a listing for shows that you might be interested in attending.  (Note:  There are occasionally some shows that are for trades people only - be sure and check with the organizers before attending.)

Here's information about some upcoming shows including links to their official websites. 

---
Travel Adventure Shows
Washington DC, Philadelphia, San Diego, Chicago, Dallas, San Francisco

The #1 Travel Show series in the U.S. - for over 11 years and 54 shows, the Travel & Adventure Shows have become the largest and fastest growing travel shows in the United States!  Since 2004, the Travel & Adventure Shows have helped hundreds of thousands travel enthusiasts find, plan and book their dream vacation. Our main focus is connecting travelers with travel providers.  See their website for dates for each city.

---
Travel Industry Exchange
Orlando, Florida

At Travel Industry Exchange, you will have the opportunity to meet one-to-one with suppliers from all over the world including destinations, cruise lines, hoteliers, spas, tour operators, transportation providers, and resorts. In addition, participate in the extensive education program to gain applicable selling tools and information as well as foresight into the impending changes in the industry.  Questex's Renowned Education Program:  As the publishers of Travel Agent magazine, we leveraged our content providers and editors to help design the most valuable training and education program in the industry.  
Disney's Coronado Springs Resort, Orlando, Florida
September 15-17

---
---
Sign-up for our free weekly e-zine and download your free copy of Get Published Now!:

---
---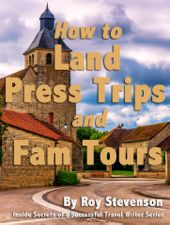 Special Report:
How to Land Press Trips and Fam Tours
I've written a guide about how to land press trips and fam tours.  It will tell you everything you want to know about how to get into the inner circle and get invited on regional, national and international press trips. 
---
Related Articles that will interest you:
Travel Shows for Travel Writers
Press Trips: Tap Into a Network of Resources
Travel Etiquette for Press Trips