Five Rules for
Selling Articles
and Getting Travel Perks

In my role as a travel writing coach, I field numerous questions from writers, and it's not surprising that I hear the same questions over and over again.  Selling articles to print magazines is the most frequent topic I get questions about, followed by getting travel perks.

Here are five rules I follow in my travel writing, and share with my coaching clients about pitching story ideas to editors and getting travel perks: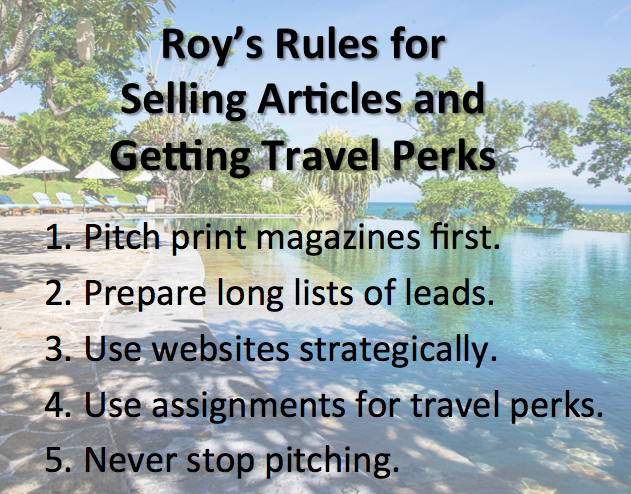 1.  Pitch print magazines first.
I believe that all travel journalists—novice and veteran writers alike—should first send their queries out to print magazines.  The goal is selling articles to print media first.

My rationale for pitching print magazines first is simple and straightforward:  selling articles to print magazines is important if you want to get paid for your work.

One common beginner's mistake is sending queries to print and travel websites simultaneously.  Don't do this!  It works against you.

Although a few websites pay their writers, generally most travel websites do not pay for articles.  So even if you're thinking, "print magazines don't pay particularly well", they do at least pay something.  This gives them the edge over anything online. 

And print media can pay as much as $1/word, so why wouldn't you want to be paid for your writing?

You will cause yourself problems if you get your stories published by websites first.  If a print magazine editor sees your story online, he will not want your story.  Print magazines prefer original material - that's why they pay you for the article. 

If it's already posted online it's not original anymore. 
Why would an editor want to pay you for content that is already available for free?  By getting your story published online, you lose revenue and the prestige of a print byline.  Selling articles exclusively to print media first is important.

I can promise you, any reasonable travel story will be happily picked up by two dozen websites in a very short time.  (Of course, you can only give it to one of them - see rule #3 below). 

Go after the bigger fish first.  Send your queries to print magazines before you consider putting anything online. 

2.  Selling articles is easier with a lengthy list of magazine leads.
It's important to prepare a long distribution list of magazines that you think your story would be a good fit for.  Many writers think a "long list" is about five to ten publications.  This is not even close to what you need.

I recommend fifteen to twenty-five magazine leads on your initial lists.  Any less than this, and the chances of seeing your story published plummet. 

Start with a list like the one in my eBook, 100 Print Magazines That Want to Publish Your Travel Articles, as one of your resources.  Use the Internet to find some more travel magazine leads.  Buy The Writers Market, to further plump up your list with magazine and newspaper leads.

Visit a large bookstore with a comprehensive newstand, such as Barnes & Noble, Books a Million, or whatever your local equivalent is.  Spend some time going through the travel magazines and any other magazines that you think would be a good fit for your story.  Make a note of the magazine's name, website, editors name, and editors email address & phone number.

If you use the above sources to prepare your distribution list, you will easily be able to come up with a list of fifteen to twenty-five magazine leads.   Selling articles becomes a lot easier with a long list of sales leads.

3.  Use websites and blogs strategically.

Okay, so you pitched your long list of print magazines, and after a few weeks there's still no interest in your story.  At this point, you can consider sending a query to travel websites.

Use travel websites and blogs as a last resort because remember - most of them don't pay you for your articles.

In the back of your mind, keep the idea that you can always place stories on travel websites.  They will pretty much take anything submitted to them as long as it's a reasonable story.

In fact, many travel websites actually take articles and publish them - no query needed.

Don't send your query to travel websites and blogs until at least two or three weeks after you've pitched print magazines.  Of course website editors are going to jump on a good travel story immediately, because they're not paying the writers.

More strategically, keep in mind that you can always give your story to a travel website or blog after it's been published in print.  (Make sure the print editor hasn't posted your article on his website first.)  That way, you get your story published twice and have two bylines. 

Two for the price of one!  I do this all the time.  I often use the Internet to finally put to rest an article I've had published several times in print and can no longer sell.

Make sure you only give your story to one travel website or blog.  There's a rule about duplicate content on the web. 
If more than one website publishes the same content, the websites will get penalized by search engines for duplicate content.  Web editors get very upset when they are penalized and you'll lose their trust. 
So make sure your story is only posted once online.  Decide which site you want to donate your article to and approach them first.

4.  Use your print and online assignments to request travel perks.
Once you have assignments, you can start requesting travel perks.  Print magazines tend to carry more weight with tourist agencies than online assignments, but you can often use online travel articles as collateral, too. 

If you're planning to write for an online site, ask the Webmaster for traffic statistics about the site (unique daily visitors, unique monthly visitors, Alexa ranking are all common measurements).  Then you can pass along the statistics to the tourist rep.

I recommend that you only travel after you have one or more writing assignments accepted.  Too many writers have talked their way into receiving complimentary travel perks based on vague promises, and then never deliver on their promise.  Tourist agencies are leery of writers because of this, and many will require an assignment before they will work with you to arrange travel perks. 

Make it easy on yourself, pitch stories and get assignments before you travel. 

5.  Never Stop Pitching
One of my 'secrets' to being such a prolific travel writer is that I never stop pitching.  Even when I'm not traveling, I'm thinking of story ideas I can pitch or stories in my files that can be resold.

With freelance writing there's a lot of variation involved in getting paid.  Most of the time you only get paid when the article gets published so you won't see a paycheck for weeks or months after you submit an article. 

To keep money flowing in from your writing, you need to keep pitching and selling articles. 
You always want to have stories in progress on your computer and articles in the pipeline waiting to get published, and getting published.  This is the only way you'll see money flowing into your bank account on a regular basis with freelance writing.

And when you're planning a trip, especially an overseas trip, don't just pitch one story idea.  Pitch several.

For my overseas trips I send queries out until I come up with one or two dozen assignments.  These assignments, in turn, open the door for plenty of travel perks while I'm on the trip.  And as I complete each assignment there's a paycheck on it's way to me in the mail when it gets published.

To a beginner, the mass pitching process can feel overwhelming.  It seems like there's a never-ending series of tasks to do.  Researching story ideas, writing query letters and selling articles, corresponding with editors about articles, and much more.

Follow the above five rules for selling articles and getting travel perks, and with time and experience this gets easier.  As it becomes part of the way you work everything will start to flow and you'll realize it's not so overwhelming after all.

Related articles that will interest you:
Getting Published: The Many Ways to Sell Your Articles
Pre-sell Your Travel Stories Before You Write the Story
Using Simultaneous Submissions to Sell More Articles
The Complete Guide to Query Letters for Travel Writers eBook
---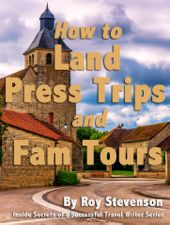 Special Report:
How to Land Press Trips and Fam Tours
I've written a guide about how to land press trips and fam tours.  It will tell you everything you want to know about how to get into the inner circle and get invited on regional, national and international press trips. 
---