5 Reasons to
Expand Your Writing Genres
and How to Do It

Are you finding that some of your regular writing gigs are drying up?  Or, editors are not taking your stories as often as they used to want them?

Are you feeling burned out about your usual travel topics?

Are you looking to earn more from each article that you write, but you don't know how to do this?

These are just some of the reasons why, as a freelance travel writer, you will want to start expanding your writing genres.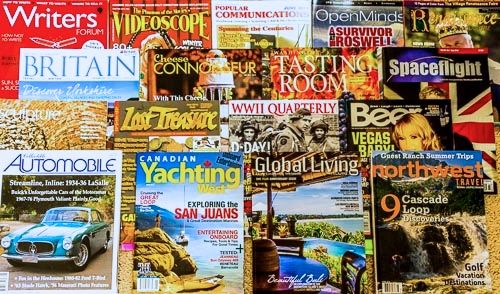 I've written in a wide variety of genres over the past seven years.  By writing in multiple areas outside of my expertise I've managed to get 900 articles published in 190 different magazines, newspapers, in-flights, on-boards, trade journals, and e-zines.

So I'm a big believer in expanding your writing genres to get your articles published more often.

This article highlights the benefits to doing this, and how to do it.

The Benefits of Multiple Writing Genres

1.  It multiplies the chances of getting your work published and onto the magazine racks.  

Travel writers who specialize in one field or genre (e.g. luxury travel, wine, food, etc.) limit themselves tremendously.  In tough times they feel the worst pinch because there are a finite number of magazines in their genre. 

Inevitably some of their regular magazine gigs fall by the wayside.

Even the saltiest old travel-writing dog is watching as his regular base is eroded.  Magazines and newspapers fall by the wayside, cut back on freelance contributions, or change editors.

By writing in more than one genre, you will multiply your chances of getting published.  More magazines will be available to you as you broaden your approach into other writing genres.  You lift the limitation present with only one genre.

2.  It prevents single-topic boredom.

Maybe you're comfortable in your own travel niche, whether you're a foodie, or you're writing about luxury spas.  (Who wouldn't be comfortable in these well-fed and well-pampered niches?)

After a while, though, you can write your articles in your sleep.  And you lose some of your original enthusiasm for the topic.  You lose your edge.

Expanding into new writing genres keeps you enthusiastic, learning new things, interested and engaged.  Definitely not bored.

3.  It stretches your writing skills.

As writers, we always need to be looking for ways to improve our writing abilities.  It's important to move out of your comfort zone to continue to grow as a journalist.

Writing in a different genre gives you a new perspective, stretches your capabilities, and helps you grow as a writer.

4.  It gives you a hedge during tough times.

When you write in multiple genres, you have a hedge for tough times.  You can grow your list of magazine leads to include your new writing genres.  If one genre is slowing down, another one might be picking up. 

You can shift your focus to the genres that are doing well, and away from the ones that aren't.

5.  You'll have more opportunities to get published. 

If you find your regular travel writing gigs drying up and editors taking fewer of your stories for publication, diversifying your writing genres opens up opportunities. 

You can sell to more magazines, and you have more opportunities for reselling your articles.

If you're worried about not being an expert in a new field - stop worrying.  Most editors couldn't give two hoots whether you're an expert on the subject as long as your article is well written, interesting, and factually correct.  (More about how to do this in my next post.)

How to Expand Into Multiple Writing Genres
When you are considering expanding into other writing genres, you might worry that you're not an expert.  How can you write about something you know nothing about?

The fact is, you need only two important prerequisites:  interest and enthusiasm.

If you're sufficiently interested in—and excited about—a topic, you'll be happy to do the research necessary to present an authoritative and nicely written article.

As an example, I have a lot of interests. I've had articles published on such diverse topics as:
Communications, travel, art, renaissance history, military history, military vehicles, military museums, fortresses, ancient artillery, film festivals, beer, boutique wineries, marina destinations for sailors, ghost towns, UFO hot spots and conferences, schooners, state parks, a Balinese cremation ceremony, jet lag, rock climbing, wildlife refuges, catacombs in Paris, and medieval monasteries and folklore.

That's a real mixed bag! 

I'm not an authority on any of these subjects (perhaps with the exception of beer).  In fact, my 'real' occupation is in the field of exercise physiology.  I teach exercise science (part-time) at Seattle University.

But my expertise has grown as I've developed in each genre.

And, if you look a little closer you'll see that most of them can be squeezed into the travel writing genre, with a little bit of creativity.

The idea is to parlay your passions and interests into viable magazine articles that can be sold and resold regularly.  And, to think of ways to tie them to travel.

How do you do this?

Start with your passions and hobbies.

Here's an example.  I love military history, despite no formal education or experience in the military field.  I especially enjoy visiting military museums around the world.

Only a few years ago I could not have told you the difference between a Sherman M4 tank and any other armored vehicle.  Today, I'm a regular contributor to several military vehicle magazines in the U.S. and U.K. with more than 100 published articles about military vehicles, aircraft, weapons, artillery, and missiles.

Combine your interests with travel.

The example above is how I combined my interest in all things military with travel.  I regularly visit military museums everywhere I go - and write about it for magazines.  My military articles have been published in military-oriented magazines and in several travel magazines and newspapers.

You can do it, too.  What are your interests?  How can you combine them with travel?

Practically any interest has a travel component.  And this opens up magazine genres that were previously out of bounds.

Here's a different example.

Every year I get a press pass to the Seattle International Film Festival because I've found a genre magazine specializing in horror, sci-fi and thriller movies to publish my reviews of these films.

I've also attended the Brussels International Film Festival (BIFF) and wrote about it for the same publication.

If you love movies, have you considered that you might be able to sell stories about your local film festival to local magazines and newspapers?  And then expand that to film festivals in another city or country?

This is just one example of something that doesn't initially appear to be a "travel" article, but can become one with a little creativity.

Resale Potential with More Writing Genres
Once you've written your story and had it published in a travel publication, do a thorough search for other magazines unrelated to travel that might go for the same article.

You will be surprised at how you can recycle your stories into different genres by rewriting them with a new slant.

I've sold several stories about a remarkable museum in Hood River, Oregon, that boasts an excellent collection of antique aeroplanes and automobiles - to travel and non-travel publications.  The stories have sold to:  a classic car magazine, a WWII aviation magazine, an aviation history magazine, a local tourist guide that lists history museums in the Columbia Gorge, and a U.K. military machines magazine. 

That's a lot of re-sales for just one museum!

My point is, never limit yourself to travel publications.  When you expand your writing genres, you can look beyond travel genres and sell you articles to many other kinds of niche publications.

In my next article, I'll give you some tips about why you don't need to be an expert in a writing genre to be well published in that field.

Related topics that will interest you:

The Art of Reselling Your Articles
100 Print Magazines that Want to Publish Your Travel Articles eBook
Writing Genres and Your Travel Writing Niche
Query Multiple Story Ideas and Multiply Your Sales

---
Sign-up for our free weekly e-zine and download your free copy of Get Published Now!:

---