Why Roundup Travel Stories are the Most Fun to Write
By Roy Stevenson
I'm often asked, "What are the best travel stories to write?"  The answer is:  whatever you enjoy writing about.

Maybe you enjoy writing food, wine, or beer stories.  Or perhaps luxury resorts and lodges are more your style.  Some writers like to write about romantic cities and wedding destinations. 

I especially enjoy writing about military museums and military vehicle museums.  But, by far, my favorite travel stories are roundup pieces.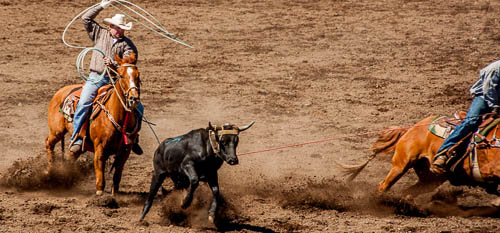 Roundup event at Mt. Adams in Washington State.
When I hear the word "roundup" I can't help thinking about rodeo roundup events that are held in many places across the U.S.  These events feature a variety of activities from steer roping to bull riding, and from barrel racing to parades and pageants. 

What's so great about them?  There's something for everyone.

A round-up travel story has some similarities.  These are high-level descriptions, or "roundups", of what a city or place has to offer.  There's enough variety to offer something of interest for everyone - or at least to the audience the editor wants to appeal to.

Roundup stories are written in a way similar to travel guides in the sense that you don't need to go into great detail about the attractions. 

They're also easy to write because you don't have to do much in-depth research.  Usually a sentence or two about each tourist attraction will suffice.  Because of this, round-up stories practically write themselves.

As you can imagine, the brevity of roundup stories is frustrating to many travel writers who would like to go into greater detail about their destinations.  You can't paint a detailed picture of a place or an attraction in two or three sentences in a roundup story.  So you have to make the most of the limited number of words.

Nevertheless, writing roundup stories is an important rite of passage for novice travel writers.  It helps to be good at writing these fun stories because they can form the foundation of your bread-and-butter income.

And roundup stories have a pleasant side benefit.  By their very nature, roundups cover lots and lots of tourist attractions, and usually where to stay and where to eat.  You have to visit everything to do your research and get your photos.

So round-up stories give you the keys to the kingdom!  You get a big bang for your buck because you can request complimentary entry to all tourist attractions, and also for comped accommodation and meals.

Once you have a roundup assignment, you're perfectly entitled to ask the local tourism agency for their assistance.  PR reps are usually more than happy to work out a nice itinerary for you.  They understand that a roundup story gives every one of their clients some exposure—even if somewhat brief.  So they get to spread the love around.

If you're not sure about how to go about requesting help from tourist agencies and PR companies, I've written an eBook about parlaying your assignments into complimentary travel.

Some Examples of Roundup Stories

A good friend of mine, and the editor of Northwest Travel magazine often calls upon me to write round up stories.

In the past few years my round-up stories for Northwest Travel have covered multi-sport events and relays in the Pacific Northwest, the finest rustic luxury lodges in the region, historic Northwest forts, and more recently, romantic fall getaways. 

For other publications, I've had other sweet round-up assignments about the best luxury spas and villas in Bali and luxury resorts in Arizona.  If you like luxury travel and want to write about it, here's how to dream up luxury travel story ideas.

Just because round up stories are not in-depth, that doesn't mean they don't have an angle.  They generally have a theme.  And often they start with titles like "The Best…", or "The Top…", or "The Most…".
---
Sign-up for our free weekly e-zine and download your free copy of Get Published Now!:

---
Here are some examples:

Themed round up stories:
- Scottish microbreweries (Beer Connoisseur magazine),
- The Top Ten Belgian Beer Festivals (Beers-of-the-World magazine),
- Belgium's Trappist Breweries (Zymurgy magazine), and
- Wine Tasting in Washington's Tri-Cities (Washington Tasting Room).

Destination round up stories:
- Queenstown: Jewel in the Crown (Australia & New Zealand magazine),
- A Weekend in Portland (Mid-Columbian magazine), and
- Winter in Leavenworth, Washington (Mid-Columbian).
- Best Marina Destinations in the Puget Sound (Canadian Yachting West magazine),
- Best lakes for kayaking in S.E. Alaska (Disney, Norwegian, and Holland America Cruise Lines onboard magazines),
- History museums in the Columbia River Gorge (Gorge Guide), and
- Southern Oregon Ghost Towns (Lost Treasure magazine).

The Problem with Roundups
and What to Do About It

Once you're aware of them, you'll see roundup stories everywhere in your favorite travel magazines.

But, there is a major problem with writing round-ups.  The big catch is trying to make them sound interesting.

If your article is written like a guidebook it will be dry and boring.  It's up to a travel writer to inject some life into their stories.

Here are some effective ways to alleviate boredom:
- Make sure the salient points about each attraction are interesting and specific.
- Avoid clichés and mundane descriptors. "Interesting", "charming" and "quaint" aren't interesting or descriptive.
- Include some punchy sentences that conjure up a vivid image of a place.
- Appeal to the senses – all of them:  sights, colors, sounds, smells, tastes, touch.
- Describe your feelings and emotions when visiting the place. 

Obviously you're not going to be able to appeal to all senses in one passage, so just use the senses and feelings that each place invokes the most.  A combination works best.  Here are a few examples:

"A murky mist hangs low over Lake Mendenhall, a few miles from Juneau.  Although dawn has broken, the sky is too dark to reflect off the lake's gray, silted water. The air is quiet and still, apart from the low murmurings of the kayakers preparing their rigs for the water. With the temperature just above freezing, it even smells cold."

"This moorage on the southeast tip of Orcas Island provides a beautiful natural setting.  Don't expect to see a slick resort here. Instead, you'll find thirty old wooden cabins, domes, and yurts that look like they were constructed as part of a hippie community circa the 1960's—which, apparently, is how this resort got started."

"The sweeping view across the Glenorchy basin is magnificent; Diamond Lake in the foreground, lush green farmland dotted with white specks of sheep across the valley, and rows of jagged tooth massifs in the far distance. A paraglider soars over us riding the thermals, loitering for a while, before moving on to land further along the mountain."

"Further on, fields of pink and magenta lupins provide a curtain of bright colour against the green marshlands and grey mountains."

"Kahu has us all fired up when we arrive at the Marae (village), and two hundred of us spill out of our busses to be herded around the edge of a wide semi-circular sandy dirt arena where we stand under an open tin-roofed shelter.  It's a gorgeous spot with a background of dense, impenetrable green native forest, from which guttural Maori chants are echoing."

"The show culminates in the fiercest Haka, or war dance, I have ever seen. Every visitor in the room feels the electric waves of passion and ferocity that emanate from the warriors as they flick their clubs and spears menacingly, roll their eyes back, and wave their tongues from their mouths. These guys are terrifying!"

"Moving on, I walk along white gravel pathways that meander past scenes from what I would imagine hell to be like.  Huge clouds of hot steam and mist billow from jagged rents in the earth's narrow crust; an overpowering smell of sulphur assaults the nose; and plumes of white geysers erupt from boreholes in the barren rock."
---
So that's all there is to writing round-up stories.  They're a great way to start your travel writing career.  Doing the "research" is lots of fun, and once you have mastered them, they can bring in a solid stream of income no matter where you travel.

Other related articles that will interest you:
Luxury Travel Writing:  How to Break Into this Niche
How to Land Press Trips and Fam Tours eBook
Press Trips

---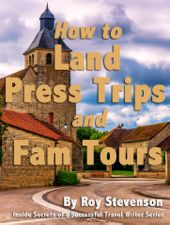 Special Report:
How to Land Press Trips and Fam Tours
I've written a guide about how to land press trips and fam tours.  It will tell you everything you want to know about how to get into the inner circle and get invited on regional, national and international press trips. 
---